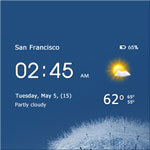 Transparent Clock & Weather APK
Latest Version: 0.91.05.04
Publish Date: Sep 26,2016
Download APK

(17.7MB)
Screenshot
Overview of Transparent Clock & Weather
Transparent clock & weather is a weather application which shows you current detailed weather forecast display that includes Location Time, Sunrise and Sunset, Humidity, Pressure, Chance of rain, Dew Point, Visibility, UV Index, Wind Direction and Speed, Current Condition, Temperature, High and Low Temperatures for the day. You can get 7-day weather forecasts and sunrise and sunset time with this weather easily to better plan your outdoor activities. Transparent clock & world weather is a full featured, completely customizable digital clock and weather forecast application and widget, and it allows you to adjust the widgets size and color, opacity, text colors, time font, shadows, weather icons and much more.
Resize widgets to any size (5x1, 5x2, 5x3, 5x4 or bigger).
There are more than 40 languages for options.
It can detect your current location automatically.
You can add up to 10 locations.
Displays the current and future weather forecasts details.
Allows you to track hourly weather forecasts and wind forecasts for the next 2-3 days.
Automatically change the weather background according to the weather condition and day or night.
View your location and address on a map.
Widgets size, color, text color, weather icon and much more are adjustable.
Test & Review
Transparent clock & weather is a friendly weather app which allows me to check how weather to day and adjust all details according which I prefer to see in this app. It enables me to check the summary weather forecasts, as well as the details of weather forecasts and wind forecasts, so that I can make the appointment with friends without risking get hit of rain or other bad weather. Use the widget hot spots to perform common tasks quickly, such as launch calendar application, alarms, battery info, Wifi settings, application settings, refresh the weather and more.
Pros:
The size of widgets is adjustable.
It is available in more than 40 kinds of languages.
Up to 10 locations can be saved on the weather application.
Detailed future weather forecasts can be viewed, including sunrise, sunset, wind, humidity and chance of rain.
You can change the weather icon, widgets size as you like.
There is a map which you can check where you are.
Allows you to track the hourly forecasts.
Cons:
Not allow for swiping on widget to change location.