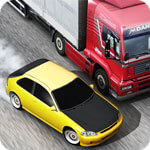 Screenshot
Overview of Traffic Racer
Traffic racer is a game which is easy to play, tilt or touch to sheer, touch gas button to accelerate and touch brake button to slow down. If you want to earn more cash and score, you can drive quicker, takeover closely car with the speed over 100 km/h or driving in opposite direction in two-way mode. This game satisfy that you drive your own car freely. No matter how far and random you drive, just escape the car in front of you.
Paints and wheels can be customized according which you are prefer to use for your own car.
It enables you to control the car easily and smoothly.
You can choose your car from more than 35 options.
This game including 5 driving environments and 5 different game modes.
There are trucks, ambulances, SUVs and others NPC traffic.
Offers achievements and leaderboards if you have log in with your own google game service.
Test & Review
I can practice how to drive in real environments if I don't care the score or cash, it makes me handling the car in virtual environment like in the real one. After that I can choose my favorite paint and wheels, as well as the game mode and driving environment, it is really a nice setting. And I can buy another new car after I got enough cash and score. It is really an exciting thing for me. What's more, it enables you continue to play the game after watching a video. Generally it is a fun game, good selection of cars and addicting gameplay.
Pros:
Fantastic 3D graphics makes you feel nervous but exciting when you are driving in the virtual environment.
You can earn more score and cash by driving quicker, takeover the cars and driving in the opposite direction in the two-way mode.
Game modes including one-way endless, two-way endless, time trial, free ride, police chase and daily bonus.
Different locations are suburb, desert, snowy, rainy and city night.
Higher speed you drive, more score you get.
It allows you to remove the advertisements after payments.
Cons:
Advertisements on the top of interface are annoying.
The achievements take a lot of time and new tracks require a lot of money to be opened.