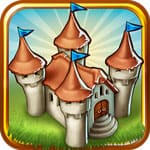 Screenshot
Overview of Townsmen
Townsmen enables you to build your dream home from tiny village to a big empire. Build jousting fields, taverns, marketplaces and beautify your city with impressive statues, magnificent monuments and lush gardens. You have to protect your citizens via building barracks, guarding towers and recruiting brave soldiers. You not only need to prepare enough food for your empire, but also prevent bandits to hurt your citizens. What a difficult but exciting responsibility it is!
It is a free game, if you don't like to pay in-app purchase, you can disable it in the setting menu.
Design of citizens are lovely.
You can improve the production chains.
There are different towns and production buildings for options.
You can choose military feature with soldiers and bandits.
There are diverse scenarios and challenging tasks.
There are tutorials to teach you how to play this game if you don't know.
Supports Google Play game services.
Test & Review
I love that I can create my own medical city and I love the people. It is important that the developers give you ample ability to get free prestige for this game. They don't force you into using prestige so you have to pay for it later. So if you don't mind the advertisements, this game is actually free. It keeps me occupied and takes all my free time.
Pros:
It allows you to play this game offline.
It is entirely free if you disable the in-app purchase.
It's nice that it is not running in the background.
Control the music, sound and speed from options.
Turn on or disable the notifications.
It enables you to build what you need and beautify your city with what you have.
Cons:
No notifications to tell you while the crops are withered.