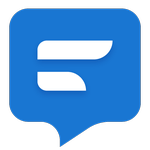 Screenshot
Overview of Textra SMS
If you are looking for an alternative stock messaging app, something simple, fast, feature rich and beautiful. Then this is one of the best apps out there and it is called Textra SMS. It is highly customizable since it has many customizing options for its interface. You can choose your color themes, set dark or light mode, request delivery reports, auto save videos and images to your phone and more. No matter how many messages you might have in your inbox, the app will optimize itself and always deliver you a smooth experience. Despite all these features, the app only takes up very small capacity. So get Textra on your phone and share your experience with friends and family.
More than 100 material design theme, bubble and app icon colors.
Dark, light and auto-night modes.
6 bubble styles.
Scheduled (future) SMS and MMS (great for birthday or someday special!)
21 text sizes.
You can stop during send.
Slide to delete or call.
Quick snap camera, multi-select picture gallery, GIFs.
Quick reply popup.
Awesome MMS group messaging.
Quick voice memos.
Over 1600 Android, Twitter, Emoji One and iOS style emojis including skin tone.
Support dual SIM devices for Android 5.1 and above.
SMS blocking and blacklisting.
Test & Review
Textra SMS is just outstanding. I like the look quite a bit. It is so cool that I can customize my preferred bubble colors, signatures and notifications including icon, color, LED color, sound, vibration, privacy, reminders and muting per conversation as well! This is the best messaging app I have ever used. But I hope the developers keep it light weight without all the unnecessary add-ons the other bloated apps have.
Pros:
Beautiful looking.
Quick reply pop up, users are able to reply immediately by tapping on the notification.
A bunch of free great features and take care of your MMS needs as well.
Cons:
When screen blinks, Textra window appears even if users want to write a message from third party app.
There contains ads in the app.