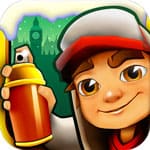 Screenshot
Overview of Subway Surfers
It is a game allows you to play it completely free. Achievements will be provided after you have completed the missions and challenges. You can choose your favorite characters and boards, but some of them are limited, so you have to pay for them. No matter that you want to pay for it or not, it enables you to play this game offline, you can launch this game when you are in somewhere without internet. It helps you to pass the boring time and fulfill your daily life with challenges and passion.
You can play it offline or connect this game with your Facebook account.
It is a free game but allows you pay for the limited items.
There are missions and challenges for your to improve your levels and get more achievements and score.
You can choose the characters and boards you like, but have to pay for it if you have choose some charged items.
Test & Review
The missions of this game are so challenging and the gold mystery box and characters are very funny. I can choose different characters if I like and whether you would pay for the items or not is your choice. I can play this game without internet connection when I am travelling or anytime else. And I can connect it with Facebook account to save all data and information in multi devices.
Pros:
Grind trains with your cool crew.
There are colorful and vivid HD graphics.
Hoverboard Surfing for option.
Both offline and online game are available.
It allows you to collect coins and compete with friends via connecting with Facebook account.
Cons:
The recent updates has bugs and freezes a lot causing failure.