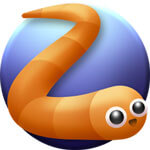 Screenshot
Overview of Slither.io
This game is so easy to play, you just control its directions by your fingers, and it allows you to choose which skin and mode you prefer to use. It is obvious that you will explode and lose this game if you have head touched other players. But you still have a chance to defeat others, just swerve in front of others, and then you can eat their remains to make yourself longer. Keep fighting against others, then you can become the longest player.
It is free to download and play.
Just control the slithering directions with your fingers.
If you head touched others, you will explode and fail in this game.
The remains whose exploded will be ate.
The skins and modes are adjustable.
Play this game online or offline are available.
Test & Review
Slither.io is a game which requires your rapid reaction. You have to avoid running into other players when you are eating. And you need to think about that how to escape from others or swerve in front of them to defeat them, so that you can eat their remains to make yourself stronger. It is not only a game, but also tell you that no matter that whether you want to hurt other or not, they will defeat you to protect themselves to earn their living.
Pros:
You can choose your favorite skin.
It enables you to select the mode you like in setting.
The one who ahead to other players will lose this game and its remains will be ate.
You can defeat other players by swerving in front of them.
It allows you to play this game online or without internet connection.
Cons:
Advertisement pops up in feel screen after game over.
Its package is small that will not take too much of your device space.