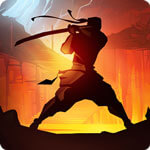 Screenshot
Overview of Shadow Fight 2
It is an easy but addictive fighting game which allows you to customize the characters, suits, weapons and more for your own fighter. You have to kick, jump and punch to fight against your enemies to victory and get a chance to hit the Jackpot of 10,000 gems. It also enables you to humiliate demon bosses, and be the one to close the Gate of Shadows.
Build up your strength with all you need to defeat any boss.
Using and all-new animation system to show you some stunning lifelike details.
Customize the fighter with different suits, weapons and more you like.
Features your fighter with magic and new fighting skill.
It enables you to earn gems by watching videos.
Test & Review
Playing this game, it enables me to control the fighter easily. Just tab the footprint, fist or others to decide how the fighter fight against opponents. And simply operate the head, abdomen or foot you hit. If the fighter is not powerful enough to defeat the opponent, you can buy another weapon or armor sets to make him stronger. You can earn gems by watching videos if you need.
Pros:
Its vivid 3D effect makes you feel that you are in the real fighting scene.
You can customize your fighter with your favorite characters, suits, weapons and more.
There are six different worlds full of menacing demons in this action-packed you can journey through.
You can earn gems freely with watching videos.
It's a free game but you can enable the in-app purchase in setting.
Cons:
Raids are very dangerous fighting for children.