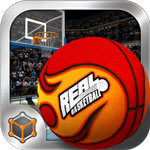 Screenshot
Overview of Real Basketball
Its stunning 3D effect makes you enjoy the ultimate real-life basketball experience. You can play the game with your friends or challenge them with your basketball skill to show your outstanding speed and accuracy of playing basketball. There are 6 game modes in Single player selection and 8 rooms in Online one for options, you can choose from them according to your own situations.
You can choose Single player or Online.
6 game modes include Tournament, Arcade, Time Attack, Single Ball, All-Star and Block.
The forenamed 4 kinds of game modes are free, but you have pay for the last 2 modes if you want to play these 2 modes.
There are Street beginner, Street Regular, Street Night Regular, Street Night Veteran, School Veteran, School Pro, Stadium Veteran and Stadium Pro for room options.
Test & Review
This game isn't your regular shooting game it actually makes you feel like you're playing a real 3-point shootout because its vivid 3D effect of design. With the online mode and tournament mode really makes you get addicted to it. I have known many new friends here, and it enables me play with my friends or challenge them that makes us feel we are play basketball game together in real life. I can play 6 different game modes, then check out the scoreboard in each game mode to see how I ranked.
Pros:
There are different game modes and rooms for options according to your own situation and favorite choice.
You can play with your friends and other players or challenge them with your real basketball skill.
Select from various of characters, uniforms, basketballs and others completely free or enable in-app purchase for charged items if you prefer to buy them.
It allows you to adjust the sound effects, music, graphics quality and turn on the reflections, vibration and landscape mode in setting.
Cons:
There are advertisements on the top of the playing interface.
There are no female players to choose from.