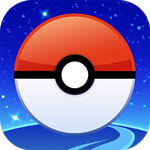 Screenshot
Overview of Pokémon GO
Pokémon Go is a good choice for you and your families, friends or colleagues if you are always stay inside. It is an interesting game which quests you have to go out and find where the Pokémon is and catch it, please pay attention that it will get away if you are not staying alert. It is helpful for your Pokémon evolve if you have captured the same Pokémon. You can catch more-power Pokémon if your level up. And Pokémon's eggs can be hatched if you have walked enough distance. How exciting it is!
There are many different Pokémon, such as Venusaur, Charizard, Blastoise, Pikachu, and many others.
If there is a Pokémon nearby, your smartphone vibrates.
The game is easy to play, just take aim and throw the balls.
You have to find certain Pokémon near their native environment. For example, you might find water-type Pokémon by lakes or ocean.
It enables you to stock up PokéBall or helpful items by visiting PokéStop, such museum, historical markers and so on.
You can complete your Pokédex by catching more-power Pokémon.
It is a new ideal game to ask you walk outside for healthy.
It allows you defend your Gym by battle together with your Charmander and assign your Pokémon.
Test & Review
It is really addictive and fun for all. Fun to play with the kids and see the excitement of a new Pokédex Pokémon and hatching eggs which is based on the distance I walked. As level ups, I can catch more-power Pokémon and then complete my Pokédex. It's great exercise and kept us out of the house all summer. A good game which pushes you go out and have a talk happily.
Pros:
Its design of characters and interface are suitable for all ages people.
You can capture more Pokémon to up your level, and then catch more-power Pokémon.
It enables you to hatch the Pokémon eggs.
Evolve your Pokémon with the same Pokémon you captured.
It helps you to step outside more than before.
Makes the relationship with your friends, children or others much closer.
It is a free game and you can disable the in-app purchase in device setting.
Cons:
If you don't have Wi-Fi available this can be a huge drain on data.
Catches the same Pokémon over and over again.