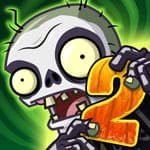 Screenshot
Overview of Plants vs. Zombies™ 2
Plants vs. Zombies, which has won "Best Games of 2013" Collection on Google Play, is a strategy game which keeps fighting against zombies to protect your brain. You can mulchify the zombies with zombie-zapping plants before they break down your door and eat your brain. There are new zombies and plants including Swashbuckler Zombie, Chicken Wrangler Zombie, Jetpack Zombie, Wizard Zombie, peashooters, wall-nuts, cherry bombs and more. You have to keep thinking that where to place the plant, which plant should be placed, or how many plants are better. Amass an army of powerful plants, supercharge them with Plant Food and power up your defenses with amazing ways to protect your brain.
Design of zombies is interesting, they love brains so much they can jump, run, dance, swim and even eat plants to get into your house. But they are not suitable for children who is too young.
Choose your plants wisely for each level and plot out your winning strategy.
Use Plant Food to supercharge your plants when you need it most.
Freeze, flick and zap zombies off your lawn, using your fingers with simple touch controls.
Conquer all 50 levels of Adventure mode, such as day, night, fog, in a swimming pool, on the rooftop and more.
Unlock ultra-challenging endless levels in every world including Pyramid of Doom, Dead Man's Booty, Big Bad Butte, Terror from Tomorrow, Arthur's Challenge, Tiki Torch-er and Icebound Battleground.
Take on Zomboss, which is coming for you with a host of diabolical inventions at the end of each new world.
You can enable in-app purchasing.
Test & Review
Each of the games worlds have a distinct feel, and sometimes certain plants grow or decrease in usefulness based on these factors. This game has in-app purchases, for new plants and upgrades, but they are not necessary to progress. Endless mode gives this game longevity, and there is one for each world and vase breaker.
Pros:
You can disable in-app purchasing using your device settings.
There are more than 5- levels for challenging with the zombies.
Unlock different adventure modes after stopping the attack of zombies.
Battle zombies to win sprouts, then plant them in your very own Zen Garden. You will be rewarded with extra BOOM in your blooms after you tend to it carefully.
Cons:
There are advertisements in the playing interface.