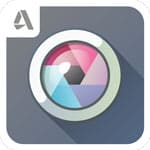 Screenshot
Overview of Pixrl
Pixrl is an entirely free tool to edit your photos. It not only enables you to preview the filters before you take the photos, but also edit your photos after that. No matter which way you like, you can choose different tools from this application, there are Crop, Rotate, Double Exposure, Adjustment and more tools. It is a collage maker, too. So you can combine some photos as a complete one.
Customize the size, proportion, direction, exposure, temperature, and others via Crop, Rotate and Adjustment.
Auto fix or auto contrast are available.
You can use the Brushes to brighten, darken, pixelate and doodle your photos.
Adjust the Blur, Smooth, Sharpen, Splash, Heal and Red Eye.
Choose Effects from Default, Atomic, Creative, Soft, Subtle, Too old, Unicolor and Vintage options.
There are Default, Acquest, Artmodern, Candyminimal, Color, Echo and etc.
Default frames, Atticus frames, Bezels frames and more options in frames.
Stickers including Graffiti, Hot rod, Mortimer, Quote…
It enables you to add text on the photos.
Test & Review
I can use Pixrl to take photos, edit photos and make collage photos. It enables me to add filters before or after taking the photo. And I can combine a complete photo with different photos if I want to show many photos to my friends in one time. I really like the double exposure tool to make a special photo. It is a fantastic tool to edit photos anywhere conveniently.
Pros:
Share photos with others with Facebook, Twitter or others social applications.
You can follow Pixrl on Instagram for tips, tricks and daily inspiration to make photos.
Make your photos collages with different photos.
Auto fix the photos in one easy click.
Use Double exposure to layer photos and blend them together.
Use different stylizes to make your photos look like a pencil drawing or ink sketch.
Remove blemishes, red-eyes or whiten your teeth,
Add impact with Blur.
Resize the photos easily.
Cons:
No selection to keep user sign in.