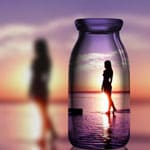 Screenshot
Overview of PIP Camera
PIP camera has unique style for options, such as Crystal bottle pattern, Frames series, Simple style and Cartoon style. It is cool that it also has artistic style which can let you appear on famous magazine cover to fulfil your movie star dream. You can use PainLab to easily turn your photos into artworks of Master Van Gogh and Picasso. Offers built-in professional photo retouching function, Mysterious filters, Fun Sticker sets, Text adding, Photo editing, Mosaic, Professional editing and so on.
Choose Style, Filter when you are taking photos to offer new selfie experience.
Use Magazine style to decorate your photos with artistic filters.
You can choose existing photos in your phone or just take one now.
The photo in photo blur automatically, and the filters for background and foreground in Classic mode both can be changed.
There are more than 200+ collage frames.
Keep updating frames, filters and more.
Share your photo on your favorite applications easily.
Test & Review
It can make a normal photo in to a professional masterpiece literally. It has many watercolor, other paint filters and a lot of professional items. And I can choose the Filters and Effects to preview my photos, it is really an exciting camera. I can also change my photos to a pencil drawing or something else, it is a cool tool for photos editors.
Pros:
Tools includes Filter, Sticker, Text, Edit, Mosaic and Adjust can be used in Pro Edit.
PainLab can make your photo look like a pencil drawing or ink sketch.
Different and nice Styles, Effects and Backgrounds can be chosen for collage photos.
You can enable the Shadow and Outline when you are using collage maker.
Choose favorite collage Style, Effect for photos when you are taking photos.
Select the Quality of photo in settings.
There are recommended items such as Frames and Filters for you.
Cons:
Advertisements make the application difficult to navigate.