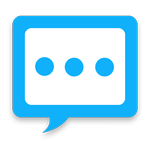 Screenshot
Overview of Handcent Next SMS
Handcent Next SMS is the most customizable and powerful SMS messenger app. It is packed with features including theme support, built-in spell checking, password protection for individual conversations, group chatting, and so on. You can backup your texts as well. what's more interesting is that you are able to send beautiful Ecards to celebrate important dates or special festivals. Moreover, this app contains blacklisting, search functionality for SMS and MMS, and enables users to send broadcast emails. Please read below introductions for more details.
Ultimate customization: Gorgeous themes and background, everything can be set as your preference. You can personalize text messages' bubble style, fonts, color, notification ringtone, LED color, vibration pattern etc.
Handcent anywhere: Go to aw.handcent.com and send messages from your PC, Mac, or tablet without touching your Android phone.
Pop up quick reply: Quick reply your messages with pop up window, it can show over lock screen.
MMS plus: MMS will save the multimedia files on our cloud serer. If the recipient also has Handcent Next SMS installed, the file can be opened directly within the app. Otherwise, file will be open in the browser.
SMS backup, blocker/blacklist: Don't worry about losing your texts and block all unwanted or spam SMS messages.
Private box: Your own personal space, a totally encrypted message box can only open by a unique passcode set by you. Best way to protect your privacy.
Ecard: You are allow to send beautiful Ecards to your friends to celebrate important dates.
Hancent talk: Talk to your friends for free.
Schedule task: Schedule texts to be sent at a given time.
Support emoji, stickers, dual SIM and multiple languages.
Test & Review
Awesome text app. I have been using this app for years. Every time I get a new phone it's the first app I install. It's really worth it! Highly customizable and funny to use. I love the private functionality that any other SMS apps don't have. Also I can Ecards, timed messages to my friends to celebrate birthday. But there is only one thing that I am not so satisfied with, this app lags when open or send a text. Hope this can be improved, otherwise, this app is just perfect.
Pros:
Quick reply popup window even shows over lock screen.
Excellent customization features.
Great that you can protect your privacy using private box.
Cons:
A bit lags to open to answer or send a message.