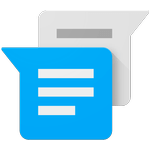 Screenshot
Overview of Google Messenger
Stock messaging apps mostly lack several enhancements which custom built apps can provide. So people who are tired of using stock messaging app can install and try Google Messenger (also known as Messenger). You can share the present wonderful moment or scenes by taking videos or photos directly from the app and you can choose from already stored images and videos on phone as well. what's more, Google Messenger is capable of searching keywords in order to pull out previous conversations from the past quickly. Support for location sharing, stickers, and quick scrolling, a lot of features are available in this app.
Faster sharing: Select or take pictures and videos directly form the app and share easily. You can even send audio messages to your contacts.
Easy search: Search through contacts and conversation threads to find exactly what you are looking for.
Location sharing: Your recipient gets a small cutout of a map showing the exact location of the place, as well as a link to the location on Google Maps.
Fast scrolling: If you have a extremely long conversation, a grabbable scroll bar will appear along the right-hand side of the message for more precise and quicker scrolling.
Purposeful design: New, fluid, material design that is intuitive and delightful.
More control: Ability to block SMS senders. No interruptions when you don't want them.
More Features: Stickers, colored text threads, message archiving, emoji support and more.
Compatible with Android Wear devices. So you can send and receive text messages from your wrist.
Test & Review
I think Google Messenger is one of Google's best apps. I love this app, so simple and elegant. I really like that Google Messenger has the ability to swipe down from the notification and quickly reply without having to leave my current app. The most important to me is that it's super simple and intuitive to use this messaging app. I don't need take too much time to set it up.
Pros:
It's super intuitive to use.
Extremely clean and simple interface with contrasting bold color accents for each individual contact you are texting.
Quick reply from notification, no need to leave the current app you are in.
Cons:
Doesn't work in horizontal view.
Need more customizations.