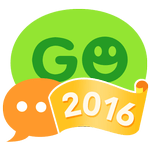 Screenshot
Overview of GO SMS Pro
Messaging becomes very important communication support which can be found these days. People still send SMS a lot using their smart phone but they actually can find the messaging app which can be a great replacement for SMS such as Go SMS Pro app. Various customizations are available for different styles of chat, a lot of themes, notification sound, animation effect and font. Pop up ability with notification so users can send quick reply with this app. It is also possible for them to set the privacy mode for keeping the messages private. And there are many more terrific features it has.
Hundreds of personalized themes and lovely stickers which are increasing.
Secure SMS using Private Box. You can easily secure text messages of selected contacts and hide them from the prying eyes of people around you.
Pop up new messages for quick viewing and replying.
Support for free messages and group chat.
Supports more than 8,000 dual SIM devices.
Schedule SMS. Messages can be sent out at the specific date and time automatically. It is perfect for the situations where you want to wish your friend on his birthday at midnight, or you may want to send a periodic reminder to someone.
Auto reply to incoming SMS and missed calls when you are in a meeting.
SMS blocker smartly block blacklist/keywords and filter spam messages.
Delay to send give you opportunity to correct the wrong messages.
Avatar popup show the contact avatar above all apps when new messages arrive.
Back up and restore SMS.
Folded stranger messages automatically categorize strangers conversations and keep your Inbox simplicity.
Test & Review
I love this messaging app a lot! It's so funny to use. Many themes that I can choose to customize different contacts. It looks so nice after I do a bit effort to set up the app. Although some of them need to pay money, those free options are fairly enough for me. The part I like most is when a message comes, the sender avatar will pop up, really cool feature!
Pros:
Specially focused on privacy and security.
Close enough to stock messaging app to make it very easy to use.
Customize your messages with different themes, fonts and photos.
Cons:
Too many ads in the app.
Appearance is a touch boring.