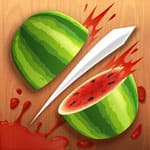 Screenshot
Overview of Fruit Ninja
Fruit Ninja is an easy but challenging game for you to make your daily life more funny and exciting. It is not difficult to play, you can check how to play in it. But you have to pay all of attention on it. If you want to get high score by slicing these colorful fruits, you have to take how to slice more fruits into consideration. You can use power ups bananas and multi-slice pomegranate to get higher score. Its free version allows you to pay for some contents and you can get new blade and ghost in charged game.
There are both free and charged versions for options.
Design of interface and contents are suitable for most of people.
There are tutorials to show you how to play this game.
Enables 2 players to play this game together.
There are different modes for options.
You can disable purchases feature in the setting menu of your device.
Test & Review
Fruit Ninja is an interesting arcade game to play in spare time, when you are waiting for the plane or anytime you are free. It is easy to play but makes you exciting if you have got high score after taking time to consider which bird fly first and which place it should hit on. It is a game which requires your observation and analysis ability. There are Mini Games which require that you need to follow its rules. But an important regulation you have to remember is don't slice the bomb. There has never been a better time to play Fruit Ninja.
Pros:
You can play this game free completely or choose pay for the charged version.
It allows multiplayers to play together.
You can choose the suitable mode to challenge yourself.
Its design is colorful and comfortable.
If you don't know how to play this game, you can follow the tutorial in the interface.
Different modes including Classic, Zen, Arcade, Challenge, Tournament and Mini Games.
Mini Games including Cherry Bombs, Swarm, Time Attack, Juggle, Fortune and Quick Draw.
You can control the sound and music in the setting menu.
You can control the sound and music in the setting menu.
Cons:
New blades are offered in charged version only.
There are advertisements in the playing interface.