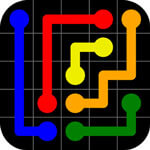 Screenshot
Overview of Flow free
Colorful and simple design of game makes players play this game happier. This game is suitable for people with a wide range of age because it is easy to learn and interesting to play everywhere. It allows you to check how to play from the main interface. There are different modes and levels for options. So, you can choose from them according to your different situations. What's more, you can turn on the cloud sync so that you can play in different devices.
It enables you to check how to play from about>how to play.
You can adjust the sound volume, choose theme and language, turn on color labels and cloud sync, reset progress and restore purchase in Settings.
Both free play and time trial game modes for options.
Challenge yourself with different levels of both game modes.
There are fun sound effects when you are playing this game.
It helps to improve your observation and analysis ability.
Test & Review
I like the design and color of this game, it is really nice. It is not difficult to learn how to play, but I have to consider carefully how to pair the colors. And there are different modes and levels for options. If I am not familiar with this game, I can choose the easy level to practice myself. While I can select higher level to challenge myself later. It is so good that this game won't take too much of your device space.
Pros:
Nice color and design for this game.
Easy to learn, funny to play.
Free play and Time trial are available which enables you free play through hundreds of levels, or race against the clock in Time Trial mode.
Pair the color to create a flow and cover the entire board.
There are over 2,000 puzzles.
The game play is smooth.
Cons:
The advertisements are annoying.