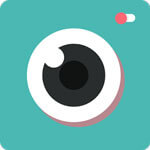 Screenshot
Overview of Cymera
Cymera is an amazing camera to take photos, and it is a powerful photo editor, too. You can use Edit, Correct, Effect, Beauty and Decorate tools for your photos. And you can choose photo style and make a collage if you like. It allows you to disable or choose watermark your prefer on your photos. Take photos with volume keys and select timer feature for shooting are available.
Long press the widget and then drop it in the desired location.
You can choose different blur shapes for your photos.
Enable the flashlight on the taking screen.
Control zoom easily.
Use tools Collage, Instafit, Mirror, Rotate, Crop and Straighten in Edit.
There are Scene mode, Auto level, Brighten, Contrast, Saturation and Sharpen for Correction.
Basic, Beauty, Classic, Natural and Art filters for options.
It has Color, Shape and Theme light.
Test & Review
It allows you to use real-time filters and slide to left or right to change from different options when I am taking photos. It has lots of tools to edit photos, so I can adjust the size, proportion, blur mode, effects easily. There are different shooting modes for options including Timer, Touch capture and Anti-shake. It has a powerful Liquify tool to help you to zoom-in or move the photos. It is an amazing design as a camera applicaiton with photo editor function.
Pros:
You can use the camera and gallery on the home screen of your phone.
There are Basic, Pattern, Theme and Gold2 borders for options.
Blur, Mosaic and Color are adjustable.
Hundreds of amazing selfie filters & effects.
Download popular packages like Selfie, Nation, Icecream, and more for free.
7 different and fascinating camera lenses including Divided lenses, FishEye, Lomo and more.
Anti-shake, Timer, Touch shooting, Silent mode for options.
Bluetooth connection to share photos.
Different types of grid to combine photos into one.
Share your favorite looks on Instagram, Facebook.
Retouch Your Photos Instantly to beauty your photos.
Make you look taller and slimmer.
Add decorations like Sticker, Face pop, Meme, Text and Brush on your photos.
Supports various of languages.
Cons:
Lack of shadow and highlight adjustments.