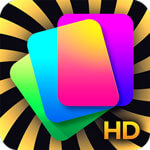 Cool Wallpapers HD Kappboom® APK
Latest Version: 1.7.4
Publish Date: October 27, 2016
Download APK

(8.2MB)
Screenshot
Overview of Cool Wallpapers HD Kappboom®
This is a wallpaper enables you to change wallpapers easily with HD pictures. You can check all of them here and turn to the page you want directly to save your time. Tap to see Likes, Downloads and Shares, and more detailed information to confirm if it is suitable for your device. You can search wallpapers in the box by its tags, colors or categories to gain what you like easily.
Categories including 3D, Abstract, Animal, Art, Babies, Beach, Cars, Cats, Cute, Dogs, Fantasy, Food, drinks, Funny, Games, Graffiti, Halloween, Holidays, Landscape, Love, Patterns, Plants, Quotes, Space, Technology and Vintage.
It allows you to search wallpapers by category, tag and color.
You can search by Kappboom, Picasa and Flickr services.
Turn to the page of wallpapers directly by enter the page number in the box.
Tap to see the Tags, Upload by, Notes and Author of wallpaper.
Kip the Cat has plenty of free gifts to share.
Test & Review
The quality and variety of pictures are great. It's also super easy to search for what you want. I can search the wallpapers I want easily. For example, I can just tap the tags or category I prefer, then turn to the page I want directly. I can share wallpapers with friends when I have found cool one by email, Twitter or Facebook. It is convenient for users.
Pros:
Detailed information including Image width, height, tags, upload by, notes and author can be checked.
Enables to show you how many likes, downloads and shares for this pictures.
You can select save options to set as wallpaper or save to gallery.
Share favorite wallpaper with Twitter, Facebook or others.
Tap previous or next icons to change another wallpaper.
Popular and New will be showed in the user interface.
Mark the wallpapers which you like to your favorite list.
Select wallpapers from categories.
Search wallpapers you like.
Cons:
There are pop-up advertisements.