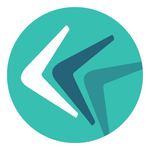 Screenshot
Overview of Cooee Messenger APK
Cooee Messenger is the only messenger you will ever need. With this app, you can send messages to any mobile phone either through the internet, Telco or the Cooee Messenger itself. Just message and send without even having to worry whether your recipient is offline or using a non smart phone. It is even able to send your pictures under 2G conditions. Cooee Messenger is probably the fastest messaging app in the world. Convince yourselves of the speed of Cooee Messenger by sending pictures to your friends and comparing the speed with other messaging apps.
The fastest messaging app in the world.
Offline messaging: Now send messages even your friends is offline.
Cross language: Now you can message in any language, no need to know other language to talk with your foreign friends. You just need to select what language you want to send, and the app will automatically translate it into your desired language.
File transmission: You are able to send and receive PDF, DOC, DOCX, PPT, TXT and many more type of files.
Convenience at your fingertips: Compose and send preset messages, create and manage your social and business groups chats and more.
Send photos and more really fast: With the technology behind Cooee, sending images and the like, even in 2G networks has never been this fast.
Web version is also available for who has no smart phone at hand or just simple prefer a big screen.
Able to end images to none smart phones.
Through its compression algorithm, helps you save on bandwidth and memory usages without compromising the quality of the pictures on your mobile devices.
Test & Review
My phone bill has gone up again this month. I have to call my parents every day! Then want me to call them , they want me to message them every day, and I can't even use any other messaging app. Because they are still using a dumb phone. Fortunately, my friend suggested that I should use Cooee Messenger which I can send messages even through 2G networks to a non smart phone. It even has a desktop version that I can chat with my parents and friends on the PC. Great messaging app!
Pros:
Great user interface and works extremely fast!
Quality of image is quite good.
Able to send stuff to a dumb phone under 2G condition.
Cons:
Can't see the typed smiley while typing.