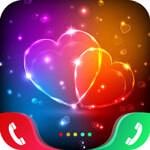 Screenshot
Overview of Color Phone
Color Phone is a cool & elegant call screen app for incoming calling screen, which provides tons of stylish color-dial & call themes, popular ringtone & other call personalize settings. You can easily set you screen flash for calls.The flashlight blinking help to remind you the incoming call in a cool way. Download and make your call amazing!
Select your own call screen themes from the App.
Apply the theme for caller screen or for different contacts.
Enjoy your every single incoming calls & have a good mood.
Test & Review
Tired of the boring call color, the ringtone and the call screen themes on your phone? Get color call to find stylish call flash & screen themes. Try to make answering the phone a cool thing!
Pros:
Fancy & Popular Themes. Tons of beautiful, dynamic and stylish caller screen available to beautify your incoming call.
Cool & Twinkling LED light. Not only give you call remind, also shining your call.
Simple & Easy to use. Smart and fast, change your caller theme just by a touch.
Battery friendly. Lower battery consumption, more efficient.
Customized call screen. Customize your unique incoming call interface.
Stylish ringtone. Personalized ringtone music for caller screen theme, make your caller alert cooler!
Totally free. Such an amazing app for free now, do not hesitate!
Cons:
Only 19 colorful call flash themes can be selected.
Page ads pop up.