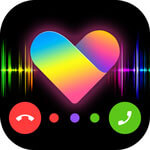 Screenshot
Overview of Color Call
It will make your life more colorful and stunning around your friends as we wish. It is not a big deal but color call screen can make your feel happy and smile. Personalized contact Settings - Select your loving call screen themes from the App and apply the theme for specific contacts. We allow you to customize your caller screen for different contact.
When your phone is on silent mode, its easy missing calls or SMS.
At night, it is hard to spot your phone when there is a call coming.
All the same default calling screen, dark, dull and boring; Get rid of old-style phone screen.
Can not tell who is calling your in the very first time visually? Set different themes for different contact making it easy and funny to remember.
Test & Review
Caller screen - Colorful and stylish Caller Screen Themes for incoming calls. Varied call screen FREE themes to decorate your caller screen, you can not resist it!
Pros:
Dazzle Call Flash LED Alert. Set a Call LED Flash notification light for reminder; Help you to spot phone at night or on silent mode.
Timely update. Popular call flash effects make your calls special. We will update the call color phone themes every week, follow up the hot trend.
Best call theme changer. To change full size call screen for android phone like Samsung, LG, Huawei, Moto and so on.
Easy to Use. Call screen theme slide, apply and done. So easy!
Low energy consumption. Battery friendly with call flash & call screen themes.
Cons:
Only 10 colorful call flash themes can be selected.