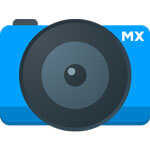 Screenshot
Overview of Camera MX
Camera MX is a special photo application for Android users to take photos and videos. And it allows you to shoot the past after you took the photos. You can rotate camera for photo grid. It is convenient that it allows you to take photos with volume keys and control the flashlight, zoom and others with one tap. You can edit your photo alive or later with the rich filters, effects and overlays so that you don't need another photo editor anymore.
Camera MX has Live Shot feature to create live photos on Android devices.
Create short, moving clips with your camera.
View your Live Shots as moving images on your smartphone.
Share your photos or videos as animated GIF or video with friends.
Rewind within your Live Shot to capture the perfect individual image.
The camera starts capturing an image before you actually take the shot.
Make images as moving as the memories themselves.
Test & Review
I can use its HDR, Orton, Lomo and more tools to take a beautiful photo and edit my photos with some simple tools. It is interesting that it enables me to shoot the past if I want the photo before I take it. There are some charged items, but most of them are free. It is very good that I can choose some completely free items.
Pros:
It allows you to create moving clips with your camera.
Record live shots with sound.
Touch your photos and watch them come alive with live shot.
Copy or move media to SD card.
Record live shots with sound.
Cons:
It starts record once you have turned to video mode without starting button.