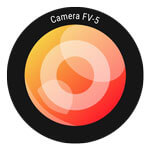 Screenshot
Overview of Camera FV-5 Lite
Camera FV-5 Lite is fantastic for people who need to control lots of settings when they are taking photos. Its tools are also easy to use for fresh hands, because there are tutorials about how to use it correctly for you at the first time you launch this application like what are in the Shooting menu. You can adjust White balance, ISO, BRK, Program mode or others easily, then you can get fantastic raw pictures.
Main controls including White balance, Focus mode, Metering mode, ISO and Exposure compensation.
Tap the settings icon to access the camera preferences and settings.
JPEG, DNG and PNG format are available.
Autofocus, Macro, Touch-to-focus, True manual focus and Infinity focus modes.
You can adjust EV, ISO, color temperature and more using volume keys.
Supports long exposure.
Program and Speed-priority modes for options.
Choose the storage locations and customize file names.
Test & Review
Really cool for photo enthusiasts! Love the bracketing and Shutter mode. It seems to be the most fantastic camera application. Enables you use this application with great functionality easily. All camera functions are assignable to volume keys. So, you can use its volume keys to take photos, adjust color temperature and other settings.
Pros:
Enables you to exposure compensation, ISO, light metering mode, focus mode, white balance and program mode conveniently.
Select the focus mode from options.
Use volume key to take photos, adjust ISO, Color temperature and more.
Disable the sound of application.
Supports different saved file formats.
Choose file locations and file names.
Cons:
Auto focus responds slowly.