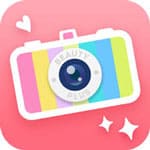 Screenshot
Overview of BeautyPlus
BeautyPlus is a fantastic camera and photo editor for you to take photos, videos or make a cool photo. It enables you to easily adjust the size, direction, clarity or fill light for photos. And you can use it to make your height, nose, eyes, teeth and others better to show off your beauty. It works great even under low light conditions so you can use it in the evening or edit the photos taken at night. There are rich filters for you for options to beauty your photos with different excellent effects.
Enlarge, Stretch, Slim and Rotate features enables you to edit your photos the way you want.
There are many beauty tools like Smooth, Tone, Acne, Firm, Slim, Contour, Height, Resize, Narrow, Brighten, Dark-circle and Whiten.
Move pimples and other skin problems, make you looks higher, slimmer and others.
Make bags and dark circles beneath your eyes disappear, brighten eyes and edit color of your eyes.
BeautyPlus works with both the front-facing and outer-facing camera.
You can set 3 seconds delay in selfie timer so that you can take photos without holding your phone in hand.
Share photos to social sites like Facebook, Instagram, Twitter, and Snapchat.
Test & Review
This is a wonderful application for selfie lovers to take photo or video selfies and edit photos. There are editing tools including Rotate, Vignette, Enhance, Clarity, Fill light, and Highlight for simple basic adjustment. It enables me to remove the skin problems from face, brighten my eyes and make them pop in photos. It is cool that it can make people in photos looks higher and slimmer.
Pros:
Drag the slide to heighten the chosen area.
Swipe your skin to smoothen.
Drag and release your fingers to perform free transformation.
Enlarge and tap to enlarge eyes and make them brighter.
You can draw on photos.
It allows you to auto adjust the smooth, teeth, dark-circle and more with one-touch.
There are various filters to choose from.
Give your photos a fantastic new look with our unique effect brushes.
Cons:
Video selfie for more than 20 seconds is not allowed.