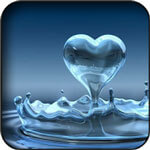 Screenshot
Overview of Beautiful wallpapers
With this wallpapers application you can change wallpapers for your devices anytime even you can't connect to the internet. It is easy to use, you can preview the pictures and switch them by previous and next icons. If you think you want the small part of pictures only, you can zoom it and move to the part you like.
You don't have to download wallpapers and set one as devices home screen easily.
Totally free.
You can save them to your SD card with simple operation.
Supports pan and zoom.
Share the wallpapers you like with friends via email, Twitter and Facebook.
Allows you to preview the wallpaper before you set it.
Tap the previous or next icon to turn to another option.
Test & Review
I am obsessed with photography, and I have probably used every single wallpaper in the whole application. I can use the part of picture I like to set as the wallpaper of my device, so I can use different part of the same picture as my wallpaper. Control the size is available so you can operate for it simply. I can also save my favorite wallpapers to SD card and share then with my friends by email, Twitter and Bluetooth.
Pros:
Application works offline.
Browse pictures in icon or full screen.
You can move to select the part of picture you like as wallpaper.
Supports screen rotation.
Share favorite wallpapers with Bluetooth or other social media.
Various of HD wallpapers for options.
Cons:
There aren't many options to choose from.