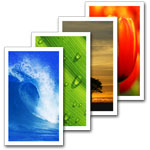 Backgrounds HD (Wallpapers) APK
Latest Version: 4.8.11
Publish Date: October 18, 2016
Download APK

(7.1MB)
Screenshot
Overview of Backgrounds HD (Wallpapers)
There are tons of options for you to choose from this application, so that you can change wallpaper on your device with various of fresh designs. If you like the works of one or two certain artists, you can log in your Facebook or Google account to follow them. Then you can get the latest works and communicate with them for works. It also enables you to upload your own works and share them with others user from the world.
Add your comments on the images from the world-wide artists.
Upload and share your own works.
You can search the wallpapers you need by inputting the related words in the box.
There are 30 categories for options.
It enables you to select the wallpaper by categories, featured, recent, popular and shuffle.
Mark your favorite wallpaper and add it to your list so that you can find them easily.
It will keep your own histories.
Show you artists' information, detailed license and URL of his website.
Sign in with your Google or Facebook account.
Follow your favorite people and view their latest works.
Test & Review
This is a wonderful wallpaper application that allows you to select wallpaper from lots of options and communication with artists about works. It is really convenient that I can choose wallpaper by categories or search words for it directly. I can leave comments to the artist I like and communicate with them for their works or which created by myself.
Pros:
Communicate with the artists and let them hear your voice.
Let the users from the world can enjoy your own works after you upload and share them.
Log in your account and follow the people you like.
Upload your own works and share them with your friends.
You can choose Daily popular, Weekly popular, Monthly popular or All time popular.
There are Airplane, Animals, Autumn, Brand, Buildings, Cars, Cats dogs, Christmas and more for categories.
Featured including Golden gate, San Francisco, Raindrops on the window, Material design wallpapers and others.
Cons: