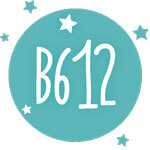 Screenshot
Overview of B612
It allows you to take photos and videos with filters, you can slide to left or right to change filters. You can also add stickers on your photos. And it supports face recognition when you want to take selfie with animation, it can make your photos look cool. You can capture photos with volume keys or enable touch capture and time feature. It is a nice camera with photo editor and puzzle maker function.
You can use it to take photos or videos.
Its stickers and filters can be chosen to decorate your photos.
Create photo puzzle if you like.
Slide to left or right and change filters.
Disable Shooting mode, Mirror mode, Location information, B612 mark and Auto save.
Tap and hold a filter to mark as your favorite.
Share you photos on Twitter and Facebook easily.
Test & Review
I can effortless beautify my photos with this application. The remarkable thing is that the graphics are becoming better and better. Animated stickers are just lovely and wonderful. It also allows me to make photo puzzles. Appreciable design which I can use to take video with different filters.
Pros:
There are 25 handpicked filters optimized for selfies.
Find your favorite filters and add them to your list.
Facial recognition stickers and more funny stickers for options.
Take a 15 second video completely with sound.
Take photos with pizzazz using the Vignette, Tilt-shift.
Use volume keys or timer feature to shoot photos.
Cons:
The clarity of B612 compared to other apps is relatively low.