Do you have questions about FoneLab for iOS? Find answers as below:
Q1. iOS device cannot be detected by the program?
Your problem may be caused by something wrong with USB connection, if your device can not be detected, you can refer to following steps:
Disconnect the device, then try again. It requires you unlock your device and trust the computer in this step.
Try another USB cable to reconnect your iOS device. Make sure that your device is not in recovery or DFU mode.
Download iTunes on your computer and check whether you are running the latest version of iTunes or not. For Windows users, you can download the newest iTunes on www.apple.com/itunes/ and for Mac users, please make sure that iTunes on your Mac has been initialized.
Check out whether your iTunes can recognize your device.
If your iTunes can recognize your device and our product can't detect your phone, please do as below. 1) Launch iTunes. 2) Connect your device until iTunes can recognize your device. 3) Close your iTunes. 4) Restart our product to check if the app can detect your device.
If your device stuck, can't restart or in another abnormal state, you can use the iOS System Recovery function to fix it. If our product still can't help you, please contact customer service, support@fonelab.com.
Q2. What devices does FoneLab for iOS support?
The supported iOS devices included:
iPhone: iPhone 4, iPhone 4S,iPhone 5, iPhone 5C, iPhone 5S, iPhone 6, iPhone 6 Plus, iPhone 6s, iPhone 6s Plus, iPhone SE, iPhone 7, iPhone 7 Plus, iPhone 8, iPhone 8 Plus, iPhone X.
iPad: iPad Pro, iPad Air2, iPad Air, iPad 2, iPad 3rd generation, iPad 4th generation, iPad mini 2, iPad mini 3, iPad mini 4.
iPod: iPod touch 4th generation, iPod touch 5th generation, iPod touch 6th generation.
iOS versions: iOS 5 to iOS 11.
Q3. Is it necessary to install iTunes when I use FoneLab for iOS?
To ensure the program can detect your iOS device, we recommend you to install iTunes. This FoneLab for iOS is well compatible with the latest version of iTunes. If you haven't installed iTunes on your computer, please visit www.apple.com/itunes/

to download and install it onto your computer.
Q4. How to use FoneLab for iOS to recover iPhone data?
Please be aware that there are 3 modes for options, Recover from iOS device, Recover from iTunes Backup File and Recover from iCloud Backup File. You need to choose the first mode if you didn't back up your device before. Otherwise, you can choose to Recover from iTunes or iCloud Backup File according to your needs.
Below is the tutorial of FoneLab for iOS.
Step 1 Free download and install FoneLab for iOS onto your computer and then it will launch automatically once it is finished. Choose iPhone Data Recovery from the interface.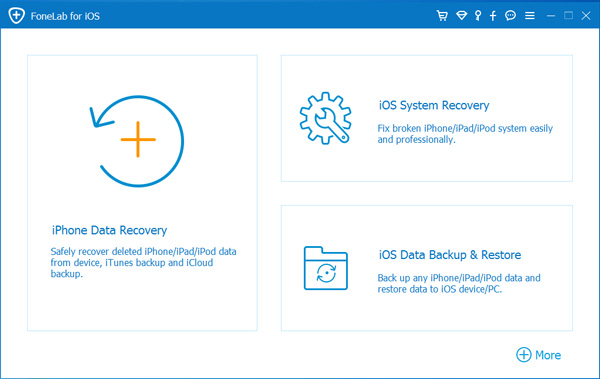 Step 2 Plug your iOS device to the computer via USB cable, and enter passcode on your phone if it is locked. Tab Trust on device for iOS 7 or higher versions.
Step 3 Choose the recovery mode. If you choose Recover from iOS device, the software will soon detect your device. The second mode will require you to choose one iTunes backup to scan. And you need to log in your iCloud account to download the backup file if you would like to use the third recovery mode.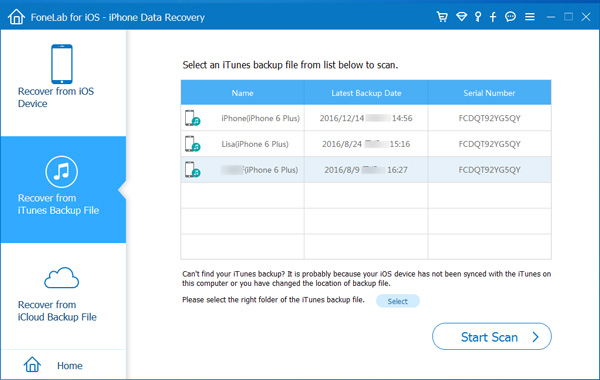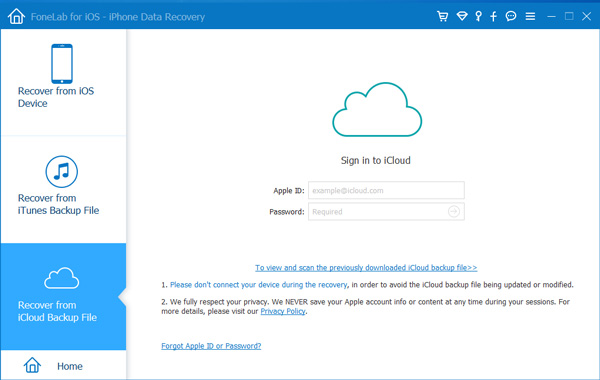 Step 4 Select the data you want to recover from the left panel, check the box under the item, and click Recover.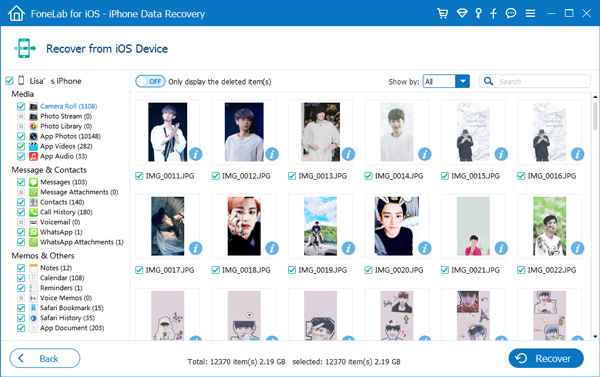 That's all. You have finished recovering data on your iOS devices.