Top 10 Android Keyboard APK
Android phone has its own keyboard, but some users don't like it at all because its lag of running speed and lack of emoji or other functions. So, a comprehensive keyboard on Android phone helps you to type quicker, easier and happier. It is lucky that you can read this tutorial if you are finding them via surfing on the internet but in vain, we will introduce 10 best Android keyboard applications for you.
10. Fleksy + GIF Keyboard APK
Latest Version: 8.3.2
Publish Date: April 11, 2016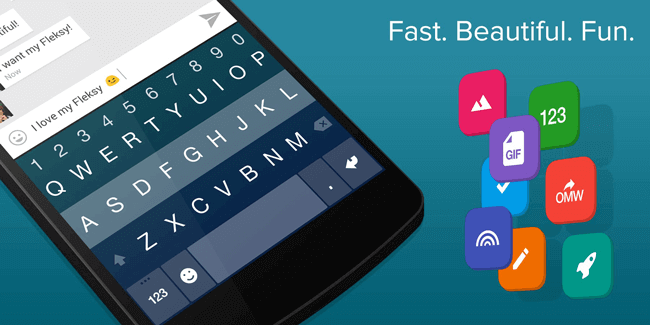 Fleksy is an interesting keyboard application for Android phone, it has rich GIFs, Extensions and themes for options. So, you can find and send different emoji, use its special typing way to input words easier and quicker. There are other extensions for you in this application, such as Android Launcher, Editor, Number row, Keyboard shortcuts, Invisible keyboard and Rainbow key pops. You can customize your own typing way with the size, theme and more you like.
Pros:
There are different Themes, Extensions and Sizes for options.
It has Festive winter, Shards, Arcade, Pastel, Classic Dark and more categories of Theme.
You can add Predictions, Fire pops, Color pops, Heart pops and more of Extensions.
Choose spacebar, minimal, original, small or tiny size of keyboard.
Allows you to Navigate apps right from your keyboard with Launcher.
Copy or paste, control your cursor, and more with Editor.
Customize Fleksy with an easy-access Number Row, quick Keyboard Shortcuts, or a fun Rainbow Pop effect when you type.
Wonderful predictive engine.
Express yourself with GIFs, Stickers, over 800 Emoticons, 40+ themes, and Rainbow Key Pops.
Supports over 42 languages.
Cons:
Fleksy + GIF Keyboard APK

(15.9MB)
9. Ginger Keyboard APK
Latest Version: 7.9.11
Publish Date:October 27, 2016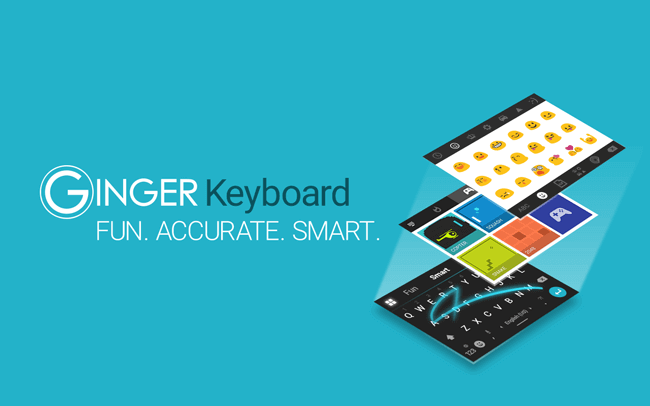 Ginger Keyboard is an awesome choice if you are typing with multiple languages. It is more than an easy and effective typing application, but also a useful translator for you. Chinese is available now, so you can use it to translate between any two languages when you are chatting with your friends, customers or family. And it can check your English grammar during the process of typing with Ginger Keyboard. It is really useful and effective keyboard application for people.
Pros:
It allows you to choose with different languages.
You can add more languages and then switch them easily.
Choose your own theme and layouts.
Adjust key tap feedback with sound and vibration.
Turn on Word prediction, Auto replace, Auto spacing, Quick period and more.
It helps you to translate from one language into another different language when you are typing.
Check your grammar, spelling, pronunciation of English.
Select US or UK English.
Choose emoticons when you are inputting emotional text.
Supports 58 kinds of languages.
Handwriting mode is available.
Cons:
Handwriting always stop working.
Ginger Keyboard APK

(41.9MB)
8. iKeyboard APK
Latest Version: 4.7.1.425
Publish Date: November 14, 2016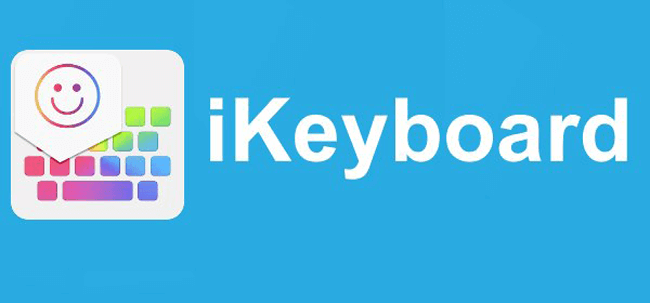 If you like to type with funny emoticons, iKeyboard will be a great option for you. There are over 1200 emoji for you to use in your chatting with friends, family and others. Use different languages and predictive engine are allowed here so you can type what you need easily. You can choose creative themes and change them every week, even customize it if you like. You can search and share anything you want from other platform as you like with this application easily and quickly,
Pros:
It has more than 100 themes for options.
There are smileys and emoticons for emoji to choose from.
Over 60 kinds of languages that you can use with this application.
Word-prediction and auto-correction to make your words easily and accurately.
Hashtag search enables you to get and share interesting thing with your friends conveniently.
Google voice input.
You can choose night mode.
Enable keyboard click sound.
Provides QWERTY, QWERTZ, AZERTY, Dvorak, Colemak, and PC.
Supports split, one-handed, and tablet modes for people on-the-go.
Cons:
It quits when you entering Chinese.
Download iKeyboard APK

(17.8MB)
7. ai.type APK
Latest Version: Free-8.5.3.15
Publish Date: November 02, 2016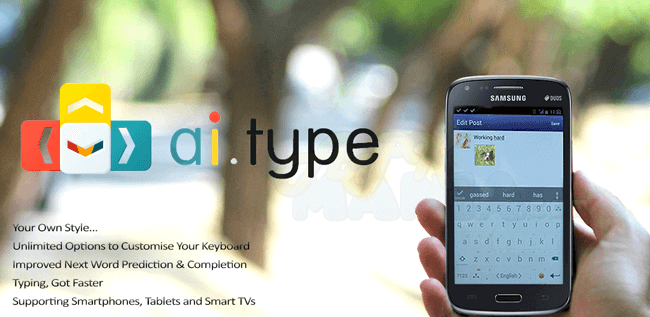 ai.type is an Android keyboard application which allows you to choose your theme of keyboard from thousands of options or customize your own design. You can input more than 50 languages and suggests emoticons in the form of arrangement based on your wording and context. It has prediction and auto-correction function when you are using this application, so you can type easier and quicker with high-accuracy. It is convenient that you can press any key to phonetic symbols and alternate characters.
Pros:
It allows you choose your theme, background, colors, fonts and layouts from thousands of options.
Enables you to share your own design of theme of keyboard with other users, and then they can be graded and then they can be graded and downloaded.
Simplified Chinese and English language layout.
You can set any image as your background.
Helps you to search for text.
Voice input.
Protect your privacy.
Cons:
Download ai.type APK

(48.7MB)
6. Flash Keyboard APK
Latest Version:1.0.1087.0926
Publish Date: November 10 2016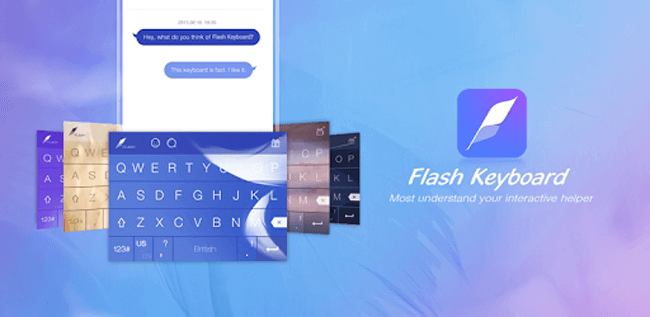 Flash Keyboard allows you to input multi languages, and provides rich skins, emoticons, stickers and more you like. It even allows you to make your own photos as stickers which are used when you are chatting with your friends and others. Emojis and smileys are adaptable to all social applications and they will be auto-changed into simple patterns when typing in text boxes. Its prediction and auto-correction help you to type what you need easily and quickly.
Pros:
There are more than 400+ kinds of language for options.
You can choose massive free stickers from options.
It allows you to customize photos into stickers.
You can choose keyboard skins and change them conveniently.
Its spelling checker makes your typing smarter.
It doesn't collect your personal information and protect your privacy.
Cons:
Download Flash Keyboard APK

(33.4MB)
5. Touchpal Keyboard APK
Latest Version: 5.9.9.9
Publish Date: November 14, 2016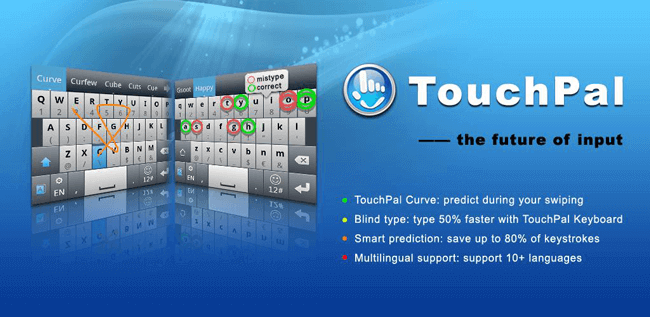 Touchpal Keyboard supports 97 kinds of languages, and you can use more than 1000 emoticons, expressions combination and expressions. You can change your keyboard skin from options in this application or customize your own special skin with your favorite images. And it allows you to set the size of keyboard, so you can choose smaller or bigger size which you like.
Pros:
You can type different languages with Touchpal Keyboard.
It has unique gesture typing technology to make typing smarter.
It helps you to correct your spelling or grammar mistake.
Backup and sync your typing habit so you can have the comfortable experience.
Predictive engine to forecast what you want to type next.
Supports Pinyin and Handwriting methods.
Unique T + keyboard.
Cons:
Annoying advertisement pops up.
Download Touchpal Keyboard APK

(31.4MB)
4. SwiftKey Keyboard APK
Latest Version: 6.4.6.30
Publish Date: November 14, 2016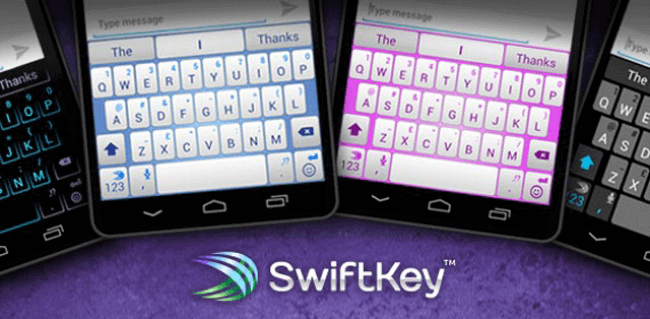 You can use more than 100 kinds of languages if you choose SwiftKey Keyboard, which is an excellent keyboard application with artificial intelligence to automatically learn your writing style. So, you it can auto-correct and predict what you want to type next. Theme, color and design can be selected if you like and there are tons of options can be provided.
Pros:
Supports multi languages.
Type faster with predictions.
Simply swipe-to-type with SwiftKey Flow.
Autocorrect that actually works.
Always learning your slang, nicknames and phrases.
More than 80 colors, designs and themes.
Emoji keyboard - learns and predicts your favorite emoticons.
Bilingual autocorrect across more than 100 languages.
Teach the autocorrect your quirks from your online accounts.
Cons:
Size of font can't be changed.
Download SwiftKey Keyboard APK

(34.2MB)
3. My Photo Keyboard APK
Latest Version: 1.5
Publish Date: June 20, 2016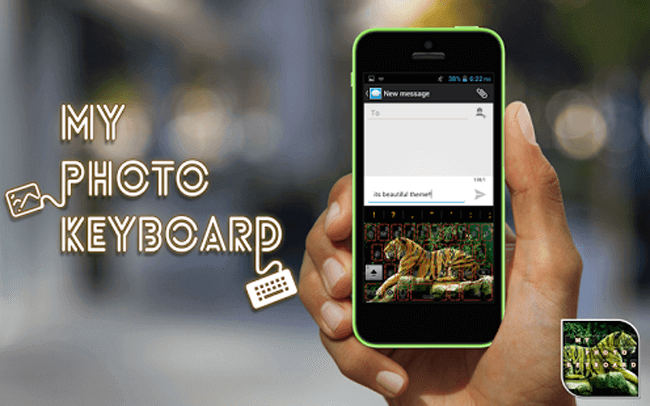 My Photo Keyboard is a nice keyboard application which allows you to set your own photo on the keyboard background in your Android mobile phone. It has different kinds of themes to choose from, and it has auto spelling checker and next word prediction to make your typing smarter. You can input more than 50 kinds of languages here and select your favorite settings for your keyboards.
Pros:
Set Photos as your keyboard background from your own gallery.
Set Different Types of Themes.
Check your spelling automatically.
Easy Next Word Prediction.
Horizontal and Vertical Keyboard Background Set separately.
More than 50 kinds of language Supported.
More than 100 fonts Style Supported.
Set Keyboard Height Setting and Keyboard Font Color.
Keyboard Key press setting as sound, vibration etc.
Support also in Tablet.
Cool & Fancy Font Supported.
Google voice typing.
Cons:
Download My Photo Keyboard APK

(8.7MB)
2. Go Keyboard APK
Latest Version: 3.05
Publish Date: November 14, 2016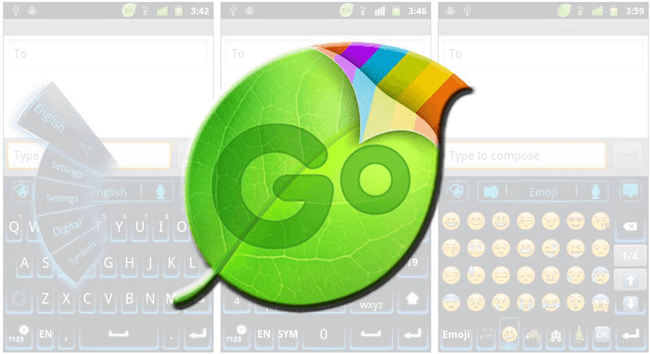 Go Keyboard is an amazing keyboard with personalized emoji keyboard and more than 60 kinds of languages when you are using it. The emoji, emotions and stickers in the keyboard are compatible across all popular social applications. Themes, layouts, colors, fonts and more can be changed if you like. There are word correction and prediction which helps you to type easily and quicker.
Pros:
It has more than 10,000 colorful themes.
There are hundreds of fonts for options.
Turn plain text into smiley emoji and emotions.
You can use stickers when you are chatting with friends or family.
Various of layouts, gesture typing, correction suggestions can be provided.
It is also available for tablet device.
Fonts including Toshiyana, Rayna, Elgtion, Basileia and other popular fonts.
Type what you speak.
Protect your privacy.
Cons:
There are less options of emoji.
Download Go Keyboard APK

(18.4MB)
1. Google Keyboard APK
Latest Version: 5.2.0.131201114-preload-arm64-v8a
Publish Date: July 15, 2016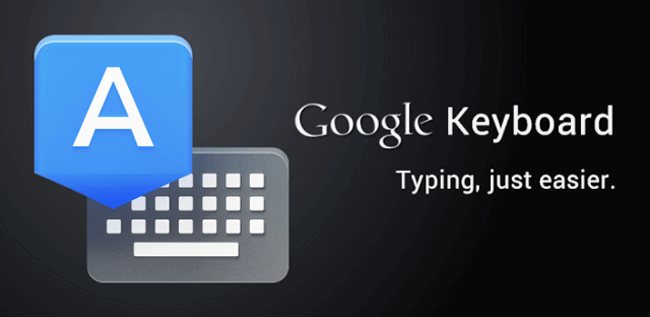 Google Keyboard allows you to slide your finger between letters and use voice input to finish your typing. It will predict which words you need and auto-correct your spelling and grammar when you are using this application. And it allows you to access symbols with a long press. Pin keyboard to the left or the right of the screen by long pressing on Enter and selecting the thumb icon on large screen phones.
Pros:
Complete a word before you've finished the gesture.
Touch the microphone to simply dictate your text.
Word completion suggestions, automatic corrections, and next-word prediction based on the words you have typed.
Press and hold Enter to choose from hundreds of emoji in any app.
No need to manually add words to a personal dictionary. Type a word once and you can gesture type it or find it in suggestions next time.
Long press a suggestion to remove it from the keyboard dictionary.
Sync your learned words across devices to improve suggestions
Gesture cursor control: Slide your finger across the space bar to move the cursor.
Cons:
There are no emoji function for early Android system.
Download Google Keyboard APK

(23.8MB)