How to Record YouTube Video and Audio Files in High Quality with YouTube Recorder
In order to play YouTube files offline, YouTube recorder should be the first choice. Why? You might take it for granted to download YouTube files. As YouTube update the algorithm frequently, the YouTube downloader might not able to detect the video or fail to work. It should be a waste of money if you purchase the YouTube downloader.
YouTube recorder is a 100% workable solution to get YouTube files. Whether you need to record videos, capture audio files, or take snapshots for YouTube videos, YouTube recorder is able to get everything you need.
How to record YouTube video and audio files in high quality with YouTube Recorder? FoneLab Screen Recorder should be the right program you need to try.

1. How to record YouTube video with YouTube video recorder
How to keep the original quality of the YouTube files, or even get a better quality when recording YouTube videos? FoneLab Screen Recorder is a YouTube video recorder uses the Blue-light real-time HD video encoding technology to guarantee an excellent image and sound quality.
Support 4K UHD video formats, 4K UHD encoding and more.
Set video codec, quality, frame rate and more to get a YouTube video.
Take full screen of YouTube video or customize the screen size.
Multiple annotation tools to highlight the important points.
Record YouTube videos without time limitation.
Step 1Launch YouTube video recorder
Once you download and install the latest version of FoneLab Screen Recorder. After that you can launch the program to record YouTube videos. In order to record everything of the YouTube file, you have to launch the program before starting the YouTube video.

Step 2Set the window for YouTube video
Click the Video Recorder option to select the full mode to record YouTube video in full screen window. If you just need to custom a window, you can adjust the frame to drag over the YouTube playback screen, or enter the pixels of the frame to record a part of YouTube screen.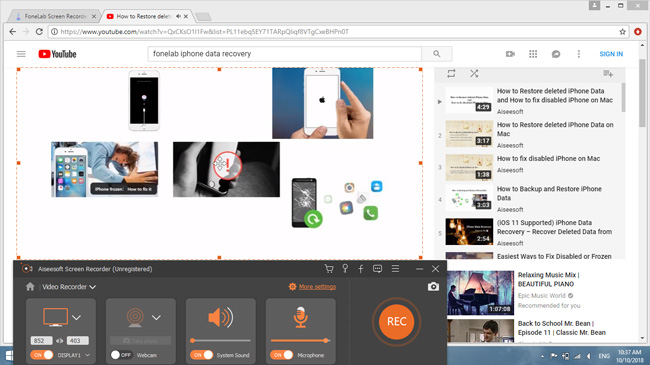 Step 3Adjust the output quality
Go to More Settings and customize the video format, mouse action in the recording, the destination for the output format, etc. Of course, you can also share the recorded YouTube files to other social media websites or save them to your computer.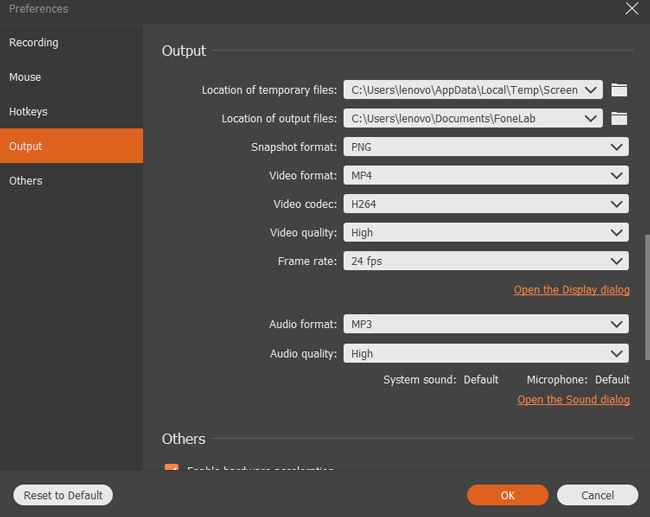 Step 4Record YouTube video on PC
After that you can turn on the System Sound to capture YouTube audio files. Then you can click the REC button to starting recording YouTube video on PC. There is an onscreen control menu to manage the recording, which you can pause and resume the process.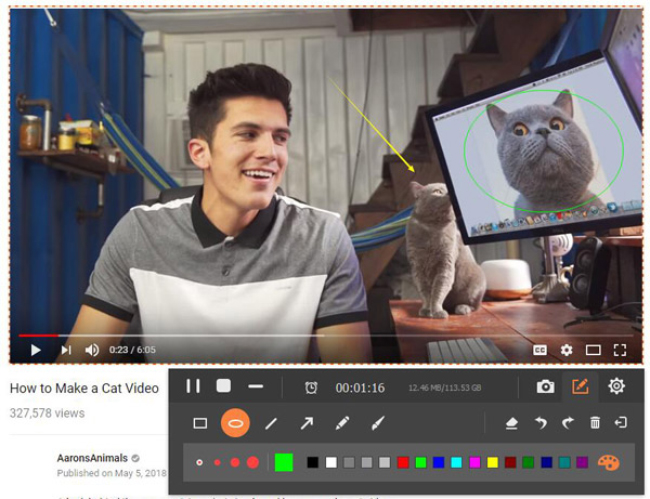 Step 5Add annotation to YouTube video
During the process, you can add text, lines, callouts, and other elements to highlight the important part. Moreover, you can also adjust the size and color of these elements. After that you can save the recorded YouTube video to social media or desktop.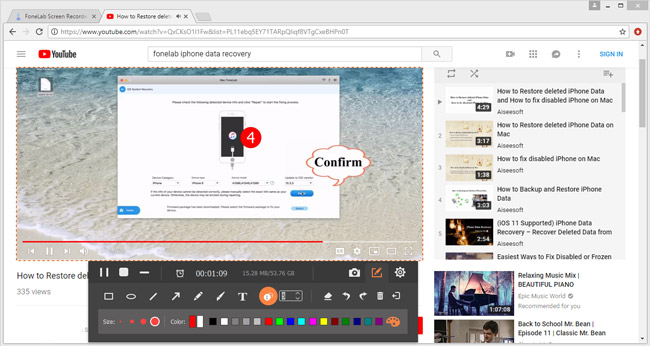 You can record gameplay video on computer, such as pokemon go, roblox gameplay, and more.
2. How to capture YouTube audios via YouTube audio recorder
In order to record music from YouTube in MP3 or extract audio files from YouTube video files, you can also use FoneLab Screen Recorder to get the desired audio files. Just choose the best output audio format and audio quality with the YouTube audio recorder.
Record audio from system audio, microphone, or both of them.
Extract background audio files from YouTube video.
Save the audio from YouTube to MP3, M4A, AAC and WMA.
Share recorded YouTube files to multiple channels with ease.
Step 1Launch YouTube audio recorder
Just use the similar process to launch YouTube audio recorder. Instead of choosing the Video Recorder, you can choose the Audio Recorder to record YouTube in MP3.

Step 2Set output for YouTube audio
When you need to play the YouTube audio on smartphone, you can click the More Settings option to choose the Audio format as MP3. In order to get the best result, choose the Audio quality option as High.
Note: You can save YouTube audio in MP3, WMA, AAC and M4A.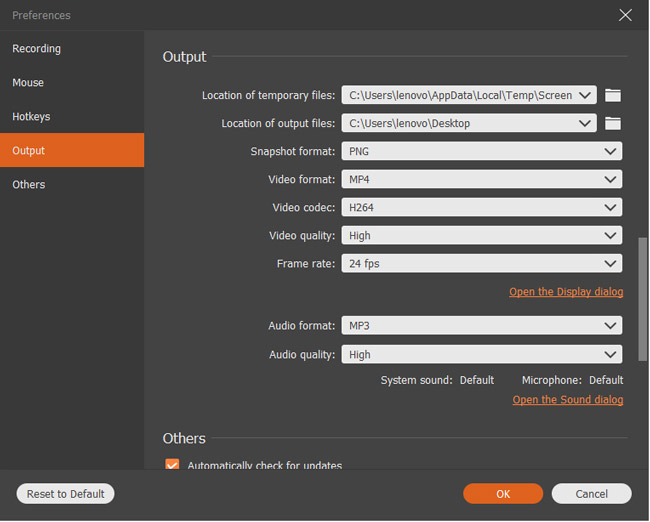 Step 3Turn on system sound only
If you need to record the background music files of YouTube, you should turn off Microphone in order to avoid audio from external environment. When you turn on the System Sound option, you can adjust the volume of the audio file.

Step 4Record YouTube in MP3 format
In order to record YouTube in MP3 only, you have to turn off Video Recorder option. After that click the REC button before starting the YouTube file. There is 3 seconds countdown; you can play the music, songs or other audio files on YouTube channel.
And it can be a powerful mp3 recorder on Windows or Mac for users.
3. How to take snapshots through YouTube screen capture
When you need to take a snapshot as a thumbnail of the YouTube file, or get some important screen for YouTube, FoneLab Screen Recorder can be a handy tool to record a snapshot of YouTube.
Record YouTube full screen, fixed screen size or customized screen size.
Make annotation to the YouTube screen with lines, shapes and texts.
Save the still images in PNG, JPG, JPEG, BMP, GIF and TIFF.
Export the files to multiple social media sites or save to computer.
Step 1Choose the Snapshot option
When you launch YouTube screen recorder, you can choose the Snapshot option. Similar to take screen as video format, the program enables you to customize the screen size for the snapshot. Choose the full screen or adjust the frame to get a desired window.

Step 2Record YouTube snapshot
After that you can click the Snapshot button to take a screenshot for the YouTube video. What is more, you can also take screenshots for important points during the video recording.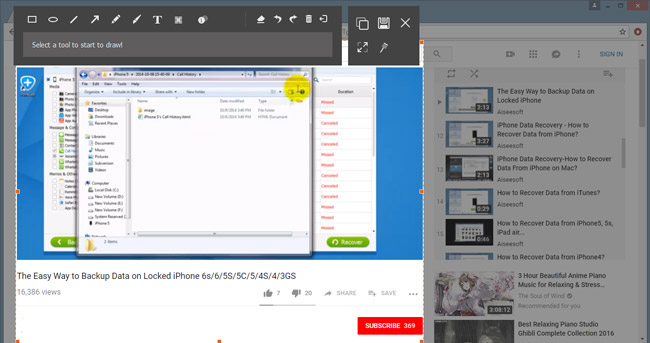 Step 3Edit the YouTube snapshot
If you are take YouTube screenshot for a tutorial, you can add annotations, such as line, calls, texts and more other elements in different color and size. Simple click the Restore button to restore pictures to the previous step.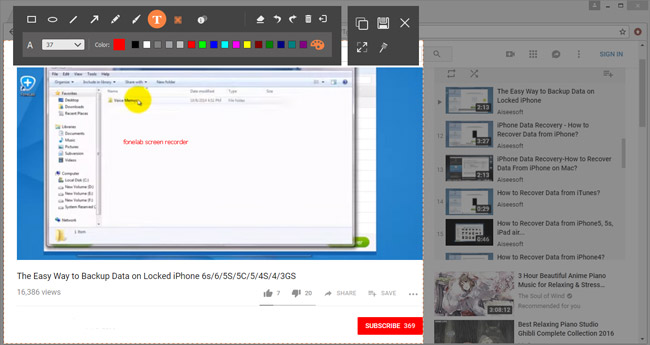 Step 4Share the YouTube snapshot
Now you can simply click the Save button to save the snapshots to the destination folder. Of course, you can also choose the destination folder to save the YouTube files recorded.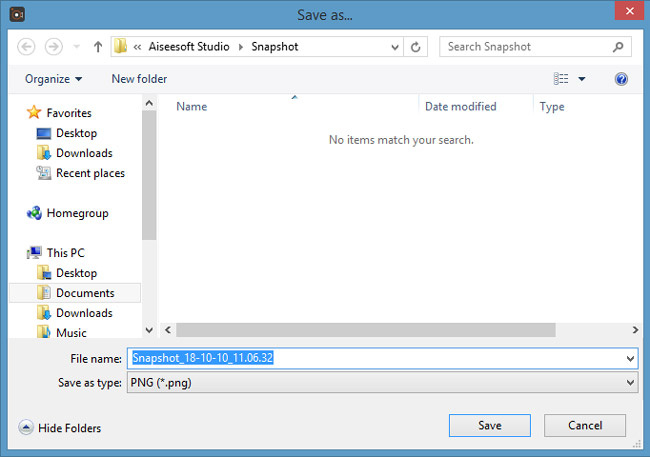 And you can also use it to take screenshot on windows or Mac.
Conclusion
When you need to record YouTube videos in high quality, capture YouTube audio files in MP3, or take a snapshot of YouTube, FoneLab Screen Recorder should always be the first choice. The program not only record YouTube files in high quality, but also have multiple editing and annotation tools to make the video files excellent.
If you have any query about the YouTube recorders, you can share more information in the article.