Best Ways to Download Ustream Video | 2020 Fixed
Ustream is a cloud-based broadcast tool, which enables users to broadcast live streaming videos through mobile phone applications or websites with stable Internet connection. It is an end-to-end program, so you can watch live video and broadcast in different categories including game, sport, entertainment, news, animal and more.
Well, what if you want to watch the Ustream videos later, or prefer to keep them on computer or mobile phone for watching repeatably?
In this post, we will show you the right answers to How to download Ustream videos, and how to record online videos you can not download directly.

1. Ustream Downloader - Computer Software
Ustream video downloader on computer is a cool design for people who want to download Ustream on computer for offline watching or other purposes. Most of them will ask users to download and install the program on PC or Mac, then follow the instructions to keep the Ustream video on local folder.
Free HD Video Converter is one trustworthy program you can have a try on computer. After installation, just click New Downloader and paste the Ustream address URL in the box. The video will be downloaded in a short time.
As the day goes, people also get online Ustream downloader on computer to save videos from Ustream without installing additional tools.
2. Online Ustream Video Downloader
There are tons of options to download Ustream videos online if you search them from Google. Here comes the question, how to choose one from them? Online tools always come without many functions as computer programs because of its light-weight design, but every choice has its own features to make it helpful. Most of Ustream video downloaders online are easy to use, just copy and paste the URL in the box then click Download button next to it to begin downloading.
If you are here for some nice online Ustream video downloader recommendations, below are 3 downloaders for your references.
Top 1. DoVideo
DoVideo downloader is a comprehensive video site to download online videos, including YouTube, Facebook, Instagram, Video and many others. You can choose MP4 and other formats in one click.

Top 2. KeepVid
You can choose different quality, format and size of the video you want before downloading with KeepVid. Moreover, it also helps you to convert video or audio formats accordingly.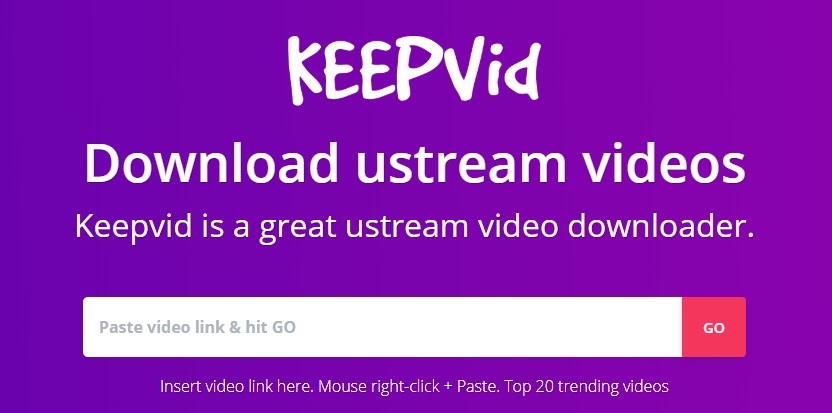 Top 3. Online Downloader
As one of the free online tools to download Ustream videos, it also enables you to convert video formats. You can simply click the Upload and Convert File to save your video into other file formats with easy operations.
However, the success rate has been reduced along with the development of Ustream privacy protection for the video owners, no matter you are using Ustream downloader on computer or online. This is also the main reason why you need alternative to Ustream video downloaders alternatives.

To ease your worries, we have come up with the best screen recorder below.
3. Record Ustream Video - FoneLab Screen Recorder
If download Ustream videos are not 100% work anymore, an alternative to record videos from Ustream is another method to fix your problem.
FoneLab Screen Recorder comes with versatile features to help you record online meetings, capture streaming audio, record game screen, etc. Compared to other programs, you can use its task schedule to record YouTube videos, Vimeo videos, and more. What's more, you can also record screen around mouse, or record desktop excludes windows as your needs.
More importantly, Windows and macOS are supported, so you can use it on PC or Mac hassle-free.
Features of FoneLab Screen Recorder
It supports Windows and Mac.
You can choose various recording formats, including MP4, AVI, MKV, MOV, etc.
Record video, audio and webcam concurrently.
Add annotations while recording.
Adjust settings accordingly.
Enable mouse recording.
Recording both system sound and microphone audio.
Steps of FoneLab Screen Recorder
Below are the clear instructions to show you how to use it.
Step 1Open FoneLab Screen Recorder on computer browser and then click Download button. Then follow the on-screen instruction to install it. After that, it will be opened automatically.

Step 2Choose Video Recorder from the options of the main interface.
Step 3Then you need to choose the recording area through selecting Full or Custom. If you want to record customized parts of screen, choose Custom, then drag to select the area. Enable System Sound here.

Step 4Click REC button to start recording.
As you can see, you don't need to adjust the settings before recording as everything is done by default. If you are aware of specifications of screen recording, it is also easy to set everything, like frame rate, output format, etc, correctly. FoneLab Screen Recorder is the best option you should not miss.
Solutions are always more than the question. You can choose the one that suits you best to empower you to save the Ustream video you want to wherever you want.