That's How I Record Streaming Audio from SoundCloud as MP3 Tracks
"How can I download songs from SoundCloud? I want to get uncompressed SoundCloud tracks… Can I record on the SoundCloud app? Can you upload to SoundCloud on mobile?"
Still looking for a good SoundCloud downloader? Actually, you can get better experience and break restrictions by recording SoundCloud songs. As a result, you can run the SoundCloud recorder software to enjoy lossless music offline in high quality.
From this article, you can get detailed information about SoundCloud and its audio recorder software. Furthermore, you can also learn how to be a creator in SoundCloud. Now, let's read together to solve these problems.
1. SoundCloud Overview
SoundCloud is one of the largest social music platforms. Every music fancier can upload, search and listen songs for free. SoundCloud is available on multiple platforms including web, iOS, Android, Sonos, Chromecast and Xbox One. Moreover, there is a SoundCloud community. You can always get the latest tracks and podcasts here.
Some songs can be downloaded for free. You can see the Download icon with the permission from the uploader. For Google Chrome users, there is a plugin named SoundCloud Downloader Free. Once you install this Chrome extension, you can download SoundCloud tracks within the browser. If you hover on a download button, you can even get a popping-up QR-code to download the song.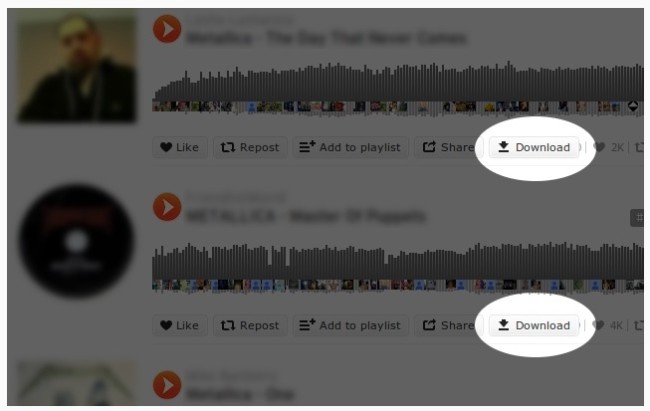 However, not all streaming audio tracks uploaded to SoundCloud are downloadable. What if you want to download non-downloadable music from SoundCloud? At this time, you need a powerful SoundCloud recorder to capture all songs with no quality loss. This is also what this article mainly talks about.
2. How to Record and Upload Audio with SoundCloud APP
There are no restrictions of uploading to SoundCloud. Everyone can upload his or her song. Once you register a SoundCloud account, you can access all features. It is quite easy to upload on SoundCloud app. You can record your voice through the built-in microphone directly. There are also basic editing tools provided by SoundCloud.
Run SoundCloud app
No matter you want to record on SoundCloud on iPhone or Android, you need to install the official SoundCloud application first. Then sign into your SoundCloud user account. This section will show you how to record on SoundCloud on Android. You can do the same operations on your iOS device too.
Record your voice in SoundCloud
Choose the More option on the top of the screen. Find and tap the Record option under your profile. When you locate the SoundCloud recording page, you can start, pause or stop recording by choosing the Microphone icon.
Upload the voice recording to SoundCloud
Once the recording process ends, you can clip, fade in or out the audio by tapping the Scissor icon. Add the track title and manage the privacy settings manually. At last, you can tap the Upload icon to upload a song to SoundCloud.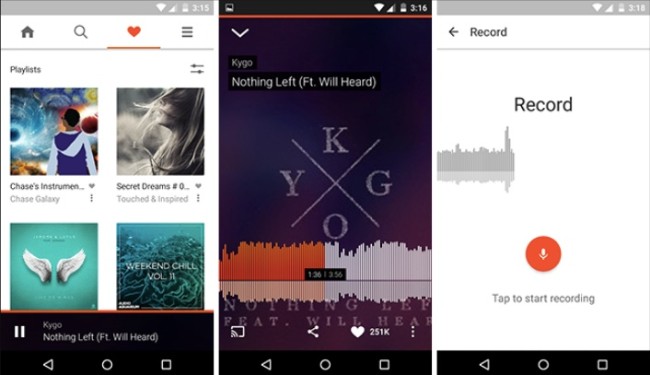 If your voice recording cannot be uploaded to SoundCloud, you need to check the Wi-Fi connection first. Well, a strong Internet connection matters a lot. 
3. Newest Way to Record Streaming SoundCloud Songs as MP3 Tracks
It is hard to find a SoundCloud recorder app that can capture streaming audio from your smart phone. Thus, if you want to download online SoundCloud music in the original quality, you can turn to FoneLab Screen Recorder for help. The program can capture all on-screen activities. Therefore, you can record streaming audio from SoundCloud, YouTube, Facebook and almost all media websites with no quality loss.
Main Features of the SoundCloud Downloader
Record online and offline videos with full screen or customized screen size with no lag.
Capture internet audio coming from your computer or microphone voice as MP3 or other formats.
Take screenshots around the mouse freely.
Export the high-quality video, audio or snapshot in different formats.
Use hotkeys to control the whole screen recording process.
How to Record on SoundCloud on Your Computer in High Quality
Run the audio recorder for SoundCloud
Free download and install FoneLab Screen Recorder on your Windows or Mac computer. When you launch the SoundCloud recorder software, you can activate the account with the registration code and email address. Later, choose the Audio Recorder option.

Manage the audio recording settings
Switch the on-off option before System Sound to the On state. Well, you can volume up or down with the slider below. That's all for recording streaming SoundCloud streams. Well, if you want to record your voice at the same time, then you can turn on the Microphone option.

Save or share the SoundCloud audio recording
Later, click the REC icon to start recording SoundCloud. You need to play the streaming SoundCloud audio quickly. When you want to skip the certain audio clip, you can click the Pause icon. The audio recording file still exist. You can choose the Resume icon to continue recording whenever you want. After finishing the process, you can click the Save icon on the lower right corner of the Preview window.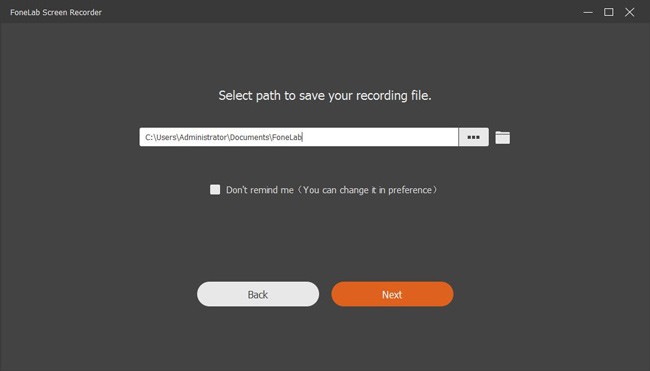 Note: You can also make a SoundCloud recording with FoneLab Screen Recorder. What's more, you can record your voice together with the song with much customizable tools.
Well, you can create ringtones with the SoundCloud recording file for free offline. It is super easy to use the SoundCloud recorder software to record audio from and to SoundCloud. If you encounter any problem, just feel free to contact us. Of course, you can also share your favorite artist, band or podcast in the comments below. Please share this article if it is helpful. Thanks for your reading.
Related Articles:

Leave your comment and join our discussion