Ultimate ScreenFlow Alternatives for Windows and Mac in 2020
"- How do I record online webinars with sound on my computer? - Good alternatives to ScreenFlow? - Need software similar to ScreenFlow for Windows… - Any alternative to ScreenFlow for screen recording?"
There are many similar questions about seeking a good ScreenFlow alternative. Fortunately, this article collects other two screen recorder software for Windows and Mac. Thus, you can record screen videos without ScreenFlow restrictions successfully.
Want to know what those alternatives to ScreenFlow are? Let's read together to figure out them.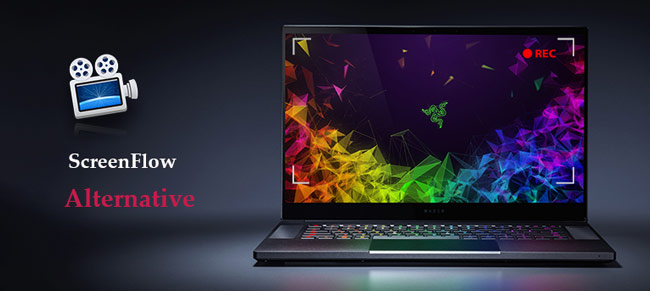 1. ScreenFlow Review
ScreenFlow released by Telestream is a screen recorder and editor available on Mac or web platforms. You can record all activities on your desktop with system or microphone audios.
Well,
All recording files will be exported as QuickTime movies. Thus, you can watch them offline or publish them to YouTube and other video-sharing sites by one click. Actually, ScreenFlow can be your one-stop video capturing software.
Then here comes the question,
Why people search ScreenFlow alternative software instead? What're the disadvantages of the ScreenFlow tool?
Seriously, its high price takes the most responsibility. Well, ScreenFlow lacks basic editing features too. In a word, some people prefer to get a ScreenFlow alternative with much lower price or better features.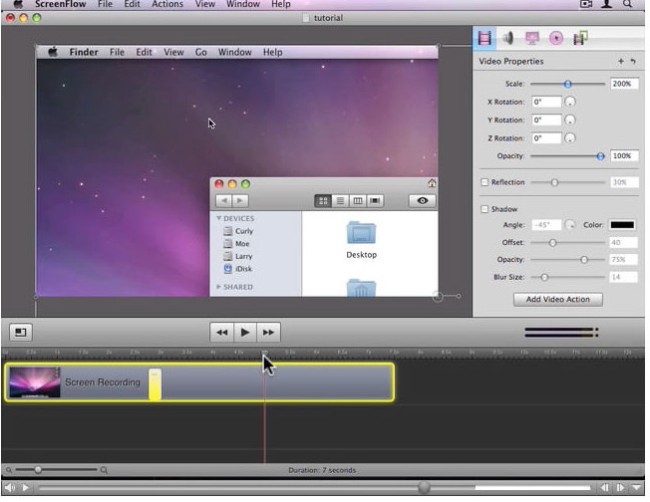 2. ScreenFlow Alternatives for Windows and Mac
Considering different requirements of screen recording, this article chooses two representative screen recorder software. Thus, you can create screen recording videos in different levels.
Well, both Windows and Mac users can use the following 2 ScreenFlow alternatives here.
1. Camtasia Studio – ScreenFlow Alternative for Professionals
Camtasia Studio is one of the most popular screen capture software in the market. You can record and edit stunning videos with powerful features.
As for ScreenFlow VS Camtasia, it is hard to get the result. You can get much more features from Camtasia Studio. Consequently, you need to pay almost twice the price of ScreenFlow.
Pros:
Be capable of screen recording and editing on Windows and Mac PC.
Edit your media files in the timeline with multiple tracks.
You can record screen videos from the mobile device to your computer with the same network.
Cons:
The price of Camtasia Studio is quite high.
You need to pay for the further Camtasia update versions.
Many editing features hide deeply due to its UI.
You are limited in the preset media library.
2. FoneLab Screen Recorder – ScreenFlow Alternative for Novices
FoneLab Screen Recorder allows users to record videos/audios and take screenshots quickly and easily. For instance, you can record a gameplay video without lag. It is ok if you want to take a screenshot and add labels while recording.
All features are sort out in a simple and well-designed interface. Thus, even beginners can screencast effortlessly with the ScreenFlow for PC alternative.
Main Features:
Capture streaming and offline videos with full screen or customized screen size on Windows or Mac PC.
Record system and microphone audios at the same time in different volumes.
Take screenshots during or after screen recording.
Add texts, lines, arrows and other drawing panels on your videos or screenshots.
Use hotkeys to control the whole screencast and screenshot process.
How to Record a Video Quickly
Run FoneLab Screen Recorder
Free download FoneLab Screen Recorder on your computer. Later, you can launch the ScreenFlow alternative for Windows or Mac program after the installation.

Enter into the video recorder
There are 3 modes you can choose. This section will take screen video recording as an example. So you need to click the Video Recorder option. Draw the screen size with your mouse. You can lock the screen if necessary. Then trigger the options before System Sound and Microphone according to your need.

Record a screen video
Click the REC option to start recording. Now you can head to the page you want to capture. After the 3-second countdown, the alternative to ScreenFlow for Mac or Windows will record your screen automatically. It's OK if you want to take a screenshot during recording. Moreover, you can edit the screenshot with various filters.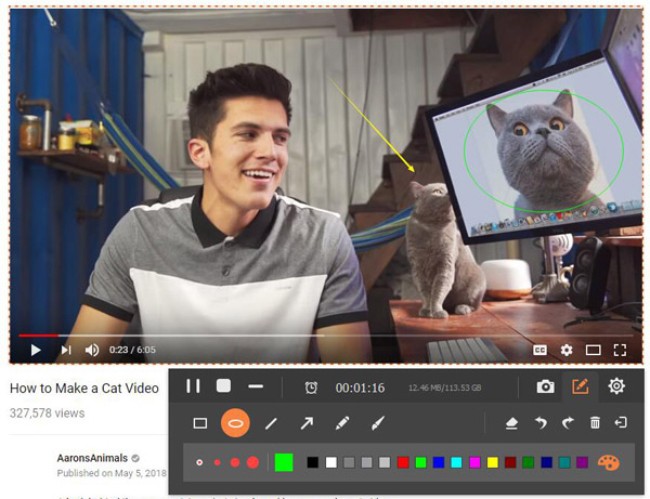 Save or share your video
Click the Pause, Resume and Stop icons to control the whole screen recording process. When the process finishes, you will get a popping-up preview window. Click Save to export your video recording file. Well, you can choose the More icon to change the destination folder.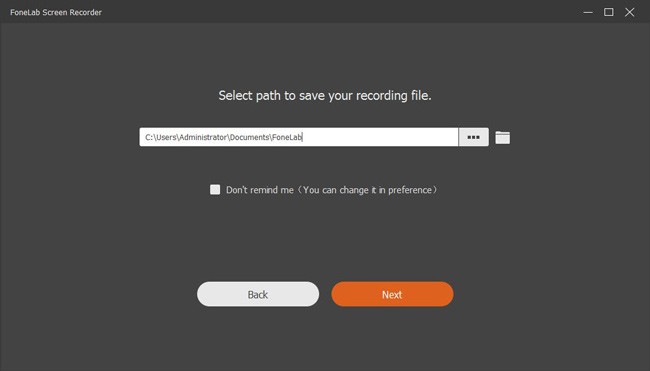 Note: The default output video format is MP4. You can click More Settings to change preferences and output settings before recording.
3. ScreenFlow VS Camtasia Studio VS FoneLab Screen Recorder
So which one can be the best screen recorder? You can get your own result from the following comparisons. In a word, you can get many screen recording filters with the most affordable price here.
| | | | |
| --- | --- | --- | --- |
| | ScreenFlow | Camtasia Studio | FoneLab Screen Recorder |
| OS Supported | Mac | Windows, Mac | Windows, Mac |
| Price | Start at $129 | Start at $249 | $27.3 |
| Record videos with the customized screen size | ✓ | ✓ | ✓ |
| Get multiple video or audio tracks | ✓ | ✓ | X |
| Capture microphone and system audios | ✓ | ✓ | ✓ |
| Record webcam videos | ✓ | ✓ | ✓ |
| Wide support of publishing options | ✓ | ✓ | ✓ |
| Apply annotations and transitions | ✓ | ✓ | ✓ |
| Free trial | ✓ | ✓ | ✓ |
| Easy to use | 4.2/5 | 3.7/5 | 4.8/5 |
Obviously, you can get most features from FoneLab Screen Recorder at a quite cheap price. All in all, if you are looking for a powerful and easy-to-use screen recorder, definitely FoneLab Screen Recorder can be your best choice. Well, you can regard it as the ScreenFlow demo version too.
That's all for recommendations of ScreenFlow alternatives. Do you agree with above paragraphs? If not, please write down your opinion in the comments below. You can also feel free to contact us about your best ScreenFlow alternative. We are glad to help you solve any question whenever you need.
Related Articles:

Leave your comment and join our discussion