FoneLab Screen Recorder
Capture video, audio and more with ease.
Record Periscope - The Ultimate Guide About Periscope | 2020
Twitter released Periscope, which is a live streaming app on iPhone or Android phone, in 2015. And then Apple awarded it as the top application as it gained over 10 million users within 5 months. No matter you are a fan of Periscope or not, it is no doubt that it is a really popular video platform to broadcast live video and join the broadcast with a registered account.
To help people who intend to keep the streaming videos for offline watching, a brief guide is provided as this article goes on.

1. Download Periscope Videos
In order to save videos offline, the first method you can try is to download the Periscope videos. If you are the owner of the video you want to copy, there is an official method to do this.
How to Download Your Own Periscope Streams
Periscope will save all your streams to Analytics dashboard. As a result, if you want to download Periscope stream you owe, you can request video download to save it. Below is how.
Step 1Open Periscope website and log in your account.
Step 2Click your profile, then your can see your streams, click the blue download button.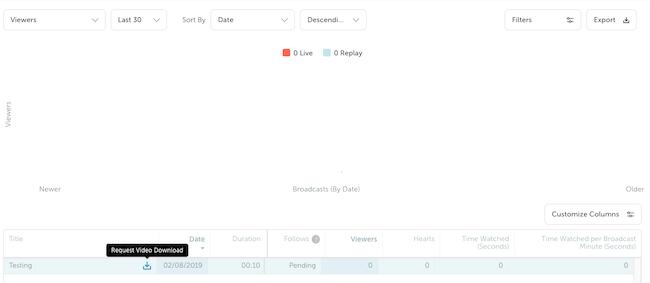 Step 3You can click the green icon to download the video after a few minutes.
There are so many iPhone and Android Periscope users, here comes the question, what if you intend to download periscope stream to mobile phones?
Below is how to save a copy of all your own broadcasts by default to your device.
Option 1. Click People tab > Profile > Settings. Then you can see Auto-Save to Camera Roll, click to enable it.

Option 2. You can turn on Autosave setting on mobile phone through Account > Settings > Autosave Broadcast.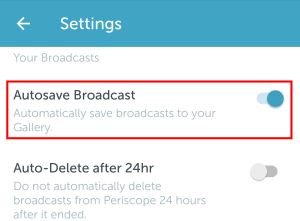 Of course you can also tap the download icon on your mobile phone screen to save an individual broadcast immediately after it has ended.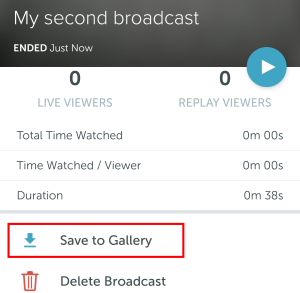 Unlike some video platforms, Periscope viewers are not allowed to download other people's streams. How to fix this?
Download Periscope Video of Other People
There are various live videos on Periscope, you can view streaming videos easily. Sometime, you might need to download video from Periscope for later watch, you can find that you are not allowed to do that. If you think that it doesn't matter for this situation as you can view the video online whenever you want, you are wrong.
Users can choose whether to keep broadcasts indefinitely or automatically expire them after 24 hours. In the same word, they can easily tap Settings > Auto Delete After 24 Hours to remove the streams, then you are unable to access the video you want any more.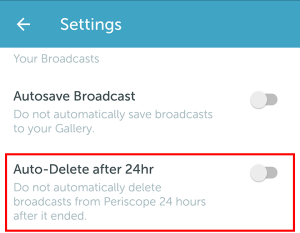 So, what should you do? Don't worry. Move to the next part about how to download periscope video.
Online Periscope Video Downloader
There are many online tools to help you download video from Periscope according to its restriction for privacy protection. Here we will introduce an example called GetVideo to save videos downloaded from Periscope.
Below is how to download periscope videos.
Step 1Open Periscope video on computer browser web page, then copy the link from the address bar.
Step 2Open a new tab on the browser, then visit GetVideo.at and paste the address in the search field, click blue Search button.

Step 3Click one of the video formats you want from the right side and download it.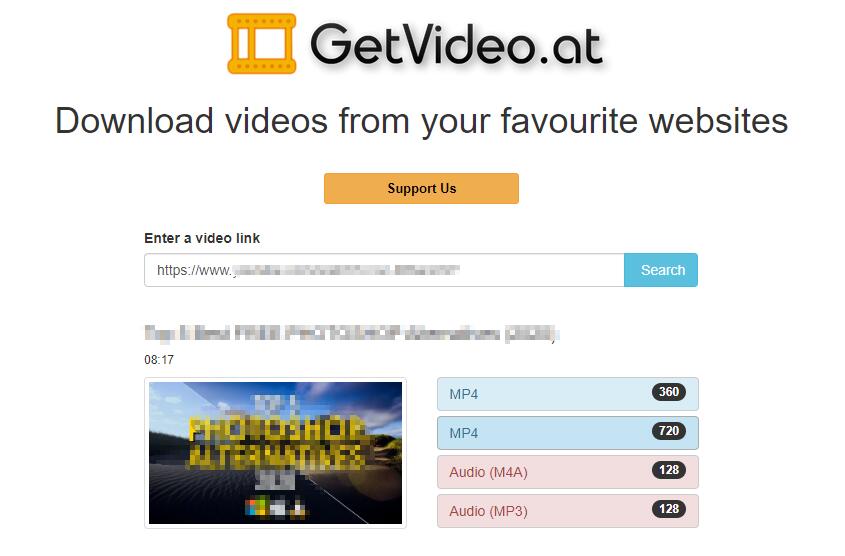 Downloading Periscope will not always work. In this case, you can record Periscope videos.
2. How to Record Periscope
You are allowed to broadcast video from Periscope on iPhone or Android phones only. However, you can still view broadcast on computer browser if you want.
In this part, we will show you how to record Periscope on mobile phones and computers correctly.
Record Live Periscope on iPhone
If you are an iPhone user, you can easily enable the screen recording feature after iOS 11, which is a convenient yet powerful built-in function to help you record streaming Periscope on iPhone. Here is a simple tutorial of how to record screen on iPhone.
Step 1Enable screen record through Settings > Control Center > Customize Control > Screen Recording.
Step 2Swipe up or down on your iPhone accordingly to access Control Center. Tap screen recording icon to begin recording.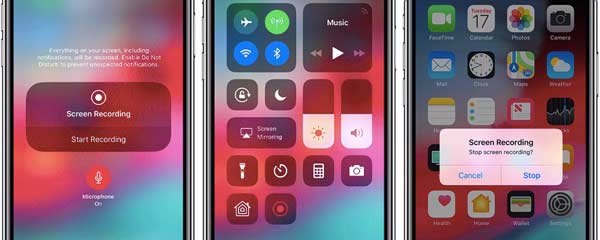 Step 3Go to Periscope app and open the stream you want to record. Leave it alone until it ends.
Step 4Tap the red button on the upper-left corner of iPhone to stop recording. The recorded video will be saved to Photos app.
Record Periscope Streams on Android
Most Android phones don't have a default screen recording feature, if you want to record Periscope video on Android, use a third-party app is a wise choice.
It is not easy to make a decision that which app is the best. Actually, packed with different features, each option has its own advantages. Here, Apowersoft screen recorder will be introduced to you. It supports Android 5.0 and later versions and it can capture screen with audio without quality loss. Below is how to use it to record Android screen.
Step 1Search Apowersoft screen recorder on Google Play, then download and install it on Android phone. Then click record button to begin recording.
Step 2Play video on Periscope. Back to Apowersoft screen recorder to stop recording when it is done. The recorded Periscope streams will be saved to Android Gallery.
If you wouldn't like to record screen on mobile phones, you can mirror iPhone or Android to computer, then use some screen recording programs to capture screen with audio. We will show you show to record screen with audio on computer in the following parts.
How to Record Periscope on PC
There are various effective methods you can choose to record screen on Windows, so you need to take your time to understand which is the best option for periscope capture.
Well, if you want a trustworthy program, you should look no further than FoneLab Screen Recorder. For Periscope screen capture, it can record screen with audio perfectly with ease.
Compare with default screen recording features and many other screen recorders, FoneLab Screen Recorder is packed with rich features yet allows you to capture screen videos with simple operations.
Step 1Visit FoneLab Screen Recorder on official site, then download the program on computer. Then it will be opened automatically.
Step 2Open browser and open the video you want to record firstly.
Step 3Click Video Recorder on the main interface. Then you will be asked to select recording area, you can choose All to capture entire screen to Custom > Select region/window to select certain part of screen.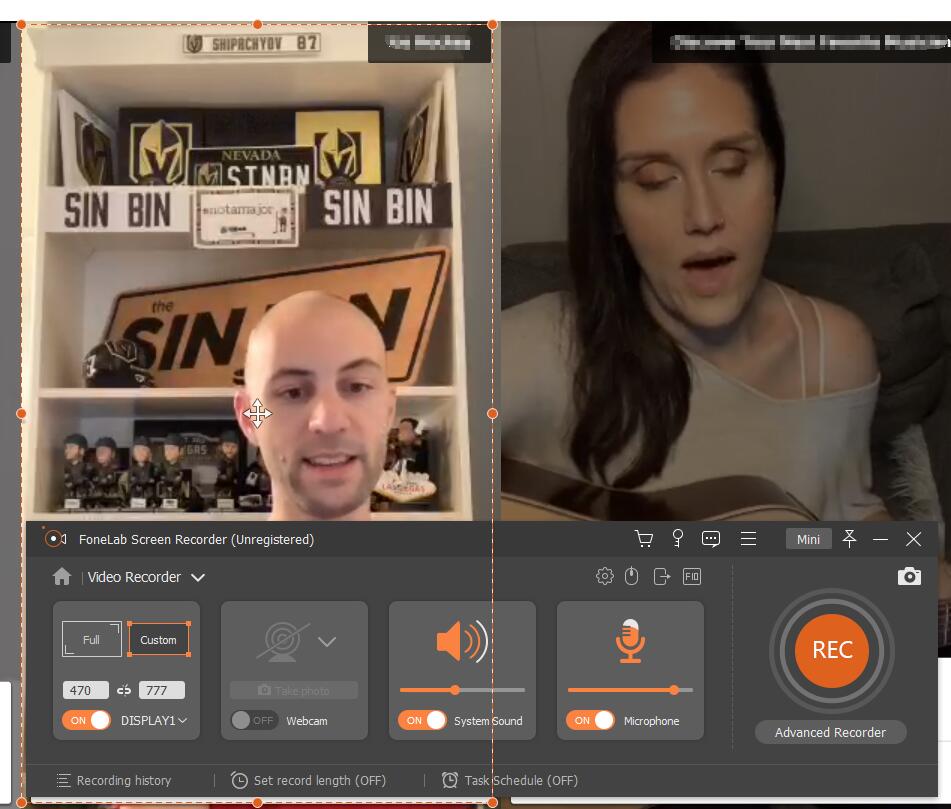 Enable System Sound to capture Periscope audio. Click REC if everything is OK.
Step 4Click stop button of the program to stop recording. Then select a folder to save the recorded Periscope video.

How to Record Periscope on Mac
QuickTime recorder might be the first option for Mac users as it is one of the most useful built-in tools to capture Mac screen. Furthermore, you can even mirror iPhone to Mac then record screen if you prefer to record iPhone screen on Mac rather than record it on a browser.
However, you might be aware of the fact that QuickTime will not record system sound from Mac, which means you will get a recorded Periscope video without any sound. What should you do?
Here we will introduce Mac FoneLab Screen Recorder to you.
Come with intuitive interface, Mac FoneLab Screen Recorder enables you to find all options with ease. With one-click operation, you can record Periscope with audio on Mac as below step-by-step demonstration.
Step 1Download and install the program on computer, then open it.
Step 2Open the Periscope on computer browser. Choose Video Recorder and turn on system sound. Select the recording area and click REC button to begin recording.

Step 3Stop recording when the broadcast is done.
That's all about how to download and record Periscope streams. There are different solutions to do this, you can choose the one that suits you best. FoneLab Screen Recorder is strongly recommended to you, why not download and have a try now!