[2021 Updated] How to Record Netflix Movies on Your Android/iPhone/Mac/Windows

Posted by
Valyn Hua
/ Dec 23, 2020 16:00
Netflix is a large platform that offers various TV episodes and movies. Moreover, you can rent DVDs and Blu-ray discs with free shipping. However, there are always these or those restrictions. If you want to watch Netflix movies whenever and wherever you want, you had better download or record Netflix movies.

Fortunately, you can get detailed solutions from the following paragraphs. Yes, this article shows how to record streaming Netflix videos on your smartphone or computer mainly.
To start with, let's figure out the question "Is it illegal to screen record Netflix movies" first.
Well, recording streaming videos is a gray area. You are not supposed to record Netflix videos technologically. But if you do not share the Netflix recordings, you will not be caught in most cases.
Can you screen record netflix? Now, let's move on to record streaming Netflix movies together.
Part 1. How to Download Netflix on My Android
Actually, some Netflix movies are downloadable. You can find the Available for Download icon under the category. Well, make sure you are running a strong Wi-Fi network. Later, you can use Android screen recorder to record Netflix on Android.
Step 1Install or update the latest Netflix application.
Step 2Sign into your Netflix account.
Step 3Tap the Available for Download option.
Step 4Choose the More icon on the top left corner.
Step 5Search the movie you want to download.
Step 6Select the Download button to download a Netflix video.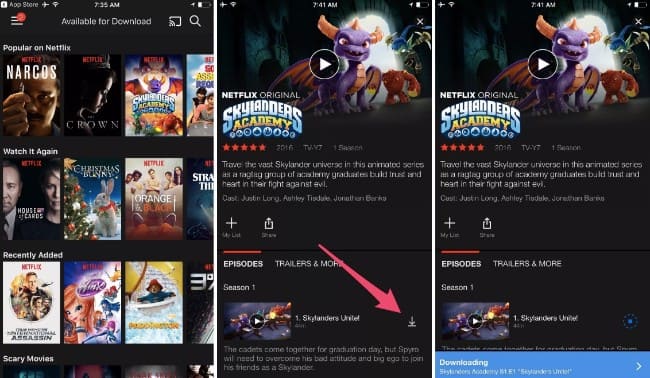 You cannot find the built-in screen recording feature on your Android phone or tablet. Thus, if you are instant on recording Netflix movies on Android, you need to install third-party applications. Sadly, most video recorder apps cannot capture streaming sound coming from your Android device.
Part 2. How to Screen Record Netflix Movies on an iPhone/iPad
If you use an iOS device instead, you can try the above steps to screen record Netflix on iPhone too. In addition, you can set the video quality between standard and high before downloading. The downloaded Netflix files display under the My Downloads section. Well, you can cancel the Netflix download process whenever you want.
Some iOS 11 users prefer to use the default iOS 11 screen recording feature. However, it violates the terms of use. In another word, you cannot record streaming videos from Netflix, YouTube and other similar applications with this iPhone screen recorder.
Consequently, if you encounter some un-downloadable videos, you need to screen record Netflix on Mac or Windows PC instead.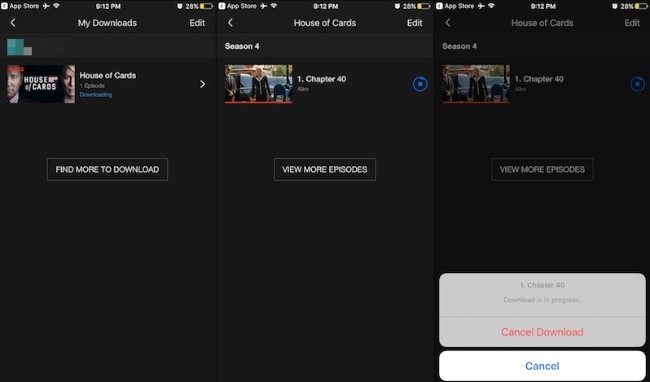 Part 3. Can You Record Netflix Movies on a DVD Recorder
You may encounter questions like Can I record Netflix on my DVD and others. Due to the copyright protection, you are restricted to what and how you can record DRM-protected videos.
Well, the Record Once feature allows users to record videos to the temporary storage device. To be more specific, you can save the Netflix recording file to a cable DVD, TIVO or hard drive combo. But you cannot record Netflix movies as DVD. If you really want to burn Netflix movies, you had better record streaming Netflix videos as MP4 files first.
Part 4. Can You Download Movies from Netflix and Watch Offline
Actually, all above questions can be solved perfectly here. It is FoneLab Screen Recorder that allows you to record all streaming videos without lag.
Yes, you can record online YouTube videos, gameplay videos, iTunes videos tutorials and other videos in high quality. Of course, you can record Netflix movies as MP4 and other formats too. Different from common video downloaders, there is no need to worry about the DRM protection.
Furthermore, this video recorder software can capture Netflix video with audio simultaneously. You can even take screenshots while recording directly. Well, if you have no time to watch the entire Netflix movie, you can set a timer of the start time and stop time accurately. In addition, you can also record several video clips into a recording file together.
Generally speaking, you can record all on-screen activities with ease.
1. Brief Introductions of the Netflix Movie Recorder Software
Record Netflix streaming movies and other online videos in high resolution.
Capture your favorite voice or song on a Windows or Mac computer.
Take snapshots with full screen or customized size.
Set hotkeys to start, stop, open or close webcam and other functions.
Add texts, arrows, lines, circles and other drawing filters on a video or picture.
Provide a safe, clean and easy-to-use interface.

FoneLab Screen Recorder
FoneLab Screen Recorder allows you to capture video, audio, online tutorial, etc on Windows/Mac, and you can easily customize size, edit the video or audio, and more.
Record video, audio, webcam and take screenshots on Windows/Mac.
Preview data before saving.
It is safe and easy to use.
2. How to Record an Un-Downloadable Video from Netflix
Below are the detailed steps of how to screen record on netflix.
Step 1Launch FoneLab Screen Recorder
Free download Screen Recorder from its official site. Later, follow the on-screen instruction to install this video recorder software. If you want to unlock more recording features, you can activate the account with the email address and registration code. 

Step 2Select the video recorder
Choose the Video Recorder option. You can draw the screen area you want to capture with the mouse. Well, you can record the entire desktop or Netflix window. Later, you can manage the input audio source. Turn on the System Sound option first. If you want to record your voice with the streaming Netflix movie, you can turn on Microphone too. Then move the volume slider below.
Step 3Start recording Netflix movies
You can click the REC icon after all preparations. After the 3-second countdown, the program will start recording automatically. Thus, you need to open the Netflix video quickly. When you want to skip the certain video clip, you can pause the recording directly. The Netflix recording file still exists. You can resume recording whenever you want.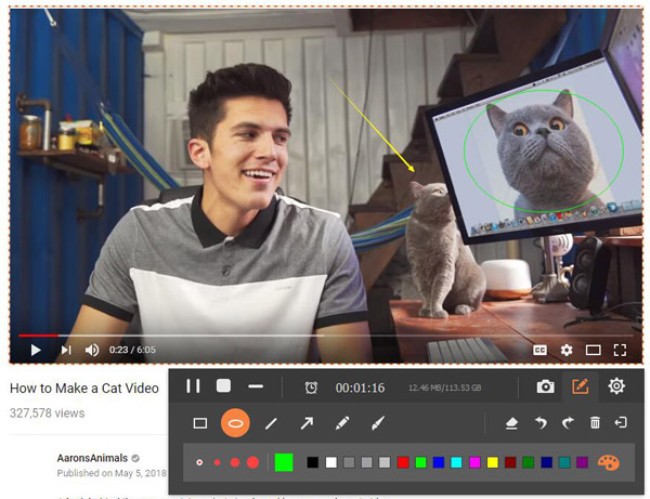 Step 4Export the video recording file
The moment you click the Stop icon, you will get a popping-up preview window. So you can preview the Netflix recording video. If everything goes well, you can choose the Save icon to move on. Then select the Next option to save Netflix to hard drive. Moreover, you can export the recording file to other digital devices too.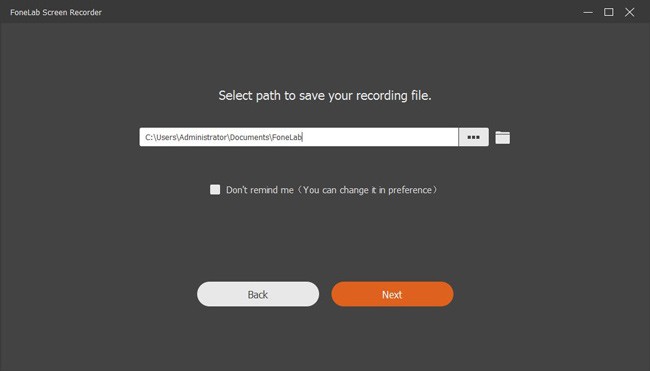 The default video format is MP4. If you want to change the output format, video quality and other preferences, you need to choose More settings before recording. This icon locates near the top right corner.
Through above methods, you can download and record all streaming Netflix videos for offline watching. Even though some Netflix movies are not downloadable, you can still record movies from Netflix in high quality. Both beginners and professionals can get satisfying video recording experience.
With the same way, you can also use FoneLab as your MP3 recorder as you like.
If you want to watch Netflix recording on your smartphone, you can transfer the video through a USB cable. What's more, you can upload Netflix recordings to Google Drive, iCloud and other cloud storage space too.
All in all, whenever you want to record Netflix movies, FoneLab Screen Recorder is always your first choice. You can free download this program and have a try right now!

FoneLab Screen Recorder
FoneLab Screen Recorder allows you to capture video, audio, online tutorial, etc on Windows/Mac, and you can easily customize size, edit the video or audio, and more.
Record video, audio, webcam and take screenshots on Windows/Mac.
Preview data before saving.
It is safe and easy to use.