[Step by Step] How to Record a Video in iMovie on a Mac Computer
Question 1: How do I take a video of myself on my mac?
Answer 1: You can use iMovie to record a webcam video on your Mac or iOS device. Moreover, iMovie allows users to edit, incorporate, save or share the recording file for free.
Be aware that once the movie has been exported, you cannot run iMovie to edit this file anymore.
Question 2: Is iMovie the best video recorder and editor?
Answer 2: Not really. You can record a video in iMovie with the built-in camera and editing filters. What's more, iMovie can help users to customize each clip. However, there are still many complaints about iMovie. Its MP4 compatible issue hinders many potential users. In addition, the limited storage space also matters a lot.
Fortunately, you can learn how to use iMovie and its alternative from the following paragraphs. Thus, recording a video or audio on your Mac is super easy.
1. iMovie Tutorial: How to Record a Video in iMovie on a Mac Computer
In spite of recording screen videos, you can get sound effects and royalty free music from iMovie library too. Therefore, you can edit the video file with those filters after recording.
Open iMovie on your Mac
Run iMovie. Choose the Media icon. Click the Import icon in the toolbar. Later, you can get the import window. Well, you can choose Import Media… from the File drop-down menu on the top too.
Prepare for screen recording
Choose FaceTime HD Camera or other options under the Camera section. Find the Import to option on the top of the Import screen. You can change the destination folder if necessary.
Record a live video in iMovie
Now, you can click the Record icon to start recording a movie in iMovie with the selected camera. When you want to stop recording, you can click the Record icon in the same place again. At last, click the Save option to finish the process.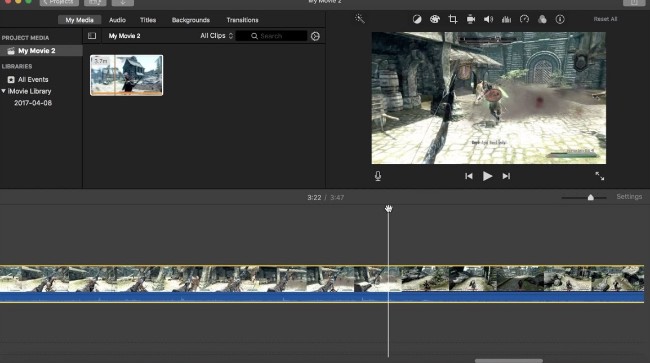 Note: If you want to record your voice in iMovie, you can choose Record Voiceover from the Window menu on the top.
2. iMovie Alternative: How to Record an HD Video with Your Voice on Mac PC
Actually, you can get easier and better screen recording experience in FoneLab Screen Recorder. This lightweight screen recorder alternative to iMovie supports users to record all streaming and offline videos in original resolutions.
You can get various drawing tools. Thus, it is quite convenient if you want to create tutorials and similar videos.
What's more, this screen recorder is compatible with Windows 10/8.1/8/7/XP/Vista and Mac OS X 10.6 or above versions. The default output video format is MP4. You can also change the output video and audio settings before recording. It's OK if you want to record a video on Mac with an external camera or audio source.
In a word, FoneLab Screen Recorder is your ultimate Mac video and audio recorder.
1. What Can You Get from the Screen Recorder
Record screen videos with audios in high quality on your Windows or Mac computer.
Capture the sound coming from your computer or microphone.
Use hotkeys to start or stop recording instantly.
Take screenshots with customizable size.
Edit the video or audio while recording.
Select the output video or audio format.
2. How to Use the iMovie Alternative for Video and Audio Recording
Launch the iMovie alternative
Free download and install the iMovie alternative. You can activate the account with your email address and registration code to get more features. Set the custom region you need. If you want to record a video with yourself on a Mac computer, you can enable the Webcam option too. Later, you need to enable the Microphone option and adjust the volume.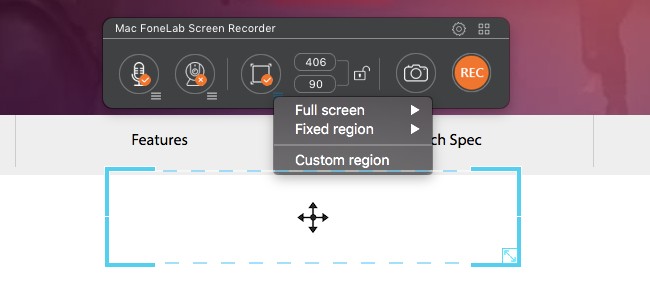 Record a video on Mac
After all preparations, click the REC icon to start recording in iMovie alternative. When you want to add comments or other hand drawings on your video, you can click the Edit icon.
Well, you can adjust the certain size and color. If you do not want to record the certain part, you can click the Pause/Resume icon to skip this part. The recording video still exists until you click the Stop icon.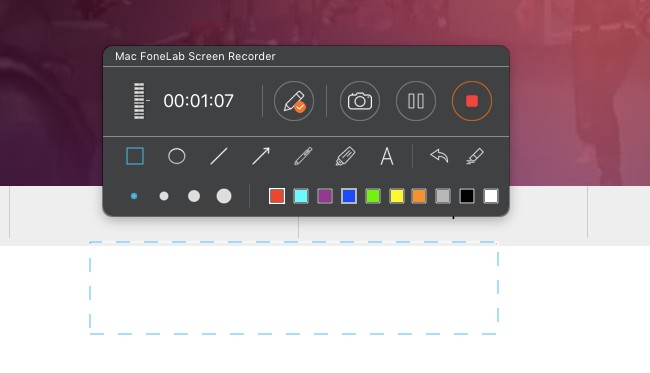 Share the recording video
You can find your recording video in the Media Library and the output folder. Well, the Media Library icon locates next to the Preferences icon.
Consequently, you can share, preview, delete or find the selected recording file immediately.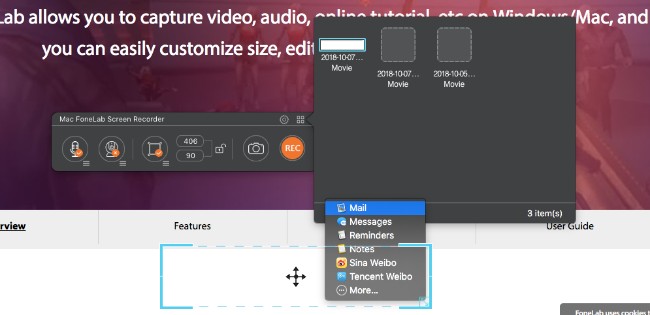 Note: You can manage the recording preferences before recording. Click the gear Preferences icon on the top right corner of the window. As a result, you can set hotkeys, change the output path, adjust video and audio settings and custom other recording details manually.
If you want to record an audio on Mac, you can enable the Microphone option in FoneLab Screen Recorder only. The recording audio will be saved as MP3 by default.
You can easily use it to take a screenshot on Mac.
Whenever you encounter any problem, just feel free to contact us.
Related Articles:

Leave your comment and join our discussion