How to Record with OBS in 2020 - Best Screen Recorder
Recording screen on computer used to be a challenge, you need to either pay a tool or use a complicated program to get it done. There are many different screen recorders on the market, including OBS, iSpring, Apowersoft, FoneLab Screen Recorder, etc.
As one of the most most popular recording software, you should know OBS from Google results. Here comes the question, what is OBS Studio? And how to use it properly?
In this post, we will show you all you need to know about it. Before we dive in, you should know what exactly it is.

1. What Does OBS Stand For?
OBS means Open Broadcaster Software, which is a free and open-source live streaming and recording program on computer. Obviously, it can help you capture screen video, audio, gameplay, online meeting, and many others.
Compare to other tools, it might be a little complicated. However, it can solve problems like some recorders unable to record system sound, or not be allowed to capture video and webcam concurrently.
2. How to Use OBS to Record
No matter you want to know how to record discord audio with obs or want to record video with OBS, this part will show you clear instructions.
Download OBS Studio from the official site. You can click Windows, Mac or Linux button on the center of the page. Then follow the instruction to choose a location to install it on computer. The program will be run automatically after that.
Go to Sources section, click + icon, choose Display Capture. Input the name in the box and click OK button.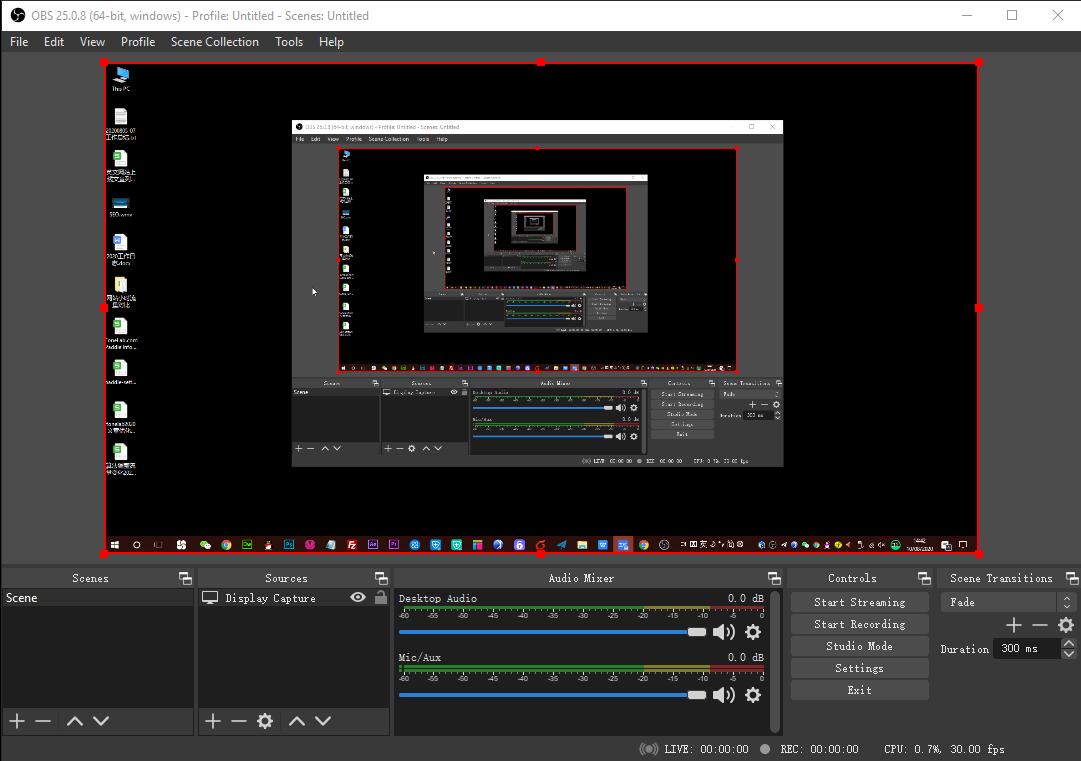 Click Start Recording button if everything is ready.

OBS is a powerful and professional software, but it also can be an overkill for people who just want to record screen video or audio easily. Therefore, we will introduce several alternatives to OBS Studio.
3. OBS Alternatives
You will always find similar tools to capture computer screen no matter you are using Mac, Windows or Linux. If you feel frustrated to make a choice from tons of options, here are 3 recommendations for you.
Top 1. FoneLab Screen Recorder
As a video recorder and editing tool, FoneLab Screen Recorder lets it easy to tinker with the various recording settings to find more possible options. It allows you to record video, audio, webcam simultaneously, and it is available to edit videos including add text, line, drawings, etc. What's more, you can trim video after recording if you want to remove the unwanted parts.
Can't wait to learn how to use it? Below is the demonstration.
Download FoneLab Screen Recorder from official site, and then install it. Launch it after that.
Choose Video Recorder on the interface, them enable system sound, webcam or microphone as your needs. Click REC button to begin recording.

Top 2. Any Video Recorder
Any video recorder helps users record streaming video, local audio, rental iTunes videos, etc. Another recommendable feature is its clean interface. So you can easily discover its all options in the interface. It is a pity that it has only one output format - MP4. And you are not allowed to edit video with it. If you want to edit the video after that, you have to use an additional video editor.
Top 3. Apowersoft Screen Recorder
Apowersoft screen recorder captures computer video, audio and other accordingly. The simplicity with which you can capture screen online is noteworthy. This application does not require Java Applet but you will be required to install a launcher while you are the first time using it. Then you can record screen within 3 steps.
4. FAQs About OBS
Q: How to Fix OBS Display Capture Not Working/OBS Display Capture Black Screen/OBS Not Capturing Game?
A: You can change preference of dedicated graphics, grant administrative access, use compatibility mode on OBS, reinstall OBS Studio or update graphics drivers to fix these issues on computer.
Q: Where Does OBS Save Recording?
A: About where do OBS recording go, you can go to Output Settings > Recording > Recording Path.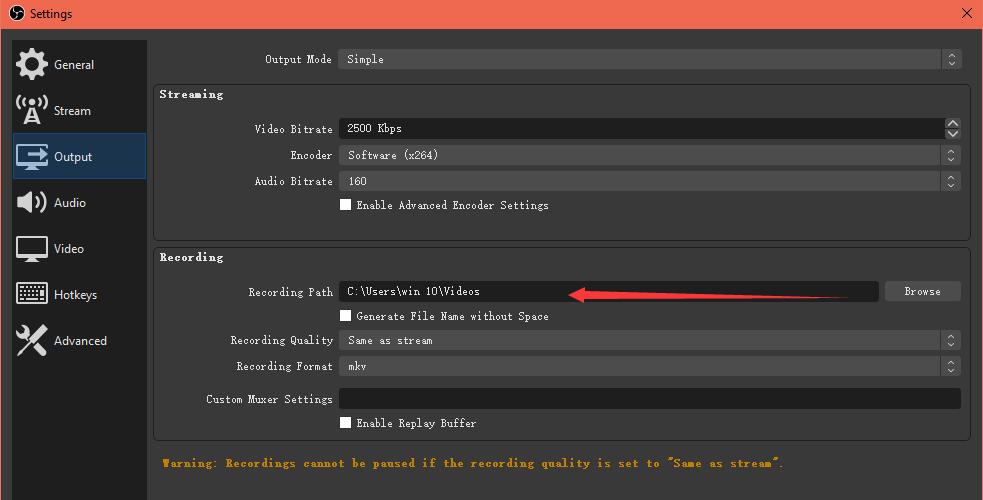 Q: How to Add Webcam to OBS?
A: First of all, you should connect webcam to computer, then open the OBS Studio. Then you can click + button in the Sources section, choose Video Capture Device > Enter a name and click OK button. You will be asked to select your device and click OK.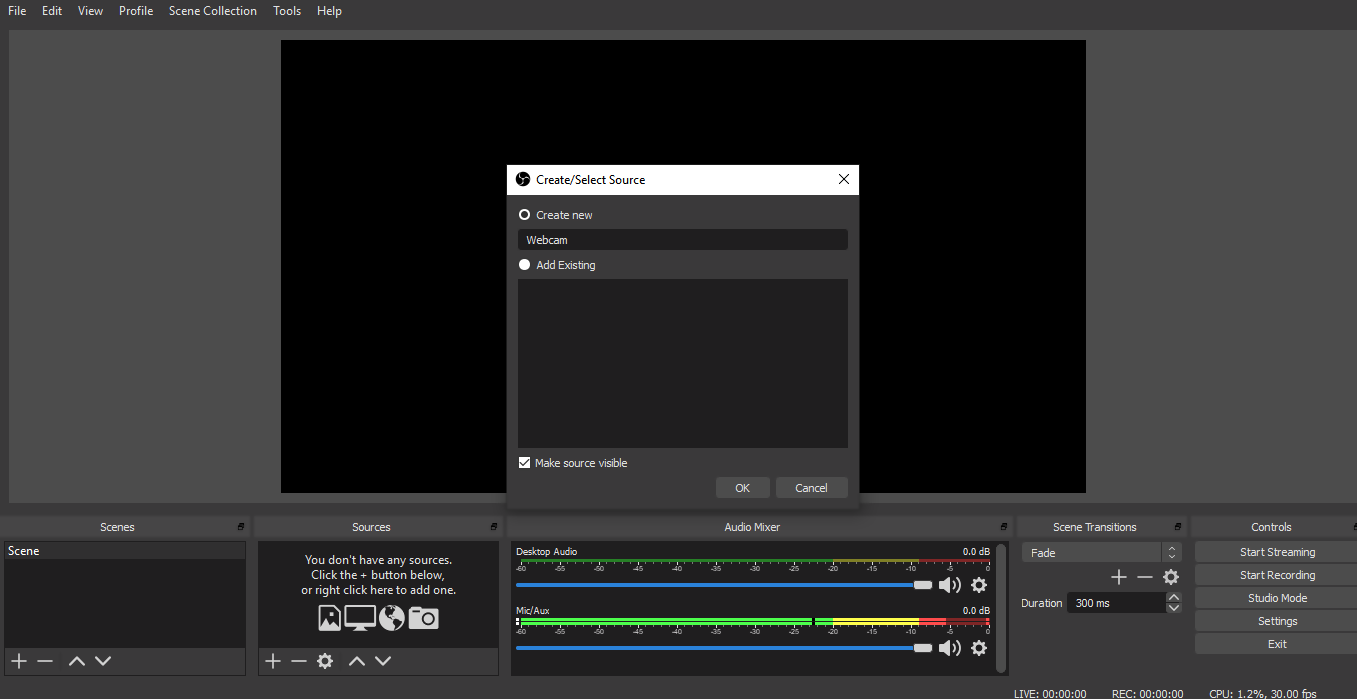 Q: What Is A Good Bitrate For OBS?
A: Please check below video bitrate information in the table.
| | | |
| --- | --- | --- |
| Quality | Resolution | Recommended Video Bitrate (kbps) |
| Low | 270 | 400 |
| Medium | 360 | 800 |
| High | 480 | 1200 |
| High Definition | 720 | 1500 |
| High Definition | 1080 | 4000 |
| Ultra-High Definition | 4K | 8000 |
Q: What are OBS System Requirements?
A: Please check below detailed information for you.
Operating system: Windows 7 and later, macOS 10.11 and later, Linux
Platforms: x86-32 (32 bit Intel x86), x86-64

RAM: At least 4GB (recommended, but not necessary)
Q: What is OBS Video Editor?
A: How to edit obs videos? OBS doesn't help you edit video. Thus, you will need another program to edit OBS video after that if you want. FoneLab Video Converter Ultimate is one of the best choices.
Q: OBS Recording Settings (Best OBS Settings)?
A: Best audio settings for OBS Recording: Settings > Output > Audio, then set Desktop Audio and Mic/Auxiliary Audio to Default but leave others to be Disabled.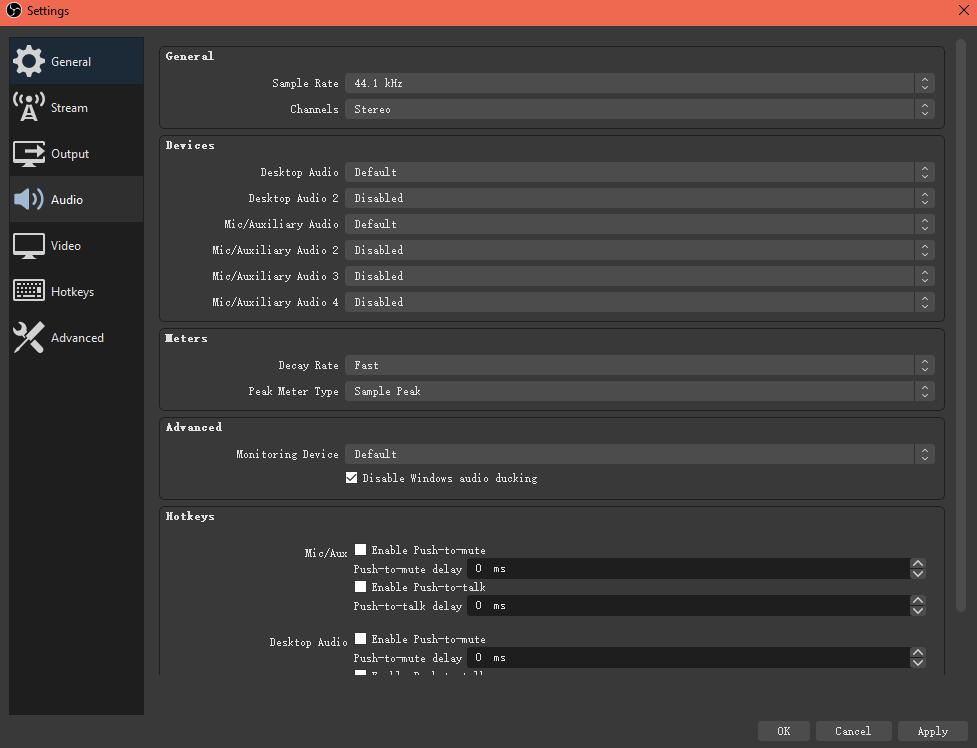 Best video recording settings for OBS Recording: If you want to record in 1080p leave the base resolution as it is the best settings. But you can downscale the resolution to 1280 x 720 if the recording quality is not good. And then click Downscale filter to select Lanczos (Sharpened scaling, 36 samples).

In conclusion, compared to others, FoneLab Screen Recorder is an all-in-one screen recorder to help you capture screen and edit recorded videos with ease. You can download and have a try now!
Related Articles:

Leave your comment and join our discussion