How to Download Non-copyrighted Music without Paying a Penny
You can find a lot of free music on Spotify, but they are not non-copyrighted music. Platforms, such as Spotify, are just where you can listen to music for free. If you download them to your computer, you may face copyright issues.

Non-copyrighted music, on the other hand, is free of any royalty fees and totally legal to download or use for commercial and personal purposes. Anyway, this article will tell you where to download non-copyright music for free and how to do it.
1. Where to Download Non Copyrighted Music for Free
Top 1: YouTube Audio Library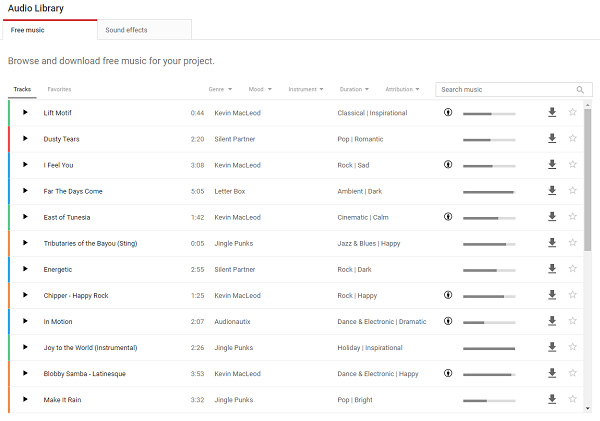 Unlike music channels, YouTube Audio Library is a place where you can find non-copyrighted music and sound effects. All contents in the library are free to download since they are uploaded by content creators. The Music Policies next to the Audio Library tell you the rule.
Top 2: Artlist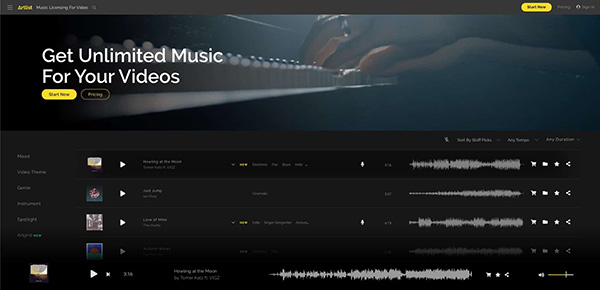 Though Artlist is a collection of non-copyrighted music, it is not absolutely free to access. Basically, you can listen to a lot of songs on the platform for free. When it comes to music downloads, you have to pay for $199 per year. The good news is that all downloaded music with an active subscription is free to use forever.
Top 3: TakeTones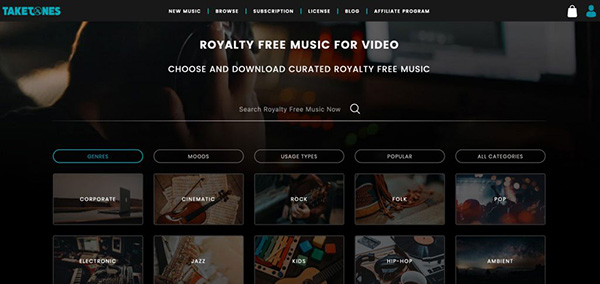 If you are looking for free background music for your home-made video, TakeTones is a good destination. Compared to other non-copyrighted music sites, TakeTones is more like a search engine. It integrates a modern search system and filters to help you find what you want quickly.
Top 4: HookSounds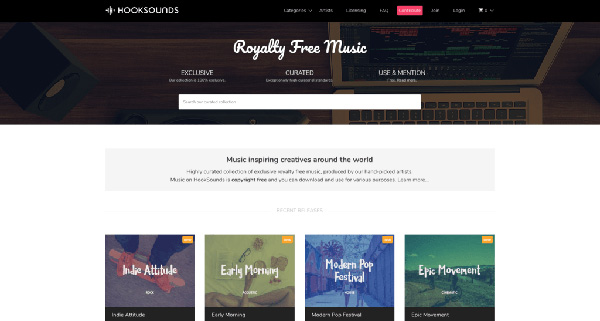 HookSounds is an excellent website offering oceans of non-copyrighted music. Once you open the home page, you will get a variety of original tracks. They are organized in different genres and categories. More importantly, you can find a lot of original music and tracks that you cannot find anywhere else.
Top 5: Thematic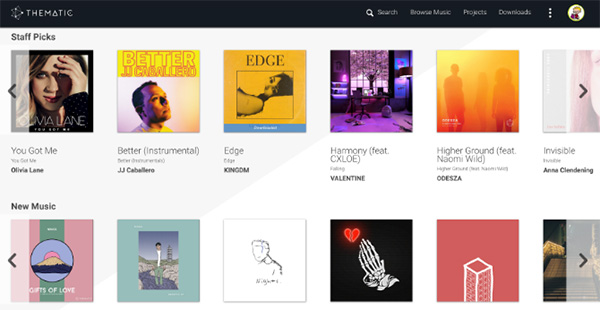 Thematic is a popular non-copyrighted music service among YouTube creators. Internet users can get tons of free songs from established and novice musicians. It requires to sign up with your personal information, such as email, but it won't ask the information, like credit card.
Top 6: Free Stock Music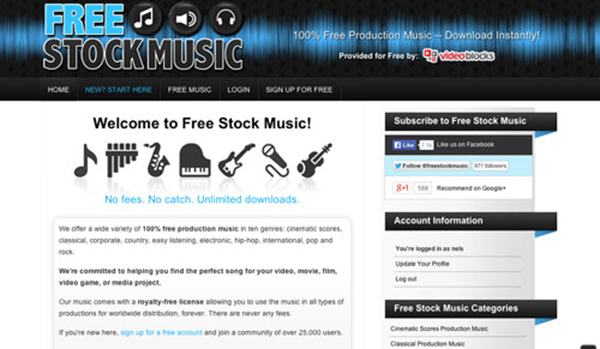 As its name indicated, Free Stock Music is a large database of non-copyrighted music. It contains hundreds of free tracks covering various range of genres. Once you register an account, you can download the music in MP3, WAV or AIFF files. There is no requirement of subscription or attribution.
Top 7: Purple Planet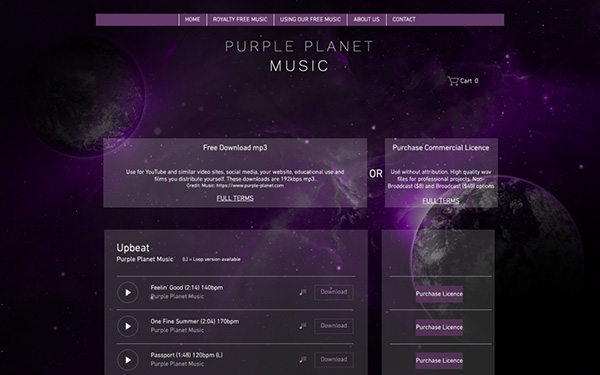 Purple Planet hosts a large collection of non-copyrighted music for downloading for free. Bear in mind that the downloaded songs are only free to use for personal purposes. If you want to use the tracks for commercial purposes, you need to pay a one-time fee.
Top 8: Epidemic Sound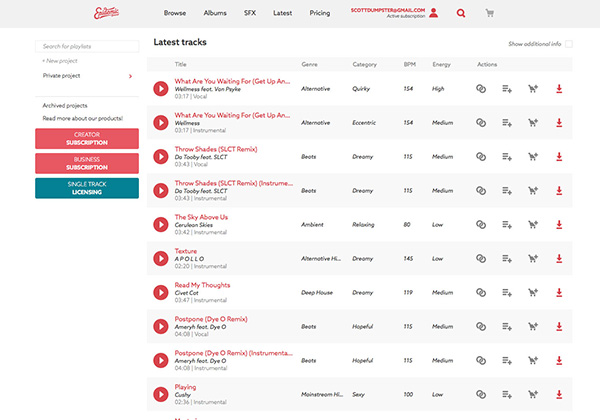 Epidemic Sound is another place to find non-copyrighted music. The website stores music tracks in a variety of categories, like action & adventure, so that you can discover high-quality background music for your video if you have no idea.
2. Ultimate Way to Download Non Copyrighted Music PC
As you can see, even if you can find a lot of non-copyrighted music on the internet, they are not completely free to download. Some platforms ask you to subscribe and others require one-time payment. Can you download non-copyrighted music for free? What you need is Fonelab Screen Recorder, a powerful music downloader.
Main Features of the Best Non-copyrighted Music Downloader
Download any music from the internet for free.
Support almost all audio output formats, like MP3, WAV, etc.
Include plentiful of custom options and bonus tools.
Download music from Spotify and other platforms.
How to Download Non-copyrighted Music without Subscription
Install music downloader
Launch the best music downloader after you install it on your PC. There is another version for Mac. Then pick Audio Recorder from the home interface. To download music videos, choose Video Recorder instead.

Tip: Advanced users can click the Gear icon to open the Preferences dialog. Here you can find all custom options related to output, hotkeys, etc.
Download non-copyrighted music
You can get two options in the main interface, System Sound and Microphone. If you just want to download a non-copyrighted song, turn on the former and disable the latter. To add your voice to the sound track, turn on both options. Open a browser and find the music you intend to download. Click the REC button and play the music to begin downloading it.

Save music to computer
When the music playback is done, click the Stop button. Wait for the preview window to pop up. Then you can pre-listen to the music recording and remove unneeded clips. Finally, click on the Save button to export the recording to your computer.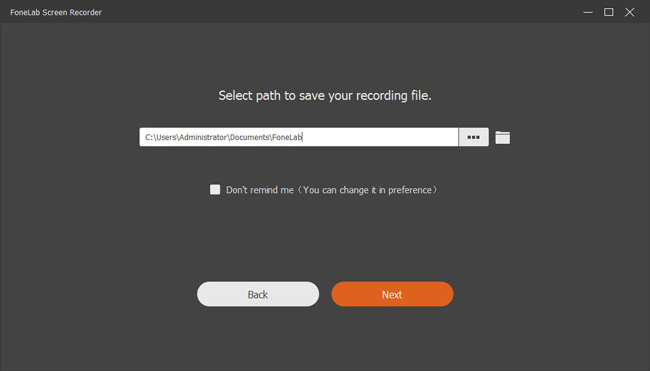 3. FAQs of Non Copyrighted Music Download
What does royalty free music mean?
Royalty free is a term that is used to describe certain types of intellectual property. You are allowed to use them without having to pay royalties. In another word, royalty free music is non-copyrighted music.
What type of songs can you legally download and use?
Firstly, non-copyrighted music is usually legal to download and use. Moreover, the music that you get from the creators is legally using as well. However, you'd better ready the copyright policies before using the music.
Can I use non-copyrighted music for free?
Generally speaking, you can use non-copyrighted music for free. However, the situations are various depending on the policy of each music service. Some of non-copyrighted music platforms, for example, still ask subscription.
Conclusion
This article has talked about how to download non-copyrighted music. You may have a lot of reasons to get free music online. However, streaming platforms have encrypted all songs due to copyright regulation. Fortunately, some websites provide non-copyrighted songs and some of them are free to access. If you need a music downloader, Fonelab Screen Recorder is a good choice. It is able to produce the best output quality. More questions? Please feel free to leave a message below this post.
Related Articles:

Leave your comment and join our discussion