Your Best MP3 Recorder for Android/iPhone/Windows/Mac/Online
I'm looking for a small recorder app that can record whatever sound coming from my computer to an MP3 file.
It is true that you can use an MP3 recorder device to capture voices in high quality. But it costs a lot of money, especially when you want to record streaming songs or sounds without studio qualities. Thus, this article collects some representative MP3 recorders. You can capture MP3 audio files with similar qualities like a voice recorder device does. Be aware that you need to put your smartphone or computer near the speaker or sound source.
1. Recordmp3online.com – Simple Online MP3 Audio Recorder
If you want to record an audio file in a short length, then you can use an online MP3 recorder to solve the problem. RecordMp3Online allows users to record audios with the built-in internal microphone. Its user interface is quite clean. Well, RecordMp3Online is a simple MP3 recorder only.
Pros:
Start, pause or stop an online audio recording file for free with the built-in microphone.
Download or share your recorded MP3 file.
Cons:
You can record an audio file no more than 7 seconds per time.
There are not extra audio editing filters.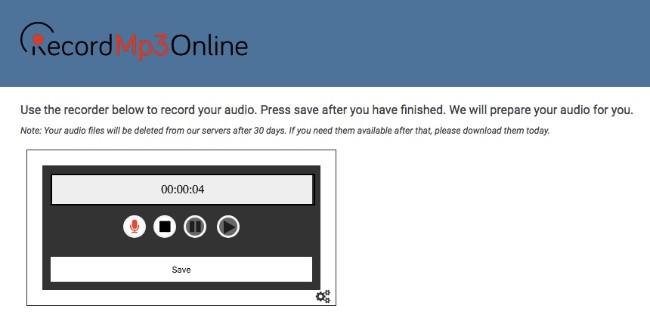 2. MP3 Voice Recorder – MP3 Recorder APP for iPhone and iPad Users
Once you install MP3 Voice Recorder app, your Apple smartphone will be turned into an audio recorder. Thus, you can record memos, notes or even business meetings wherever you want. Well, the MP3 recorder app offers the industry standard MP3 recording feature.
Pros:
Pause and resume MP3 audio recordings without time limitations.
Record and playback audio files in the background.
Cons:
You cannot record streaming music from your iPhone or iPad directly.
Some users complain that the in-app purchases do not work.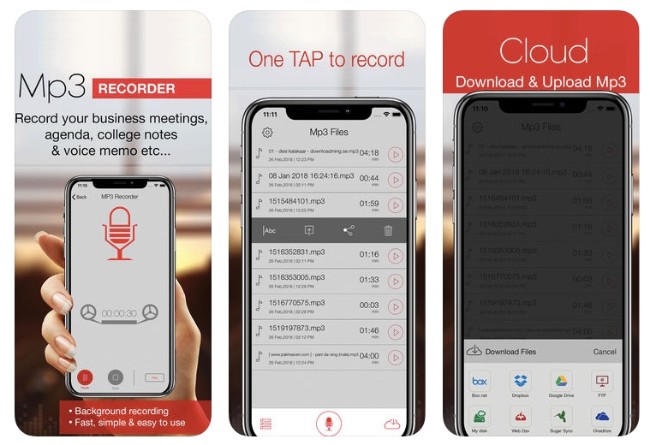 3. Hi-Q MP3 Voice Recorder – MP3 Recorder APK for Android Devices
You can run Hi-Q MP3 Voice Recorder to capture voice notes, group discussions and other audio files on your Android phone or tablet for free. The audio recordings will be saved as MP3 files by default. Later, you can sort, edit and share the MP3 file with ease.
Pros:
Upload your MP3 recording file to Dropbox and Google Drive with the Wi-Fi connection automatically.
Change the audio quality up to 320 kbps bitrate.
Cons:
The MP3 recorder free app cannot record phones calls as MP3 files.
You need to install Hi-Q MP3 Voice Recorder apk on the phone internal storage to access all features.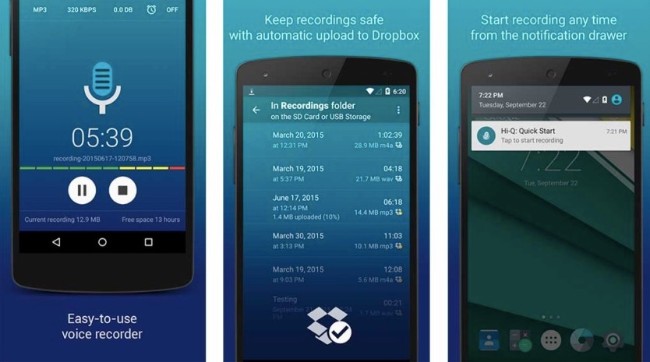 4. FoneLab Screen Recorder – Ultimate MP3 Audio Recorder Software for Windows and Mac
If you want to record MP3 files on your computer, then definitely FoneLab Screen Recorder should be your first choice. You can record not only system sounds but also microphone voices at the same time. Moreover, you can record certain audio clips without time restrictions.
For instance, when you have a Skype call with your friend, you can record the entire conversation as an MP3 file losslessly.  Of course, it is also supported if you want to download YouTube music videos as MP3 files. In a word, you can regard FoneLab Screen Recorder as your smart MP3 recorder and downloader software.
1. Main Features of the MP3 Recorder Software
Record tutorials, gameplays, online TV shows and other videos with no lag.
Capture your favorite songs or voices as MP3 and other available audio formats in high quality.
Take snapshots during or after recording by one click.
Edit the video or screenshot with drawing panels like arrows, lines, texts, etc.
Select the output video, audio or screenshot formats.
2. How Do I Record an MP3 File on My Windows Computer
Step 1Run FoneLab Screen Recorder
Free download the MP3 recorder for Windows 7/8/8.1/10/Vista/XP. Launch FoneLab Screen Recorder after the installation. You can also activate the account with your email address and registration code. Later, you can get 4 main sections on the main interface.

Step 2Manage the audio recorder
Click the Audio Recorder option. Now you need to manage the input audio sources. If you want to record your voice only, you can choose Microphone only. Then move the Volume slider below. As for grabbing streaming audios, you can trigger the System Sound option to the On state too.

Step 3Start recording
After all preparations, you can click the REC icon to start recording audios. Well, you can pause and resume the audio recording process freely. So if you want to skip the certain part, you can click the Pause icon directly.
When you finish the MP3 audio recording, you will get a preview window. Then click Save and Next options to save or share the MP3 recording file.

Note: The default output audio format is MP3. If you want to manage the audio settings, you can click the More settings option before recording.
5. Tips and Tricks of Choosing a Proper MP3 Recorder
Firstly, you need to make sure which digital device you want to turn to an audio recorder. For instance, if you go outside frequently, you had better prepare a portable audio recorder or install a MP3 recorder app. For people who are on a tight budget, the latter one is more suitable.
Then you need to make sure whether you want to record system audios or not. It is true that many MP3 recorders can capture microphone voices. However, not all of them can record the sound coming from your computer. In a word, if you want to record the internal and system audios together into a MP3 file, then you should not miss FoneLab Screen Recorder.
That's all for recommendations for MP3 audio recorders. Can you find the best MP3 recorder here? If not, please don't hesitate to contact us. Your comments and suggestions will be appreciated.