4 Ways to Recover Deleted MP3 Files on Mac with/without Backup
"- Is there a way to recover deleted songs?
- I messed up. How do I recover deleted MP3 tracks on Mac?"
It is a disaster that your MP3 collections are deleted or lost on Mac. Fortunately, you can use Time Machine backup and professional MP3 recovery software to find and recover deleted MP3 files.
Yes, it is still possible to recover permanently deleted MP3 files on Mac before data overwritten. Just stop saving new files to the same hard drive that your MP3 files are deleted.

1. How to Save MP3 File on Mac
MP3 is the widely-used audio format that can compress sound into a small file while preserving the pretty high sound quality.
Thus, you can save streaming audios as MP3 format on Mac. If you want to download MP3 audios from streaming services (Spotify, SoundCloud, Pandora, Apple iTunes, Amazon, etc.), you need to get the related licensing ducks.
If you want to save YouTube as MP3 files, you can use an online YouTube to MP3 downloader or MP3 recorder. Well, the latter method can save streaming audio as MP3 format in lossless quality. To find music files on Mac, you can type "Music" or similar items in Finder.
In addition, you can create a music folder to save all downloaded songs and MP3 files.
2. How to Recover MP3 File on Mac
Here are 4 different methods to recover deleted MP3 music files on Mac. Thus, you can get MP3 audio files back to Mac due to deletion, corruption, formatting, Mac update and other issues.
Method 1: Re-download MP3 Files from the Source
You can download deleted MP3 songs or audio recordings from the source website to complete MP3 recovery on Mac. It is also a good idea to ask for a "resend" from the sender who has the original audio files.
Method 2: Recover Accidentally Deleted MP3 Files from Trash Bin
If you delete MP3 files recently, you can find music files on Mac from the Trash Bin. You can drag and drop the deleted music files to desktop or any folder directly. You can also recover deleted MP3 files to the original destination.
Method 3: Recover Permanently Deleted MP3 Files from Time Machine Backup
If you have backed up all those deleted MP3 files before, then you can recover deleted MP3 files with Time Machine or other cloud storage services. You need to wait longer time for Mac MP3 file recovery.
Method 4: Recover Permanently Deleted MP3 Files without Time Machine Quickly
If you have emptied Trash Bin, then FoneLab Data Retriever is the only way to recover permanently deleted files on Mac. The MP3 file recovery software can recover all types of audio files, including MP3, AIF, M4A, WAV, AAC, OGG, etc. Moreover, you can recover deleted MP3 files from Mac, iPhone, Android, memory card, flash drive and other removable drives in a short time.
Recover deleted audios in all formats from various data loss scenarios.
Recover deleted MP3 files on Mac without modifying or losing audio quality.
Recover deleted MP3 audio files from Mac (emptied Trash Bin included), MP3 player, mobile phone and other digital devices.
The MP3 recovery software works with Mac 10.7 and above (macOS Mojave included).
Get the built-in search and filter features.
Offer a safe, clean and intuitive interface.
Launch MP3 file recovery for Mac software. Click Start under Mac Data Recovery to enter the interface for MP3 file recovery.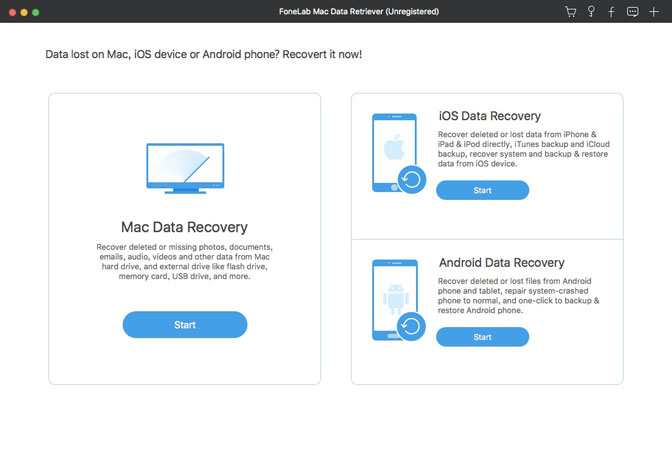 Click Audio and the related hard disk drive for MP3 recovery on Mac. Then click Scan to scan and find deleted music files on Mac completely.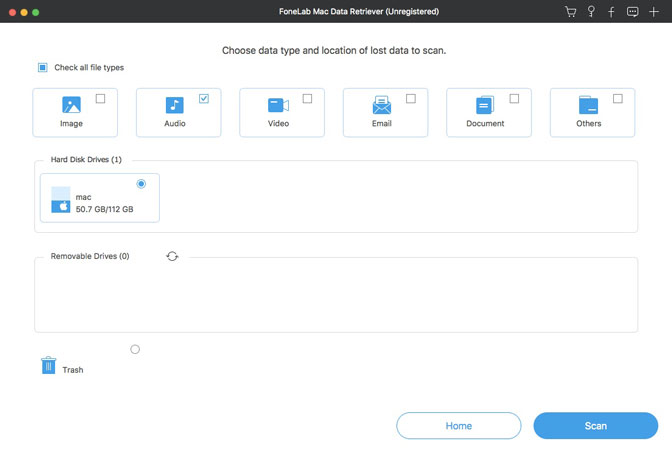 After the data scanning process, you can see all audio files in different folders based on formats and paths. Open the folder named MP3 to see the currently existing and deleted MP3 files on Mac.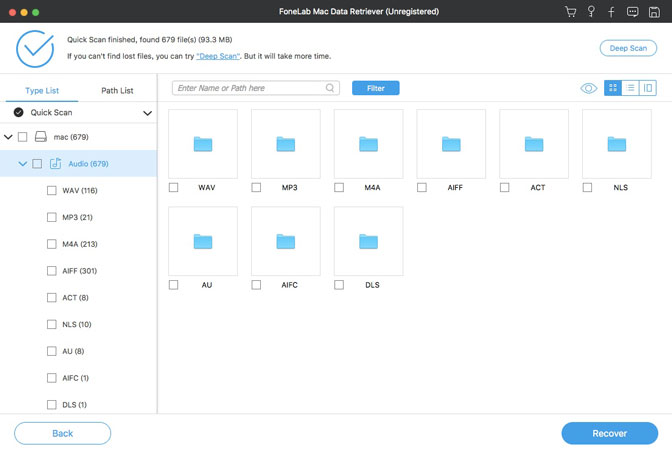 Browse and select audio files you want to recover. You can enter the file name or path in the built-in search engine to find an MP3 file quickly. At last, click Recover to recover deleted MP3 music files on Mac quickly.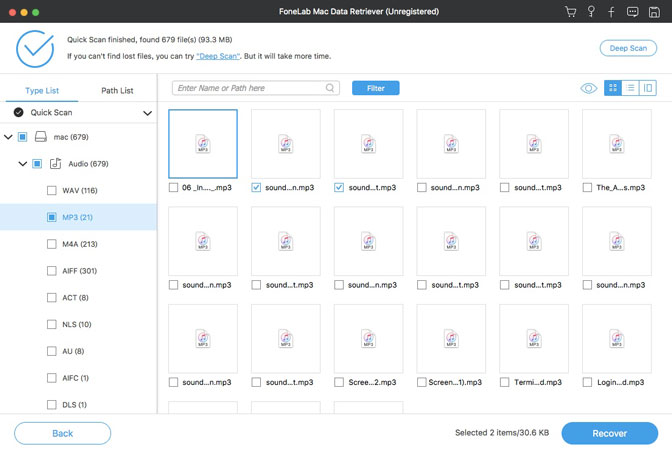 Remember not to save the recovered MP3 files to the place where you have lost or deleted before. Otherwise, the possibility of MP3 file recovery may decrease a lot.
Compared with other MP3 recovery methods, you can get more choices with the Mac data recovery software. If you can see your MP3 file while scanning, you can pause the scanning process and recover deleted MP3 files on Mac immediately. It is the most time-saving and effective way to get deleted MP3 files back.
Related Articles:

Leave your comment and join our discussion