How to Reduce Bandicam Lagging when You Record on Windows (and Mac)
Bandicam is a popular choice among desktop screen recorders. Many people choose Bandicam to record screen video and gameplay. However, there are still many complaints about Bandicam. The biggest problem is Bandicam lagging. It is a disaster when Bandicam stutters or freezes when you record gameplay and other live streams.

Is there any way to make Bandicam not so laggy? Of course, the answer is Yes. You can reduce and fix Bandicam lag while recording with the following tips.
1. Switch Bandicam to a Screen Recorder with No Lag
Since Bandicam lags a lot during recording, why not replace Bandicam with a better choice. For gamers, YouTubers and other video makers, FoneLab Screen Recorder is also worth trying. You can record a smooth recording experience and the best output quality here. No lag, crash or freeze. The lightweight package, intuitive interface and advanced hardware acceleration make it friendly to all users.
Record Windows and Mac screen video and audio without lag.
Add annotation, voiceover and webcam overlay with customized options.
Get lossless video and audio output quality.
Preview and trim to delete unwanted clips.
Save the recorded file to MP4, AVI, MOV, FLV and other formats.
Share your recorded computer video to YouTube, Facebook and more directly.
2. How to Reduce and Stop Bandicam Lag
If you don't know why Bandicam lags, it is still possible to stop Bandicam lag. You can try the following suggestions to reduce a lag with Bandicam.
Way 1: Reduce Bandicam Settings
You can decrease the output video and audio settings to fix the Bandicam lag issue. Choose the Video tab and then click Settings near the bottom. In the new Format settings window, reduce Bandicam size, FPS, codec, quality and other options.
For example, you can reduce the FPS from 30 to 15, decrease the video quality from 80 to 50, change Motion JPEG and H.264 to PCM codecs. This method can reduce lag in Bandicam. Though the Bandicam recording quality is reduced too.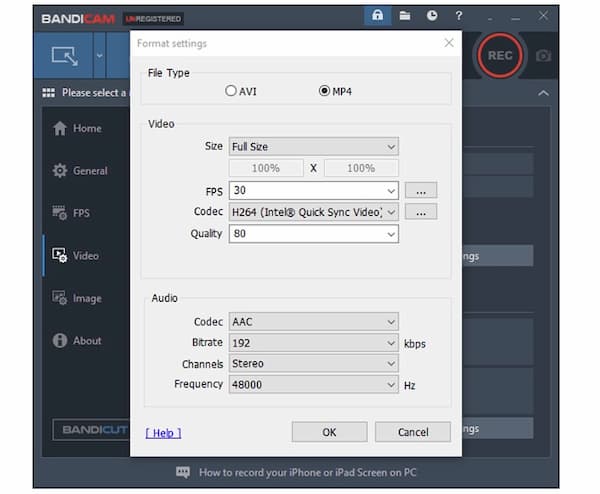 Way 2: Change the Recording Mode
Go to the Bandicam Video page. Click Settings under the Record section. This time you can get a Recording settings window. Choose Disable (Recommended) under Secondary Sound Device (Microphone). Moreover, you can use Bandicam without lag by changing from Game Recording to Screen Recording mode.
Way 3: Update Bandicam, Windows, Graphic Card, CPU and RAM
Uninstall and reinstall Bandicam to the latest version. You can make Bandicam less lagging by updating all those mentioned items.
Way 4: Change Graphic Settings
If Bandicam lags on a Windows 10 computer, you can change the graphics performance settings. From the Windows Start menu, choose Graphics Settings. Click Browse under Classic app. Choose C:\Program Files (x86)\Bandicam\bdcam.exe and then Options. Later, switch from Power Saving to High Performance in the Graphics specifications window. Click Save to reduce lag while screen recording with Bandicam on Windows 10.
Way 5: Prefer Maximum Performance
Open the NVIDIA Control Panel. Choose Manage 3D settings followed by Program Settings. Click Add and choose the game or Bandicam. Unfold the list next to Power management mode to Prefer maximum performance. After that, you can use Bandicam with less laggy.
3. FAQs of Using Bandicam without Lag
Why Bandicam lags?
Bandicam requires high performance of GPU, CPU, RAM, SSD, HDD and other system resources, especially for Bandicam game recording. So Bandicam is not a good choice for low-end computers.
Does Bandicam work on Mac?
No. There is on Bandicam for Mac version. You can run FoneLab Screen Recorder for Mac as a Bandicam alternative.
Does Bandicam free to use?
No. Bandicam offers a free trial for Windows users. But there is a watermark on the exported video. You need to buy a Bandicam license code to access all advanced features record screen without a watermark.
Here're proven ways to stop Bandicam from lagging or reduce Bandicam lagging effectively. You can record screen video, gameplay and live streaming video on your Windows computer with Bandicam again.
As for Mac users, or people who don't have high-end computers, FoneLab Screen Recorder is a lagging-less choice. You can record all on-screen activities with no lag smoothly. If you are not sure whether the Bandicam Mac alternative is good to use, you can download it and try its free trial first. It is completely free to record on Windows and Mac for no more than 3 minutes.
Related Articles:

Leave your comment and join our discussion