How to Screen Record TikTok on iPhone and Android Step by Step

Posted by
Lisa Ou
/ Jan 15, 2021 16:00
TikTok is a new video-sharing platform all over the world. You can see many popular TikTok short videos of short dance, lip-sync, comedy, talent videos and more. No matter you want to show off yourself, or make an advertisement for a product, you can create a video in TikTok app. It is quite easy to do so. This article will show you how to screen record on TikTok with music or your own voice. Moreover, you can also get workable ways to download TikTok videos without watermark here. Just read and follow.

1. 2 Ways to Record on TikTok without Hands
The following methods work for both iOS and Android users. You can record TikTok videos without holding by using TikTok app. Once you activate the TikTok recording feature, you can put your phone on a tripod, or stand it again an object with other tools. Whatever, just make sure the viewfinder is in the right position. Later, you can record TikTok with no hands.
How to Screen Record on TikTok with Stopwatch
Step 1Open TikTok app. Tap + on the bottom of your iPhone or iPad. Position your phone against something to prepare for TikTok recording.
Step 2Find and tap the Stopwatch icon, which looks like a timer.
Step 3Drag the line along the TikTok timeline. Indicate where you want to stop. Thus, TikTok will stop recording automatically after reaching the stop point.
Step 4Tap Start Countdown to record TikTok after 3-second countdown. You can pause a TikTok while recording by choosing the Stop button. Later, tap Stopwatch again to continue recording Stopwatch video.
Step 5When you want to stop recording on TikTok, you can tap the red Checkmark icon on the lower right corner.
Step 6Edit a TikTok video with built-in tools. Then choose Next followed by Post to post a video to TikTok.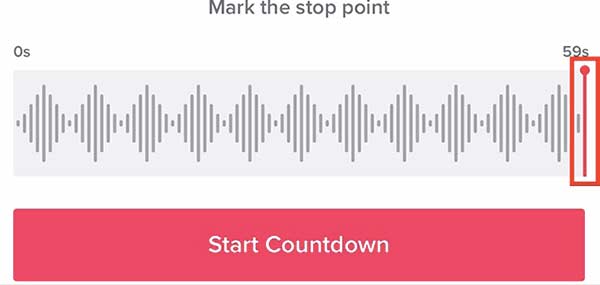 How to Record Hands-Free Video on TikTok Using Tap to Shoot
Step 1Run TikTok app. Tap + to create a new video in TikTok. Put your phone again something. Just make sure the viewfinder can capture what you want to record.
Step 2Tap the red Record button to start recording a TikTok video. You can pause and resume TikTok recording freely.
Step 3If you want to stop recording screen video on TikTok, you can choose the Checkmark icon on the lower right corner of the TikTok screen.
Step 4Edit a TikTok video with Special Effects, Select cover and Filter options. Then choose Next to move on.
Step 5Add a caption for your TikTok video. At last, tap Post to share a hand-free video to TikTok.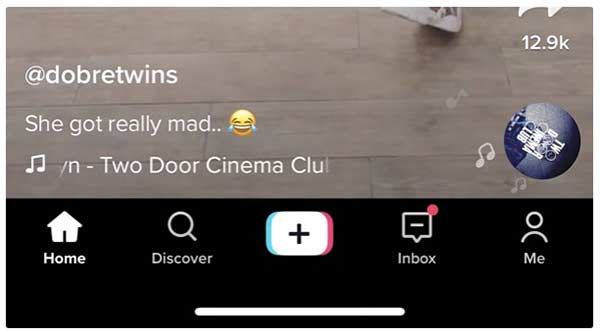 Note: If you want to record a TikTok video with music, you can choose Sounds on the top before TikTok recording. Moreover, you can insert music into any position of the video clip.
2. How to Record TikTok Screen Video for Offline Watching
If you want to download the uploaded TikTok videos from others, you can use screen recording as well. During this time, you need to record streaming video with audio on your mobile phone, instead of using the TikTok camera. Does TikTok notify screen recording? The answer is No. It's okay if you record and screenshot on TikTok posts.
To screen record TikTok on iPhone and iPad, you can use the iOS 11 screen recording feature. As for iOS 10 and earlier users, you can mirror iOS screen to your computer, or you can use an iOS emulator app. After that, you can screen record TikTok video posts with FoneLab Screen Recorder. These are possible ways to screen record on TikTok without jailbreak.
As for recording TikTok on Android, you need to use an Android screen recorder app, like AZ Screen Recorder, XRecorder, DU Recorder, Mobizen Screen Recorder and more. If you want to screen record TikTok videos on Android for hours, you can use FoneLab Screen Recorder as well. Use an Android emulator app to emulate TikTok app on your computer. Later, you can record TikTok posts, your facecam and commentary at the same time.
That's all to screen record on TikTok on iPhone and Android. You can take a video on TikTok without holding the Record button all the time. Furthermore, you can record and download TikTok video posts you like as well. If you still have questions about TikTok screen recording, you can feel free to contact us.

FoneLab Screen Recorder
FoneLab Screen Recorder allows you to capture video, audio, online tutorial, etc on Windows/Mac, and you can easily customize size, edit the video or audio, and more.
Record video, audio, webcam and take screenshots on Windows/Mac.
Preview data before saving.
It is safe and easy to use.