[Solved] How to Record Streaming Audio on Your Computer or Phone

Posted by
Lisa Ou
/ March 12, 2021 16:00
As you know, you need to pay certain fees to own your favorite song due to the DRM protection. However, it is quite expensive if you want to download various songs legally.
Furthermore, YouTube and other media sites do not allow users to download others' work.

Well, if you are on a tight budget, you can record streaming audio to solve the problem. Consequently, it is also supported to use it as an MP3 recorder to extract audio from YouTube music videos as MP3 files. Later, you can use the recording file as ringtones, background music or others.
In addition, there is no need to connect to the Wi-Fi network.
1. How to Record Streaming Audio with Audacity
Audacity is a free and open source audio recorder for Windows and Mac users. Thus, you can record streaming audio with Audacity for free. The supported output audio formats are MP3, WAV, AAC, etc.
However, you cannot export audio recording files as WMA, AAC, ACS or other proprietary formats.
Step 1Download Audacity from its official site on your computer.
Step 2Prepare a proper soundcard for recording playback.
Step 3Turn off the Software Playthrough option from Transport Options.
Step 4Set and monitor the sound level manually.
Step 5Click the red Record icon in the Transport Toolbar.
Step 6Choose the Stop button to finish the audio recording process.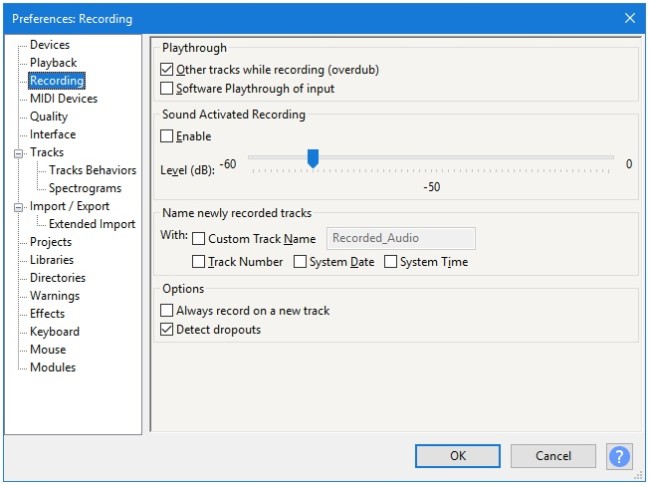 If your Audacity file are deleted accidentally, you can use Audacity file recovery to get them back with ease.
2. 2 Ways to Record Streaming Audio on Android/iPhone
So how to record audio on your smartphone? Fortunately, both iOS and Android users can get satisfying results here.
Way 1. Record Microphone Audio on iPhone/Android
1) How to Record Microphone Audio on an iPhone or iPad with Voice Memo
It is supported to record audios with the built-in voice memo app. As there is not a voice memo app on iPad with earlier versions, you can update your iOS system to the latest version iOS 12 to get the app on iPad now.
Step 1Open Voice Memo app on iPhone/iPad.
Step 2Tap the red button on the bottom to begin the recording. Tap it again when it is done.
Step 3You can easily tap the three-dot icon to edit it, or tap the trash bin icon to delete it.
You can find the audio recording files are listed on the page. There is a Play icon. So you can play the recording file directly. Moreover, Apple allows users to edit and replace all or part of the recording file.
2) How to Record Your Voice on an Android Phone or Tablet
There are many brands and carriers of Android devices. So the built-in voice recorder app may change. You can look for apps named Recorder, Memo, Notes and more. Well, you can also download Audio Recorder from the Google Play Store.
Step 1Run the Audio Recorder application.
Step 2Manage the audio recording mode and quality in the Record section.
Step 3Tap the Record icon to start a new recording.
Step 4Volume up or down the input audio if necessary.
Step 5Choose the Stop icon to finish the process.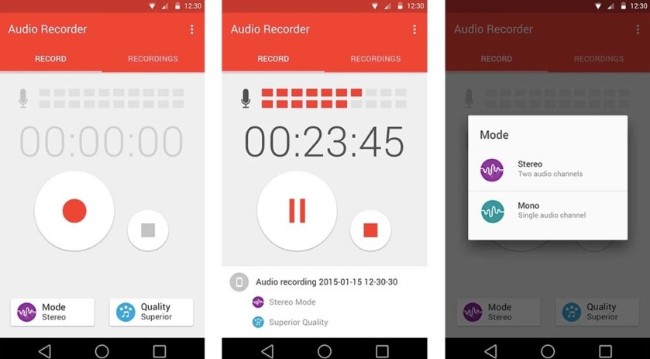 All your audio recording files can be found in the Recordings part. You can cut, share or do other changes within the application.
Way 2. How to Record Streaming Audio on Your iPhone or Android
However, you cannot record internal audio with above 2 methods.
For iPhone users, you can use a built-in feature, which is called Screen Recording to record iPhone screen with audio. Simply go to Settings > Control Center > Screen Recording to enable it, and then tap the recording button to begin and stop recording.
While for Android users, you can easily download audio recorder app through Google Play and capture audio with ease.
Of course, you can use another phone to record streaming audio on Android or iPhone. However, the audio recording quality will be reduced due to noises.
Well, why not record streaming audio free on your computer? You can get the detailed overviews and tutorials from the following paragraphs.
3. Record Streaming Audio Online with Chrome Extension
Chrome has some extensions to enable users to capture screen, video and audio without downloading other program. There are different tools you can choose from Chrome webstore.
Step 1Go to Chrome Webstore, and then search capture audio in the box.

Step 2Check the details of tool, and click the Add to Chrome > Add extension in the pop-up windows.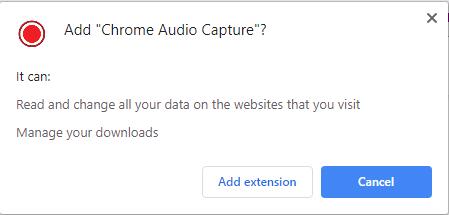 Step 3After the download and automatic installation, you can click the extension on the upper-right corner, and then click Start Capture button to record audio you want.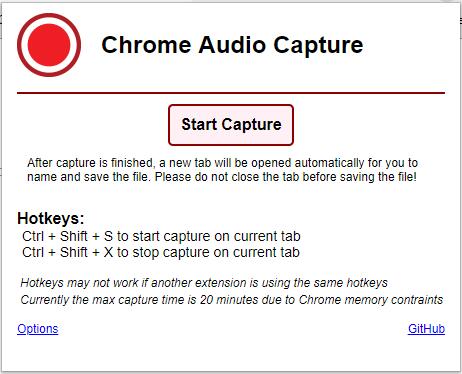 Best Way to Record Streaming Audio and Internet Radio Losslessly
It is FoneLab Screen Recorder that allows users to record system sound and microphone audio together or separately. For instance, you can record streaming YouTube videos and save as MP3 or MP4 format with ease. It's OK if you want to capture your voice while downloading online streaming audio.
In a word, you can record the audio coming from your computer without extra tools. Sounds pretty good, right?
1. Main Features of the Streaming Audio Recorder
Record tutorials, gameplays, TV shows and other streaming videos without lag.
Capture any sound on your computer and export as MP3 or other compatible formats.
Take snapshots with various drawing tools.
Export the recording file in high quality.
Offer a clean, safe and user-friendly interface.

FoneLab Screen Recorder
FoneLab Screen Recorder allows you to capture video, audio, online tutorial, etc on Windows/Mac, and you can easily customize size, edit the video or audio, and more.
Record video, audio, webcam and take screenshots on Windows/Mac.
Preview data before saving.
It is safe and easy to use.
2. Simple Steps to Record Streaming Audio from the Internet as MP3 Format
Step 1Run the audio recorder software
Free download and install FoneLab Screen Recorder. If you want to access more recording features, you can activate its account with your email address and registration code. Then choose the Audio Recorder for recording sound from your computer or microphone.

Step 2Record streaming audio
You need to turn on the System Sound option first. Move the Volume slider manually. Later, you can trigger on the Microphone option based on your need. The default output format is MP3. You can change the audio format and other settings by choosing More settings.  

Step 3Export the audio recording file
After all preparations, click the REC icon to start recording streaming audio from Internet or other programs. You can pause or resume recording without restrictions. When the audio recording process ends, a preview window pops up. Thus, you can preview the recording file first. Then click Save followed by Next to save the recording file.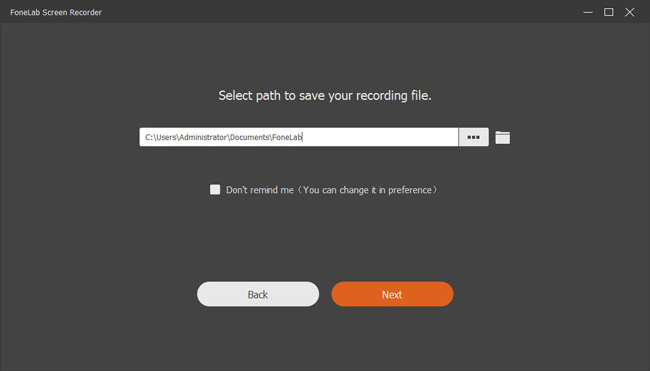 Actually, you can record streaming audio on Mac or Windows PC from all sources. Both novices and professionals can capture any sound in high quality. If you are looking for powerful and easy-to-use streaming audio recorder software, you should not miss FoneLab Screen Recorder. 

FoneLab Screen Recorder
FoneLab Screen Recorder allows you to capture video, audio, online tutorial, etc on Windows/Mac, and you can easily customize size, edit the video or audio, and more.
Record video, audio, webcam and take screenshots on Windows/Mac.
Preview data before saving.
It is safe and easy to use.