How to Record A Podcast with High-Quality Audio File for Social Media Sites
A Podcast is just an episodic, or a series of audio broadcasting, which is one of the most popular digital media types. When you want to record a podcast for multiple social media channels, how to capture the audio from a microphone with the original quality? If you are not familiar with how to record a podcast, you can learn more details about the requirements, tips, as well as the detailed process from the article now.

1. What is Required for Podcast Recording
Recording a podcast requires both hardware and software. When you have some well-equipped devices and software, it will yield significantly a better result. Just find the detailed information as below.
Things You will Need for Podcast Recording
Headphones. It enables you to monitor the volume level of each audio track in the podcast as well as the sounds captured by a microphone.
Computer: It is one of the most important devices to record, edit, or even distribute the podcast. Moreover, you can have a full control over the devices within your computer.
Microphone: Most computers have a built-in microphone, but it is not the best option. If it is possible, you'd better connect an external microphone to your computer.
Software podcast recorder: In addition to hardware, you also need a software recorder to capture your podcast. It is important to capture a desired audio file for podcast recording.
Headphones: It lets you monitor the podcast recording without interruption.
2. How to Record A Podcast with Ease
Once you have all things ready, it is time to turn your idea to an awesome podcast episode. Just as mentioned previously, the podcast recorder software is one of the most important factors to capture original audio files. FoneLab Screen Recorder is an all-in-one screen recorder that capture podcast audio files with a desired quality, tweak the audio settings, trim the recorded file, or even manage the file with ease.
Record podcast episodes on computer from microphone within clicks.
Produce the best quality audio recordings using advanced technology.
Offer extensive custom options and presets for the audio settings.
Pre-listen to podcast recordings with the built-in media player.
Trim redundant clips from recording and manage the files with ease.
How to Record A Podcast on A PC with Ease
Step 1Download and install the podcast recorder, you can launch the program on your computer. After that, you connect all necessary devices to your computer and make sure everything works. Click the Audio Recorder button to move on.

Step 2There are two options in the main interface, the System Sound option and the Microphone option. If you just want to record your voice as a podcast, you should just turn on the Microphone one and adjust the audio volume according to your requirement.

Step 3Click the Settings icon to open the Preferences dialog. Go to the Output tab, set audio format and other options. MP3 is the most compatible format for most podcast platforms. Moreover, you can also adjust the audio volume and other settings.
Step 4Click the REC button once you are ready to start the podcast recording. Then you can monitor the audio wave on the panel. When the process is done, you can click the Stop button. Press the Play icon to pre-listen to the episode, trim unwanted parts or have a re-record.
It also helps you record iTunes podcasts if you want.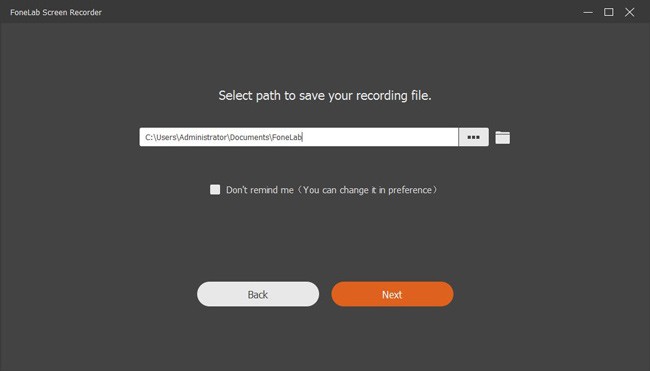 3. Best Tips about Podcast Recording
Tip 1: Keep your mouth to the microphone inconsistent distance. It is really important. If you move away from your microphone, it will reflect in the audio quality immediately.
Tip 2: Monitor audio quality. The podcast recorder software will show you the sound wave when you are recording. You'd monitor the wave and keep the audio quality as good as possible.
Tip 3: Make a brief introduction. No matter what your podcast is about, the best thing you can do at the beginning is to tell your listeners what they will experience.
Tip 4: Direct listeners from podcast to your website. Your listeners cannot click on what they are listening to. So, it is important to remind them to come back to your website or social media page.
Tip 5: The length of podcast. If your story or presentation is very long, you should produce several podcast episodes. It is difficult to keep listeners' attention in long podcast.
Tip 6: Avoid over-editing. It is a waste of time to edit too much. Alternatively, make full preparation or a detailed schedule before start recording podcasts on your computer.
Tip 7: Look for a better environment. Though you have a powerful microphone, the sound surrounds you may be recorded as well. You'd better record your podcast in a quiet room. Moreover, if the room is too big and empty, it will produce echo. Even if you do not have a professional studio, a quiet and small room can help you keep the audio quality.
Tip 8: Use a proper podcast recorder. If you are a beginner, get an easy-to-use podcast recorder, such as the FoneLab Screen Recorder to capture the desired podcast.
Conclusion
The article shares you a complete guide to record a podcast, especially for beginners. You may be a heavy podcast listener and wish to produce podcasts. But it is not a simple task to record a podcast as professionals. If you follow the suggestions and guide above, you might master the workflow within a short period. Good podcast recorder software almost determines the result, which is the reason you have to take FoneLab Screen Recorder into consideration.