[Updated in 2018] 10+ Best Google Voice Recorders for Android
- "Can anyone recommend a good voice recorder app?"
- "Need an Android voice recorder that never stops for anything…"
- "I want to record Google Voice calls on my Android phone…"
You can see many similar questions about recording voices on Android devices. However, there is no such an Android built-in voice recorder. For instance, if you want to record Google Voice calls, you need to use your Google Voice account to complete the process.
It is quite easy. Once you locate the Google Voice Settings, you can trigger on the Incoming Call option under the Calls section. As a result, next time you want to record the incoming Google Voice call, you can start recording directly.

Sadly, Google Voice allows users to record incoming audio calls only. If you want to capture other voices, you can get inspired from the following 10 best Google Voice recorders.
1
Top 10 Best Google Voice Recorders for Android
These are popular audio recorders for all Android models. Thus, you can read and get your best voice recorder app for singing, small business and other cases.
1. Call Recorder
Just as the name shows, it is a phone call recorder app. You can organize, play back and save the audio call recording file to your SD card. Moreover, the Google Voice recorder can record both incoming and outgoing calls as MP3 files. Once you set the white list, Call Recorder app will start recording automatically.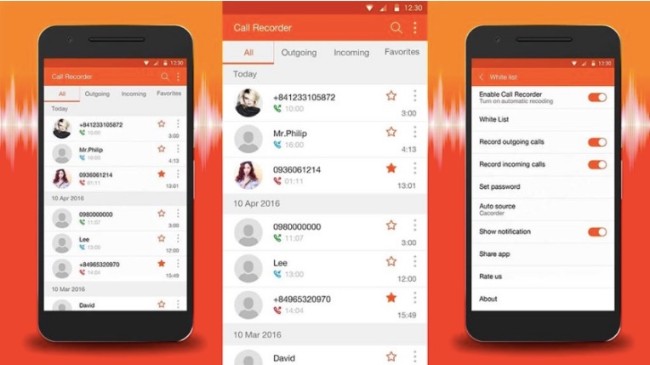 2. Easy Voice Recorder
Easy Voice Recorder allows users to record classes, lectures, songs, notes and other sounds. There are some customizable filters you can get, like "Skip Silence", "Volume Boost", etc. However, you cannot record phone calls on Android with Easy Voice Recorder.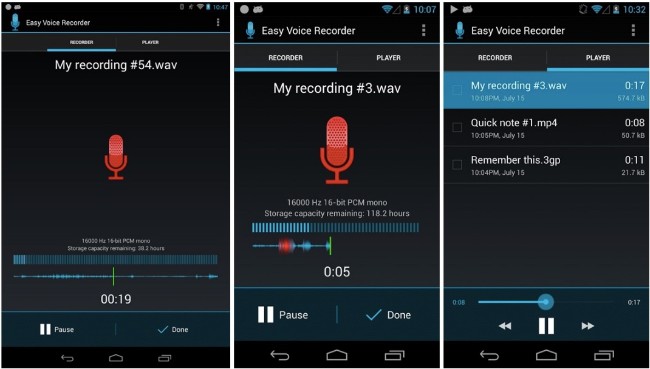 3. Hi-Q MP3 Voice Recorder
The Android voice recorder app can upload MP3 recording files to Dropbox automatically. If you plugged more than one microphone to your Android, you can choose the certain microphone manually. Many people regard it as the best music recording app for Android. Though Hi-Q MP3 Voice Recorder does not support phone call recording.
4. Parrot Voice Recorder
Parrot is a freemium voice recorder apk. You can record, play and share voice recordings easily. If you upgrade to Parrot Pro, then you can record phone calls. In another word, Parrot Pro can be one of the best Google Voice recorders.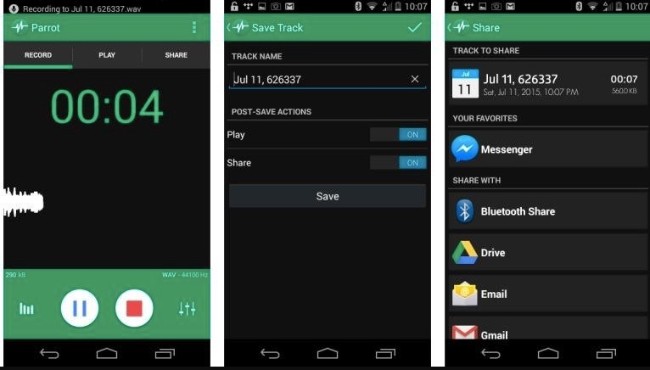 5. Cogi
Cogi is a popular note taking and voice recording application. You can create audio voice notes in high quality. In addition, you can add images, hashtags and others to your text notes. All your notes and recordings can be uploaded to Cogi Cloud.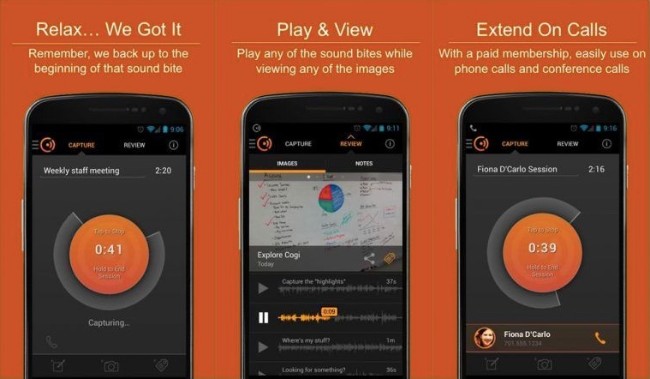 6. ACR Call Recorder
ACR allows users to record Google Voice calls in high quality, as well as other phone calls. This Android voice recorder app is free to download. If you want to get rid of annoying ads, you can purchase certain fees to upgrade to the Pro version.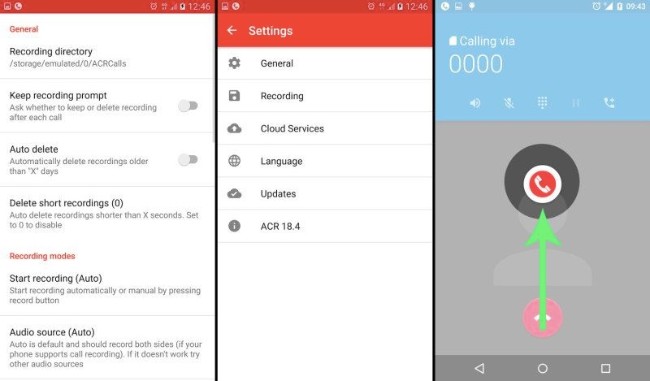 7. Smart Voice Recorder
You can set the sample rate from 8 to 44 kHz before the wave or PCM recording. This Google voice recorder app is mainly designed for long-time sound recording. In addition, you can pause and resume the audio recording process freely.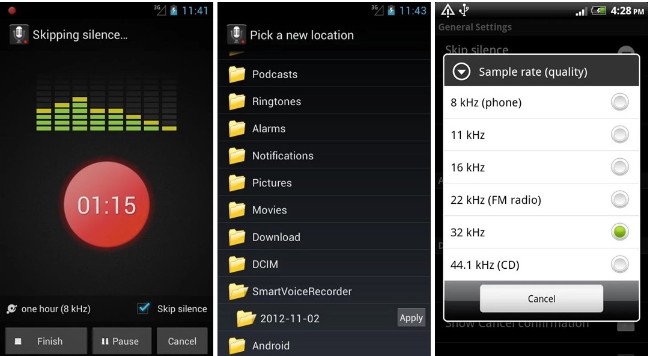 8. Sony Audio Recorder
You can run Sony Audio Recorder to capture phone calls on Xperia phone series. After the phone call recording, you can edit the file with useful tools. What's more, you can get the speech-to-text transcription service here.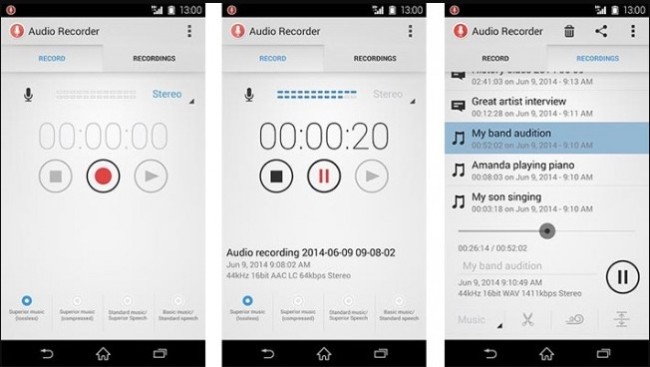 9. RecForge II
RecForget II offers a highly customizable voice recorder. Well, you can record sound coming from external microphones too. Its schedule recording feature allows users to record audio on Android smartly. If you own a Samsung device, then Galaxy Call Recorder can be your best Samsung voice recorder app.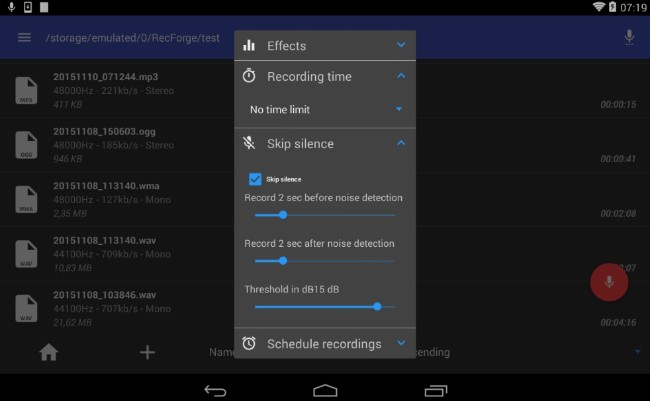 10. Voice Recorder
Voice Recorder is a hot audio recording app with powerful recording features. You can control the whole audio recording process by one click. Once the process ends, you can save or share the MP3 or OGG audio file with ease. This voice recorder app is totally free.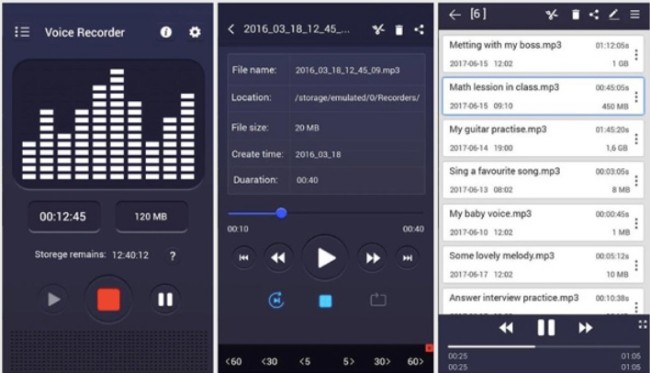 Can you find your favorite application from above best Google Voice recorders now? If not, you can move to the next section to get more inspirations.
2
Ultimate Way to Capture Google Voice on Computer
As everyone knows, it is hard to record all Google Voice calls on your Android phone or tablet. To be more specific, if you really want to record computer streaming audio, you need to turn to third party devices for help.
Well, for Windows and Mac users, FoneLab Screen Recorder can be a smart choice. Be aware that you need to use Google Voice on computer.
1. Main Features of the Voice Recorder Software
Record movies, calls, gameplays, tutorials, TV shows and all kinds of videos without lag.
Capture the system sound and microphone audio in high quality.
Take snapshots freely with full screen or customized size.
Set hotkeys to control the whole recording process.
Export the output video or audio recording in different formats.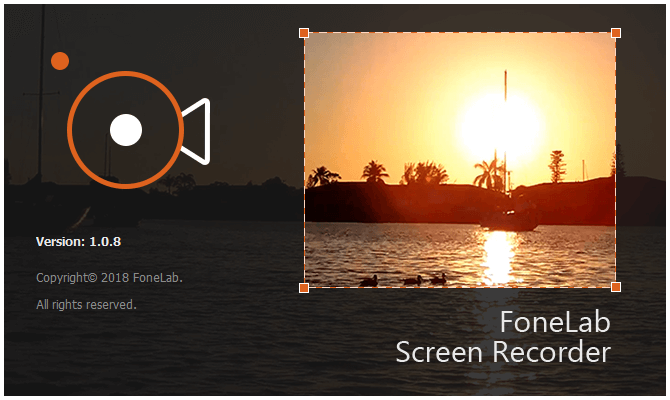 FoneLab Screen Recorder
Capture video, audio, online tutorial, etc on Windows/Mac, and easily customize size, edit the video or audio, and more.
2. How to Record Android Streaming Music and Microphone Sound
Step 1: Launch the Google Voice Recorder software
Free download and install FoneLab Screen Recorder. When the installation ends, you can activate the account to access more features. Then choose the Audio Recorder option.

Step 2: Start recording 
Turn on the Microphone option first. If you want to capture the streaming sound from your computer, you can enable the System Sound option too. Later, volume up or down the input audio source. After all preparations, click the REC icon. And then, log in Google Voice account on your web page.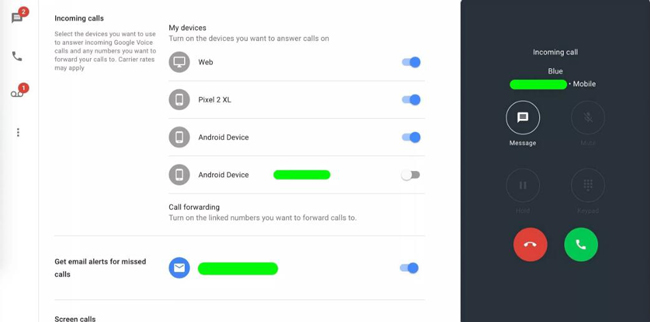 Step 3: Save or share the recording file
Put your Android device close to the computer. Well, you can pause and resume recording without time restriction. When you stop recording, you can get a popping-up preview window. Choose the Save icon followed by Next to move on. In addition, you can share the audio recording to YouTube and other sites directly.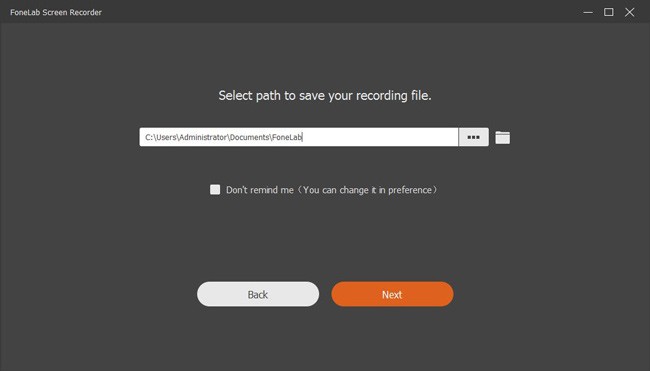 That's all for recommendations of best Google Voice recorders. Actually, you can record Google Voice calls on your computer using FoneLab Screen Recorder to bypass these or those restrictions.
And FoneLab can help you record music, gameplay, video and more on computer without limitication.
If you encounter any problem while recording, just feel free to contact us.
Related Articles: