Transfer iOS Data Now
Transfer your data from iPhone to computer easily.
How to Download Podcasts to iPhone
I have several podcasts downloaded on the internet on my PC and would like to transfer them to my iPhone. Is this possible? How to download podcast to my iPhone podcast app too? Thanks a lot!
What is a podcast? We should get more knowledge about it first. Podcast is episodes of a program available on the internet which is usually original audio or video recording, but can also be recorded broadcasts of a TV show or radio program, a lecture, a performance, or other event. Podcasts often offer each episode in the same file format, like audio or video, though the bulk of them are audio only. But for some podcasts such as language courses, in order to teach more effectively, they always offer multiply file formats, such as videos and documents. Well, podcast is truly a great and free source of entertainment and learning. So many users like to listen to podcasts or even watch their favorite podcasts while on the go. iTunes makes it simple to download your loved podcasts from your iPhone, but what if you want to download a podcast to your iPhone that isn't in iTunes? At this point, you should turn to an amazing iOS data management tool which can help you transfer the downloaded podcasts from computer to your iPhone in just few clicks.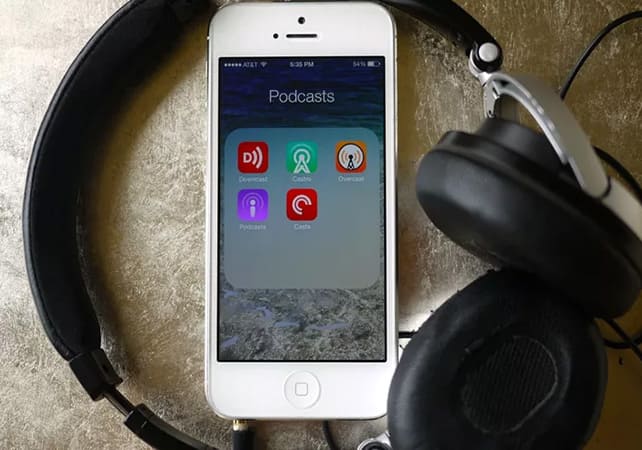 FoneTrans for iOS is the one I am mentioning above. It is designed as an powerful tool for users to quickly transfer video to iPhone from computer, as well as podcasts, moives, music, messages, contacts, books, playlists, ringtones, app and so on. With the help of this software, you can move the podcasts directly to your iPhone and play podcast on the device whenever you want.
More Features about FoneTrans:
It's easier and more efficient to manage your iPhone contacts and SMS with FoneTrans for iOS.
1. Backup or export your iPhone's contacts into a vCard, CSV file on your computer, Outlook, or Address Book.
2. Import vCard to iPhone, Outlook and Address Book.
3. You can add, delete, edit and group your iPhone's contacts through the software.
4. Save iPhone messages as a HTML, TXT or CSV file on computer so that you can print out text messages on your phone if you need to.
How to Transfer Podcasts to iPhone without iTunes
Step 1Before you can manage your iPhone data with FoneTrans, download the software with above link and install it on your computer. It will automatically open when the installation is done. Then connect your iPhone to the computer via a USB cable.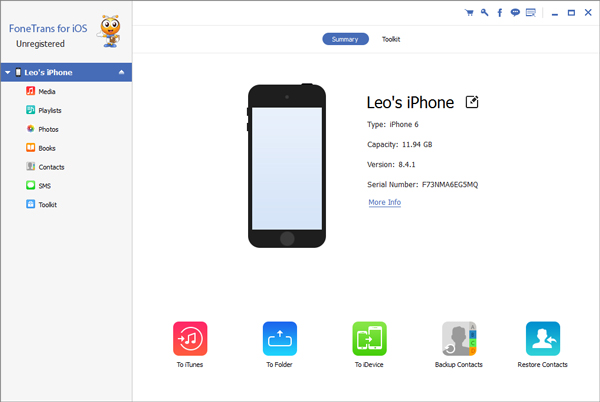 Step 2On the left pane of the interface, you will see all the contents listed in a column, such as Media, Playlists, Photos, Books, Contacts, and SMS. Click Media and find Podcasts on the top. It will take a little while to load your files.
Step 3Now all podcasts on your iPhone are displaying in a list. You are allowed to add, export and delete the files you want on the window. Please click on the Add button and choose Add Files or Add Folder to add pre-downloaded podcasts from your computer to your iPhone.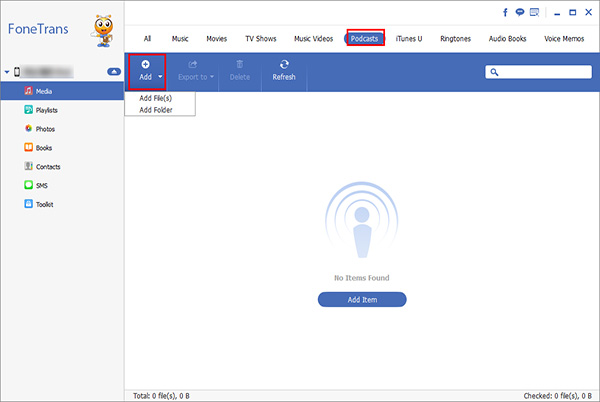 That's the whole process, totally techniques free. Super easy, right? FoneTrans can do more than this just so you know. With it, you can backup your iOS data without iTunes or iCloud! Why not get it downloaded for a free trial to enjoy the process better?