Best Cassette Recorder for Extracting MP3 Files from Cassette Tapes
You can see many cassette players and recorders in Amazon, Best Buy, Walmart, eBay and other online markets. There are many models of cassette recorders you can choose. For instance, Onn cassette recorder with external microphone and AC adapter included is $49.99 in Amazon at present. You can also use Panasonic RQL30 Mini cassette recorder, Sony TCM-200DV standard cassette voice recorder and other cassette tape recorders.
However, what if you want to set the cassette song as your ringtone, background music or other uses? Fortunately, you can get the best cassette recorder here to solve this problem. There are many audio recording choices and features. To start with, here is the necessary equipment you need to prepare for cassette recording.
A computer with available sound card and line-in jack.
A cassette deck and with RCA line out jacks or stereo-mini headphone jack contained.
Audio cables with gold-plated jacks. 

1. What Is Cassette
Cassette is an analog magnetic tape containing audiotapes, videotapes, films and other media lengths. You can call a cassette tape as CAC (Compact Audio Cassette) or MC (Music cassette). You can get audio recording and playback through the cassette tape player, cassette deck and Walkman. Thus, many people prefer to listen to music with portable players or music apps.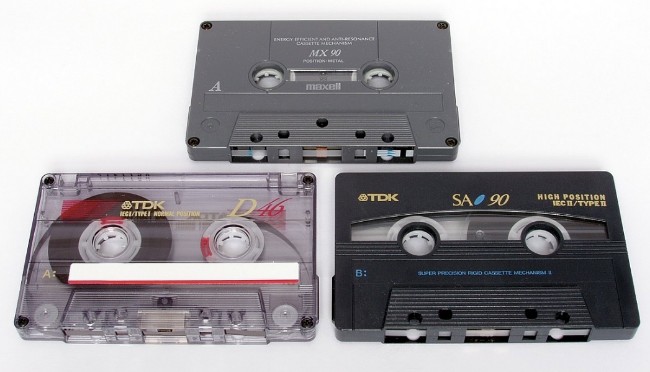 2. Why You Need to Record Cassette Music
The audio cassette tape is the dominant music format for many music lovers of 80's and 90's. People collect cassette tapes for precious memories. However, you cannot deny that it is inconvenient to bring the cassette player everywhere around you. During this time, you need to record and convert Cassette tapes as MP3 and other compatible formats.
As a result, you can transfer to iPhone, Android or other music players for offline listening directly. That's the main reason of recording cassettes.
3. Record Cassette Music with FoneLab
FoneLab Screen Recorder is exactly the best cassette recorder you are looking for. You can even record the song and your voice at the same time. It is also supported if you want to record streaming music videos for offline viewing.
Thus, there is no need to bring the portable Sony cassette player all the time. You can play those high-quality songs on all music players without the incompatibility issue.
Cassette Recorder Overview
Record movies, tutorials, gameplay, calls, TV shows and other screen videos on Windows or Mac PC.
Record streaming sound, online audio and microphone sound as MP3 and other formats.
Take a screenshot with full screen or customized region.
Edit the recording video or snapshot with text, line, arrow, rectangle, ellipse and other labels.
Set hotkeys to start, pause, resume and stop recording cassette audio.
Manage the cassette recording quality and other preferences before recording.
Fully compatible with Windows 10/8.1/8/7/Vista/XP and Mac OS X 10.6 or above.
Step 1Free download, install and run the audio recorder.

Step 2Choose the Audio Recorder mode.
Step 3Turn on System Sound and adjust the related volume slider below.

Step 4Click More settings to change the output audio format, quality, output path and other customizations in the Preferences window if necessary.
Step 5Choose REC to start or stop recording based on your need.
Step 6Pre-listen the cassette audio recording. Then choose Save followed by Next to export the cassette recording file.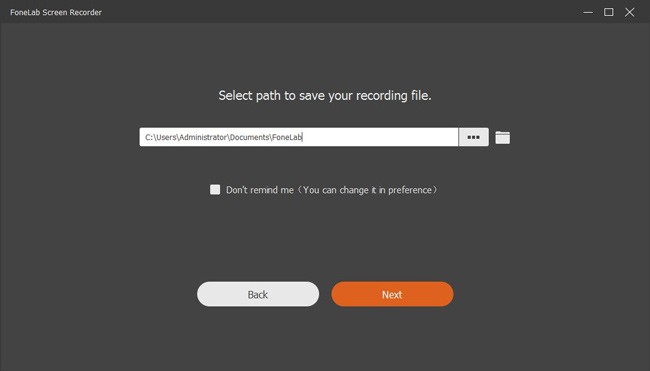 Note:
If you want to record your voice with the cassette tape at the same time, you can turn on System Sound and Microphone options together.
You can turn on or off the countdown feature in the Preferences window.
The cassette recorder for Windows allows users to record any part without merging or clipping.
4. Why Choose FoneLab
It is true that you can use Windows Sound Recorder, Mac QuickTime Player, Audacity and other audio recorders to record cassette tapes. Then here comes the question, why should you choose FoneLab Screen recorder instead of other audio recording software?
Generally speaking, FoneLab Screen Recorder is a lightweight video and audio recorder for Windows and Mac users. All powerful screen recording features are well-organized in the intuitive interface. Even beginners can run FoneLab to record streaming video and audio effortlessly. In addition, you can share the recording file to Facebook, YouTube and other social media platforms directly.
Furthermore, you can set a timer or task schedule to record screen video or audio with no time limit.
In a word, the cassette recorder can help you catch all cassette tapes into high-quality MP3 files. You can use this audio recorder to record YouTube music videos and other online audios to MP3 format without downloading too. Next time you want to extract audio tracks from cassette tapes and other music sites, you can free download FoneLab for a try.