Browser Audio Recorder - 2021 Best Methods to Record Audio from Browser
Along with the improvement of technology, people's life and work styles have been changed developed. Nowadays, people can listen to music, broadcast, radio, etc on browsers like Chrome, Safari, Firefox and more with internet connection.
However, you need to figure out how to save these online or streaming audio at your absence. Obviously, recording audio on computer is one of the good solutions. But how?

If you also want to know more about how to record browser audio, you have come to the right place. That's what we will discuss in this post.
1. Record Audio from Browser on Windows
Comes with the powerful audio recording, FoneLab Screen Recorder helps you record system sound or microphone audio accordingly. Moreover, it can also record screen video and simultaneous webcam if you want.
More importantly, you are allowed to adjust volume during the recording procedure. And you can remove the unwanted parts after that with ease.
Below is how to use FoneLab Screen Recorder to capture Windows audio.
Step 1Go to FoneLab Screen Recorder official site, then download and install it on computer. It will be opened automatically after that.

Step 2Select Audio Recorder on interface. You are allowed to capture both system sound and microphone, enable them accordingly. Click REC button to begin recording.

Step 3Play audio from browser. Then click the stop icon once done. You can save the recordings to wherever you like.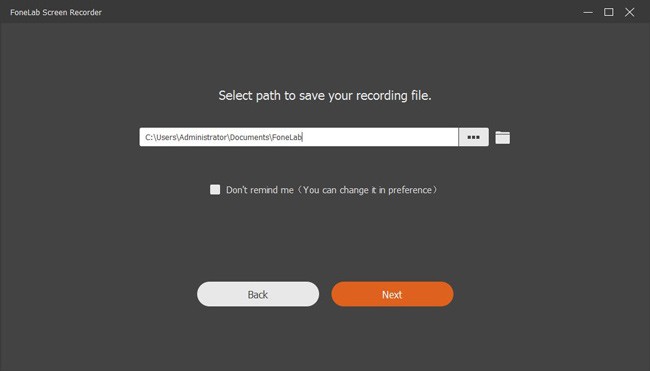 By the way, it also is the best screen recorder for minecraft no lag. Although Windows owns the most computer users, Mac users also encounter the same problems when they want to record desktop activities, capture Mac screen, audio, etc. Please move to the next part about how to do this on Mac.
2. Record Audio from Browser on Mac
Compared to QuickTime recorder, Mac FoneLab Screen Recorder is helpful to record computer audio including microphone and system sound. As you know, QuickTime recorder is unable to capture system sound from Mac. If you desire to save audio from browser for offline listening, Mac FoneLab Audio Recorder can do this for you.
Step 1After installation, run Mac FoneLab Screen Recorder on computer. Choose Audio Recorder.

Step 2Then enable system sound and microphone individually or concurrently, and adjust the volume of them easily. Click REC button.
Step 3Stop recording once done, and choose a folder to save the recordings.
3. Record Sound from Browser Online
In addition to computer programs, you can also choose some online tools to capture streaming audio from browser. Most online audio recorders were designed as light-weight tools with limited features, that can satisfy simple requests online.
Here, Online Voice Recorder and Apowersoft audio recorder will be recommended to you. It can be used to capture screen video or audio as below.
Apowersoft Audio Recorder
Apowersoft Audio Recorder is one of the completely free web-based recording tools online, you are able to record system sound and microphone as your needs. Below is how.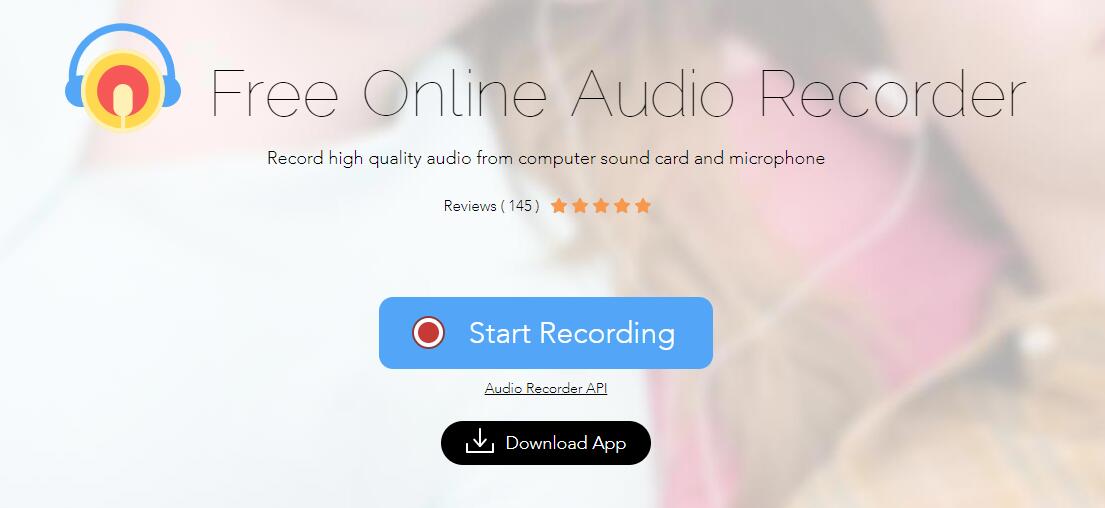 Step 1Double-click your Chrome browser and forward to the Apowersoft audio recorder page.
Step 2Click the Start Recording button to download the launcher if it is the first time you try this tool. Click the downloaded file after it finished and install it.
Step 3Click Start Recording button on the web page again to launch the audio recorder tool, then play what you want on your browser and stop recording once done.
Online Voice Recorder
Step 1First of all, you need to visit its official site.

Step 2Then click the red button to begin recording, please note that it will capture your microphone sound only.
Just like the above-mentioned tool, some tools maybe can't record system sound for you. It is better that you can check all features clearly before you use it.
4. Record Audio from Web via Extension
If you are a fan of Chrome, you should know it has many extensions to run small tools on browser. In the same way, you could get some audio recorder extension on Chrome to capture browser audio within a few clicks. This is an example of how to capture browser audio via Chrome Audio Capture extension.

Step 1Go to Chrome web store and search Chrome audio capture, then click the blue Add to Chrome button > Add extension to install the extension to your Chrome.
Step 2Click the extension icon on the upper-right corner of the window, click Start Capture button on the pop-up window. Then you can begin playing the audio you want to capture on browser.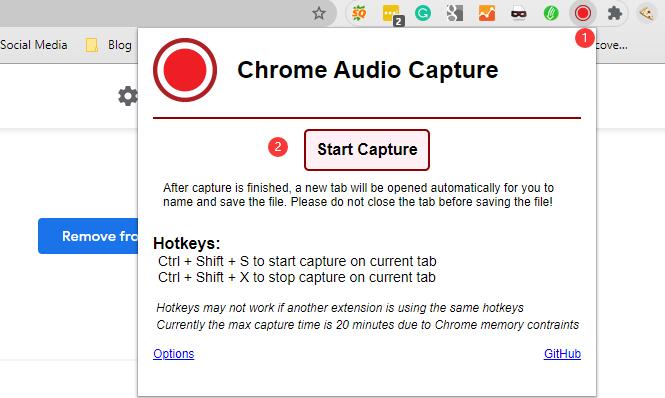 Step 3Click Save Capture once done.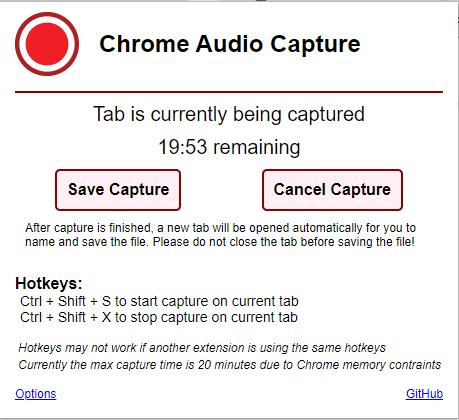 In the same way, you can try some Firefox add-ons and other similar tools on different browsers.
5. Record Audio in Browser on iPhone
As the mobile phone becomes more and more convenient and functional, you can now use it to finish some easy tasks on iPhone or Android phone.
Like iPhone, it comes with iOS screen recording feature after iOS 11. So you can use it to capture screen with audio, and then save them to Photos app. Please go through the steps to know how to use iOS screen recording as an audio capture tool.
Step 1Enable screen recording feature through Settings > Control Center > Screen Recording.
Step 2Access Control Center and long-press the screen recording icon. Tap the microphone icon if you want to capture microphone audio. Then tap Start Recording. After that, you can listen to music or something else from the browser as usual.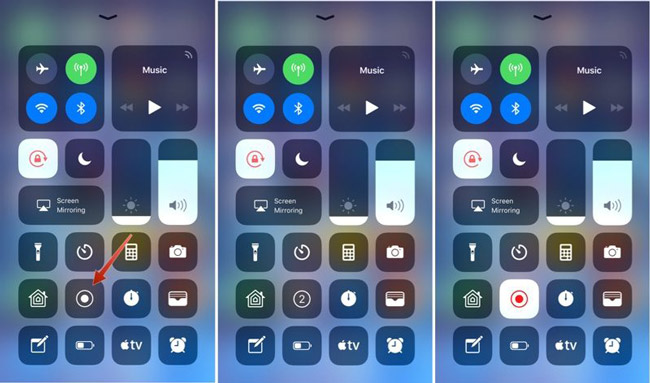 Step 3Tap the red button on the upper-left corner of your iPhone once done. The recordings will be saved to Photos app.
6. How to Record Audio from Browser on Android
Unlike iPhone, most Android phones still haven't screen recorders. A proven method to capture browser audio on Android is to use third-party audio recorder applications. But it is always not easy to get a high-quality audio recording for various reasons, such as difficulty to root Android phone, poor audio quality, distracting background noises and more. It is recommended that you can mirror Android phone to computer, then use FoneLab Screen Recorder to capture computer audio if you have to capture audio from Android phone.
After the above introductions, we can easily tell that FoneLab Screen Recorder is the best screen recorder for you. Why not have a try now!