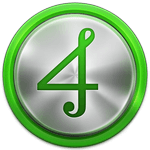 Screenshot
Overview of 4shared Music
Most people love music. 4shared Music is exceptionally developed for these people who can't live without music. After in-depth study I have come to know 4shared Music app is the best multimedia app which you can get access to your favorite music any time you like.
4shared Music is a most secure platform of online music and it provides nearly 10 million plus songs for users to download. Users not only can play music but also they can enjoy radio stations from various musical styles. With this music app, users are able to download and listen to other users' music and of course share your own music with others too. What's more, each user can simply sign up to the community of 4shared and have 15GB of free cloud space where they can store their music. Uploading music or downloading online music was never as simple as before 4shared music app.
Unlimited music source.
Totally free music app.
Listen and download online music, and watch video on your Android phone.
Make albums and playlists.
You are able to upload your music on Android device to 4shared Music cloud.
You can listen to others' music that they have uploaded to their accounts.
Other users can get access to your uploaded music too.
15 GB of free 4shared music cloud space for each 4shared member.
Test & Review
I am so glad to tell you guys 4shared music app has something for people of any age group, that is whenever you install this music app on your Android phones or tablets you just need to sign in and you can easily access all your favorite tracks. It is a piece of cake to share and manage music with this app. So many cool features that I am sure everyone who has this app on his device will definitely fall in love with 4shared Music.
Pros:
Very easy to use.
Huge music source.
4shared Music is a totally ad-free music app.
Excellent performance and pretty much secure.
Ground breaking functionalities.
Upload to share music as well as be accessible to others'.
Cons:
Missing on screen widget.
Music are filled with copyrighted material and illegally distributed files.